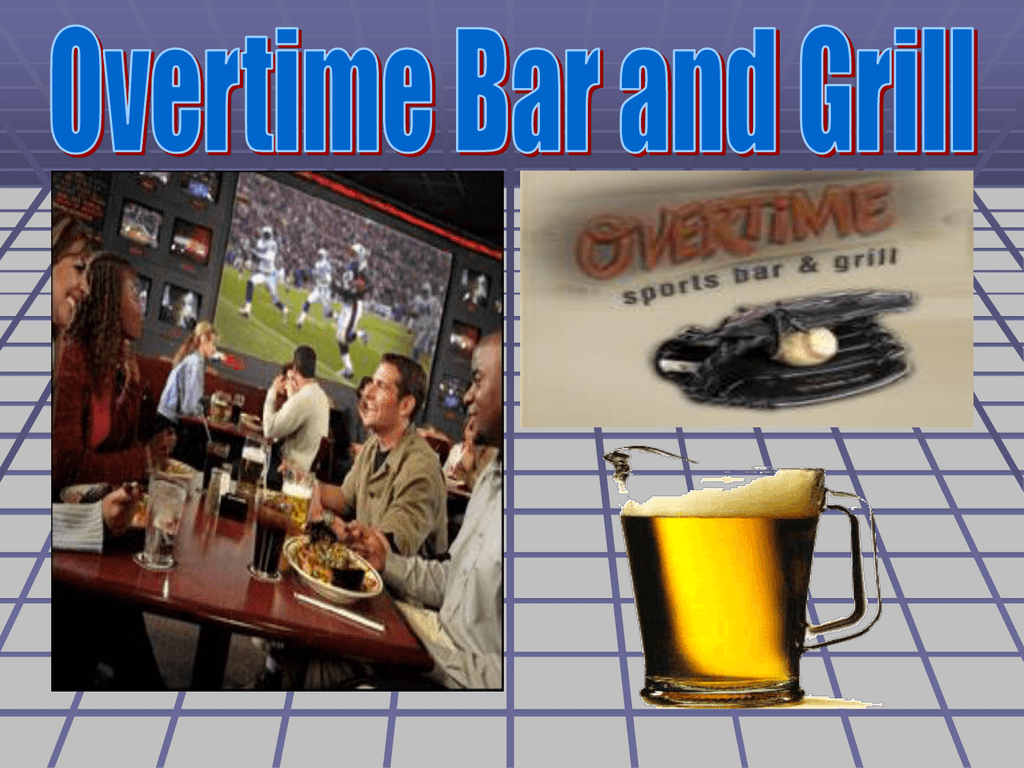 Executive Team
Ricky Cassidy
CEO
Michael Howard
CFO
Edward Dabney
COO
Joseph McElfresh
CFO
Mission Statement
• The Overtime Bar and Grill
mission is to provide worldclass food, services and
consumer satisfaction for every
customer.
Business Strategy
• Overtime Bar and Grill's business strategy
is to offer innovative, practical, top-quality
products that improve the way people
experience food, service and sports
entertainment.
Objectives


Our first objective is to please the
customers who use our products and
services.
Our second objective is to increase
sales and keep costs to a minimum
by keeping the company productive
and profitable.
Target Market
 Our target market will consist of sports
enthusiast of any age and families, who
want to experience a new and exciting
way to enjoy dining in a sports
atmosphere.
Beverages
•
•
•
•
Domestic and Import Beer- Draft and Bottles
Variety of Liquors
Coca-Cola Products
Non-alcoholic Beverages
Food
 Appetizers
 Entrees
 Desserts
We will offer a menu for
the bar and a menu for
the restaurant.
Entertainment
SWOT Analysis
 Strengths
 New and innovative way of offering sports
entertainment.
 Backed by name brand alcohol distributors
providing promotional events.
 Split atmosphere with a bar for 21 years and
older and a dining area for customers of all
ages.
SWOT Analysis
 Weaknesses
 Local bar competition
 New establishment
 Parking spaces
SWOT Analysis
 Opportunities
 Introduce new game technologies
 Exploit a new line of clothing
 Provide new and exciting entertainment
SWOT Analysis
 Threats
 Local franchises and establishments in the
area
 City codes and regulations
 Increase in product cost
Financial Resources

Financial startup for Overtime bar
and grill will be a combine effort
from the joint owners, each
presenting $25,000 of savings.
Estimated Sales Percentage
5%
10%
45%
40%
Food
Beverages
Entertainment
Apparel
Any Questions?