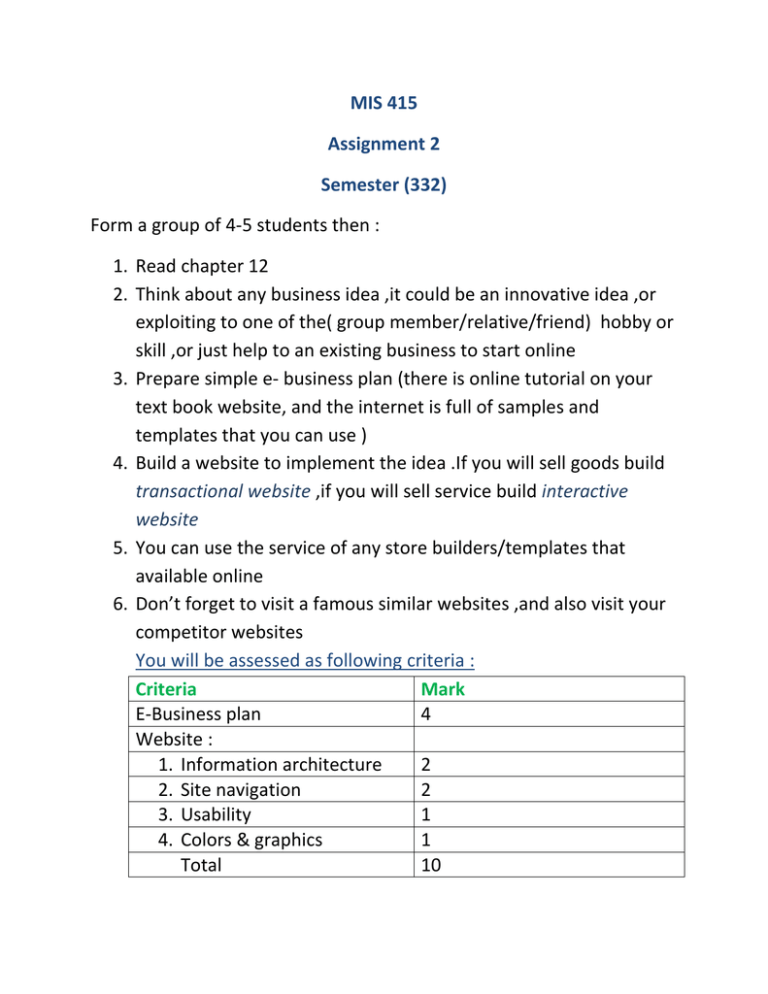 MIS 415
Assignment 2
Semester (332)
Form a group of 4-5 students then :
1. Read chapter 12
2. Think about any business idea ,it could be an innovative idea ,or
exploiting to one of the( group member/relative/friend) hobby or
skill ,or just help to an existing business to start online
3. Prepare simple e- business plan (there is online tutorial on your
text book website, and the internet is full of samples and
templates that you can use )
4. Build a website to implement the idea .If you will sell goods build
transactional website ,if you will sell service build interactive
website
5. You can use the service of any store builders/templates that
available online
6. Don't forget to visit a famous similar websites ,and also visit your
competitor websites
You will be assessed as following criteria :
Criteria
Mark
E-Business plan
4
Website :
1. Information architecture
2
2. Site navigation
2
3. Usability
1
4. Colors & graphics
1
Total
10
The assignment goals :
1. A chance to implement all concepts and knowledge that you
have acquired in this course on a real e-business
2. It may will be an opportunity for you to make money in the
future
3. A chance to practice other skills like accounting ,marketing,
system analysis and design, business administration
4. This assignment can support your CV
Good Luck!