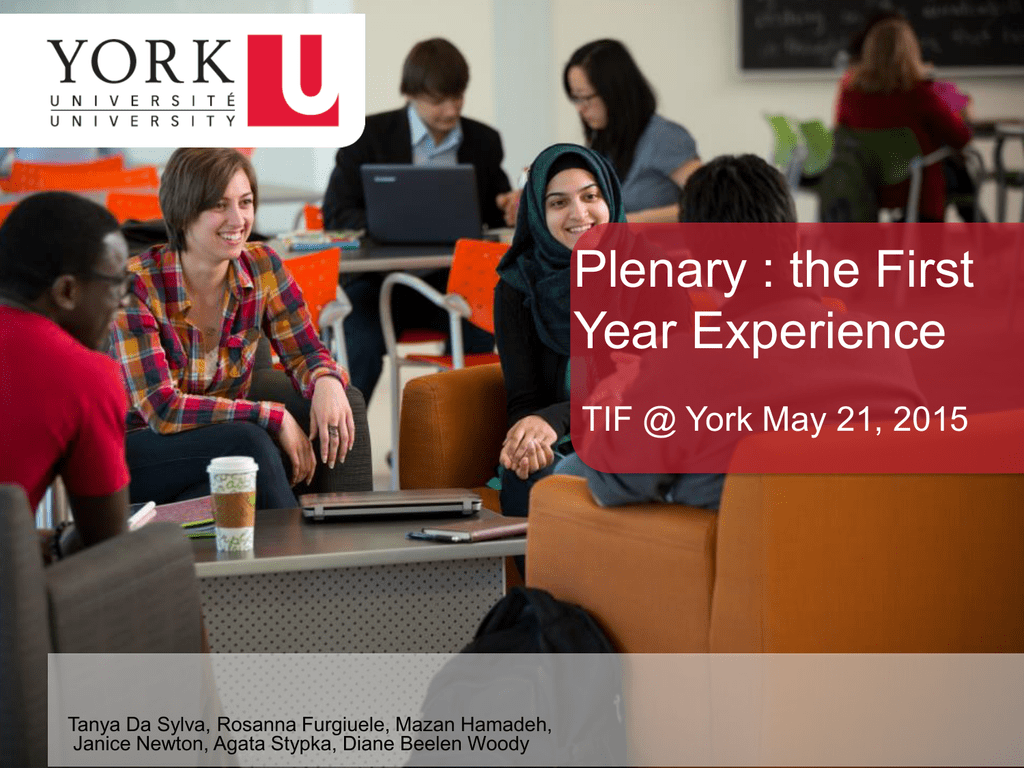 Plenary : the First
Year Experience
TIF @ York May 21, 2015
Tanya Da Sylva, Rosanna Furgiuele, Mazan Hamadeh,
Janice Newton, Agata Stypka, Diane Beelen Woody
Highlights from the Dallas 2015 Conference
• National Resource Center on the First Year Experience
and Students in Transition at the University of South
Carolina
http://www.sc.edu/fye/index.html
• Links to resources on teaching and supporting first year
students at
http://www.sc.edu/fye/resources/fyr/index.html
Conference program
• Complete conference program and links to Keynote
addresses and to presentations and handouts available at
http://www.sc.edu/fye/events/presentation/annual/2015/inde
x.html
The 34th annual FYE conference 2015
• Over 2000 participants from 17 countries
• Plethora of presentations, program that ran for 120 pp.
• Co-hosted by York University
• Four categories of session:
 Keynote addresses
 Current trends in first year experience
 Research on the first year experience
 Initiatives that have been instituted and evaluated
Panel members and their attachment to FYE
•
•
•
•
•
•
Agata Stypka
Mazen Hamadeh
Janice Newton
Rosanna Furgiuele
Tanya Da Sylva
Diane Woody
Big Question #1
• What do the words "Broccoli Curriculum" conjure up?
Challenging the Broccoli Curriculum:
Designing First Year 2.0
• Keynote address by George L. Mehaffy
• Vice President for Academic Leadership and Change
• American Association of State Colleges and Universities
Re-Imagining the First Year of University
• George Mehaffy calls the first year curriculum the
broccoli curriculum.
• It looks nice, and may be good for you, but nobody wants
to eat it.
• Students take things that look strange, disconnected from
their lives and experiences, but are told that it will be good
for them later on.
Re-Imagining the First Year of University
• In the academic curriculum, we tell students that they
must take general education courses but never explain to
them what the purpose of general education is.
• We leave it to students to make connections between
courses, to make for themselves a comprehensive
understanding of the educational experience they are
undertaking.
Where the Broccoli Curriculum has lead
us…
• Students in the first year fail in large numbers, and given
the changing student body, will continue to do so at the
same or higher rates
• Our institutions have been created as teaching
institutions, instead of learning institutions.
• Mehaffy's Big Question:
How would things change if we focused on learning, a
student-centered approach, instead of teaching, a
faculty-centric approach?
What does Mehaffy mean by "facultycentric"?
• The faculty member is the expert, the center of the
experience, the deliverer of the content.
• Assumption that every learning experience grows out of a
teaching experience.
• Assumption that no learning experience can occur without
a teacher.
What if, asks Mehaffy,….
• …our job in the classroom is not to "teach" as a standalone activity?
• but to create the environment which optimizes
learning for our students.
Coming back to the first year experience: two
specific issues flagged by Mehaffy
1. Resources:
Universities and Colleges spend the least amount of
money on the first two years, and then seem to be
startled that those are the years of the greatest loss of
students.
2. Curriculum:
The curriculum is often irrelevant to the lives of students,
who often do not understand why they are required to
fulfill general education requirements.
So what would Mehaffy do?
• How do we go about creating a new design for the first
year of university?
• What would a completely redesigned first year look like?
Four key elements of a re-designed FYE
1. Institutional intentionality
2. Faculty
3. Curriculum
4. Students
A Culture that pays attention to FYE
• Results of a study : what mattered most about graduation
success was not a specific program or special funding but
culture:
o A campus culture where faculty and staff believed that
their role was to help students become successful;
o Culture is a critical component of a redesigned first year
of university.
Final thoughts
• We can't put in place one new strategy, one new program,
or one new approach, and hope that will solve the entire
problem. It won't.
• We must attack the failed system in a systemic way,
seeking radical, transformational reform.
• George Mehaffy urges us to ask good, provocative
questions that could be a powerful tool in the arsenal of
change.
It's a wrap !
18
Big Question #2:
How do we conceptualize
"Student Success"?
Student Success and Learning
• Learning Reconsidered 2 catalyzed a conceptual shift in
understanding learning in higher education and in advancing the
notion of learning as everyone's responsibility. That work articulated
learning outcomes from a holistic perspective enabling academics,
student service personnel, staff and students to see themselves as
co-facilitators of learning.
• Academic learning and personal development are intertwined
reciprocal processes that could just be called learning, and indeed,
learning is inherently developmental and personal.
• Wiggers & Arnold (2011) pointed out, student success is a complex
phenomenon. In many ways we need to accept that it is muddy and
messy.
Moving towards a learning paradigm and
unifying campus culture by:
 Identifying common educational outcomes
 Identifying common learning principles and a common language of
student success
 Designing comparable educational materials and artifacts
 Creating organizational structures that stimulate and sustain crossdivisional partnerships
 Intentional faculty recruitment, orientation, development, and
reward strategies
How do we make this university so
engaging, interesting, and caring that
no one wants to leave?
What would happen if we changed the focus
of everything we did to developing curiosity
in first year students?
Supporting learning at York
• Learning
through
academic
engagement
• Learning
through cocurricular
engagement
Intellectual
Social
Community
/Civic
Interpersonal
• Learning
through
community
engagement
Rogers, M. & Stypka, A. (2013). Partners in Learning.
• Learning
through cocurricular
engagement
Big Question # 3:
• What comes to mind when you think of GRIT ?
GRIT as an acronym
•
•
•
•
Growth mindset
Resilience
Intuition/Initiative
Tenacity
• Current research on the non-cognitive factors (attitudes,
values and behaviours)
• These occur in tandem with-- and exert considerable
influence on --- cognitive development
What is Resilience?

the ability to become strong, healthy, or successful again
after something bad happens

the ability of something to return to its original shape
after it has been pulled, stretched, pressed, bent, etc.
•
(Merriam-Webster Dictionary; http://www.merriam-webster.com/dictionary/resilience)
NCHA II Data
Within the last 12 months have you….
York %
ON Reference Group
%
Felt overwhelmed by all you had to do
89%
90%
Felt exhausted (not from physical activity)
86%
87%
Felt very sad
68%
70%
Felt very lonely
62%
66%
Felt overwhelming anxiety
57%
58%
Felt things were hopeless
59%
57%
Felt overwhelming anger
46%
44%
Felt so depressed it was difficult to function
42%
40%
Seriously considered suicide
12%
11%
Intentionally injured yourself
8%
8%
Attempted suicide
2%
2%
NCHA II Data
Within the last 12 months
have any of the following
been traumatic or difficult
to handle?
York %
ON Reference Group %
Academics
61%
59%
Finances
44%
36%
Career related issues
40%
36%
Sleep difficulties
37%
33%
Family problems
37%
32%
Intimate relationships
34%
32%
NCHA II Data
Factors impacting academic
performance*
York %
ON Reference Group
%
Stress
43%
41%
Sleep difficulties
27%
29%
Anxiety
27%
30%
Internet use/computer games
25%
24%
Depression
20%
19%
*Academic performance is defined as: received a lower grade on an exam
or important project; received a lower grade in the course, received an
incomplete or dropped the course; or experienced a significant disruption
in thesis, dissertation, research or practicum work.
NCHA II Data
Have you received information York %
on the following topics
Are you interested in receiving
York %
information on the following topics
Depression/Anxiety
49%
Depression/Anxiety
65%
How to help others in distress
25%
How to help others in distress
64%
Problem use of
internet/computer games
14%
Problem use of internet/computer
games
31%
Sleep difficulties
14%
Sleep difficulties
64%
Stress reduction
55%
Stress reduction
75%
Suicide prevention
21%
Suicide prevention
44%
Nutrition
36%
Nutrition
69%
Physical activity
42%
Physical activity
62%
Health Promotion at York
 Mental Health Peer Team…outreach
throughout the year:
 Tabling
 Stress busters
 Regular blogging
 Walkabouts
(http://healthed.scld.yorku.ca/about-us/the-peer-team/mentalhealth-team/)
Available to students, staff & faculty
 SafeTALK (https://www.livingworks.net/programs/safetalk/)

Suicide alertness workshop
 ASIST: Applied Suicide Intervention Skills
Training (https://www.livingworks.net/programs/asist/)


Teaches effective intervention skills
Builds suicide prevention networks in community
 More Feet on the Ground

bilingual online educational tool… with a broad overview
of mental health (http://mhw.info.yorku.ca/training/)
 Mental Health 101
(http://mhw.info.yorku.ca/training/)
Available to students, staff & faculty
 CDS: Personal Counselling (http://cds.info.yorku.ca/)
 Mental Health Disability Services
(http://mhds.info.yorku.ca/)
 Healthy Student Initiative (Paul Ritvo)
(http://healthystudentinitiative.com/)
 Others:
 Active Minds (https://www.facebook.com/activeminds.yorku)
 Jack Project (http://www.jack.org/)
• Big Question #4:
• How can instructors in the classroom support student
success, curiosity, GRIT and resilience?
Classroom practices profiled at the FYE
conference
"First to go"
CREATE
Sneaky Strategies
Your questions/comments?
• Remembering your own First Year Experience
• Relating this to York's commitment to FYE…..
• Opportunities to work on the FYE at York….