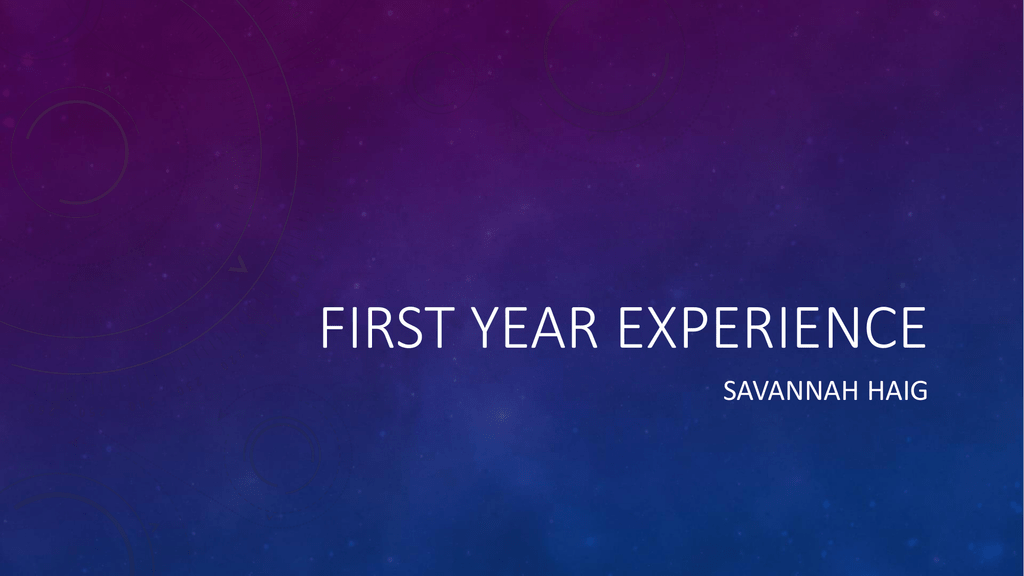 FIRST YEAR EXPERIENCE
SAVANNAH HAIG
INTRODUCTION
• What is FYE?
• Why is it important?
RESEARCH QUESTIONS
• Why should institution implement a Frist-Year Experience program?
• In what ways do FYE programs help students make the college transition?
• What effects do these programs have on student retention?
• How are orientation programs essential to FYE?
• What part do convocation ceremonies play in the FYE experience?
• In what ways are peer mentors helpful to these programs?
LITERATURE REVIEW OUTLINE
• Intentions of the program
• FYE as a course
• Correlation with retention
• Orientation
• Convocation
• Peer mentors
PROGRAM INTENTIONS
• Varies institution to institution
• Connection student to school
• Student's accountability
• Engagement
• Scholarly curiosity
• Connections
• Skills for success
(Jamelske, 2009)
FYE AS A COURSE- OBJECTIVES
• Main objective- Transition and integrate
• Campus resources and activities
• Skills for success
• Classroom as encouraging environment
• Connections with peers and faculty
(Jamelske, 2009)
FYE AS A COURSE- RESULTS
• In 2006, 85% have a program in place
• Further sense of community
• Results dependent on variables, with common goals
• Students agree that this is the time
• Higher GPAs, larger course loads, likelihood to return
• 844 -> 696, 2.777 -> 2.657
• 88% of 696 returned vs 81%
(Enke, 2011)
FYE AS A COURSE- INSTRUCTORS & CURRICULUM
• Set of parameters to follow
• No system of accountability
• Formal application process
• Lack of motivation and support of goals
• Students respond to engaged faculty
• Common Read
(Jamelske, 2009)
CORRELATION WITH RETENTION
• A sense of community
• First few weeks and first year are monumental
• 2009 study, those required to live on and take course = 88%
• Building the precollege experience, strengthen commitment
• 2010 study, improving academics is better tool for measuring
success
(Schrader & Brown, 2008)
(Benjamin, 2007)
ORIENTATION
• Few days to a week long
• Front load resources
• Campus, connections, academics
• Handle administrative matters
• Emotionally, socially, spiritually, academically
• Separate orientations based on demographics
• First-generations
• Non-traditional
• International, etc
(Schrader & Brown, 2008)
(Benjamin, 2007)
CONVOCATION
• Welcome to incoming students
• Academic based message about college and mission
• Ritual to further sense of community
• Set the tone for upcoming year
(Benjamin, 2007)
PEER MENTORS
• Difficult to fully define
• Help with the transition
• 51% of students feel as though having a PM improved their
learning
• Assist in teaching class
• Improves GPA, lessens anxiety
• Extensive hiring and training process
(D'Abate, 2009)
(Hall, 2011)
PEER MENTORS
• Advocate for students
• Source of encouragement
• Give access to resources
• Help to figure out goals and values
• Serve as guide and role model
• Encourage quest for knowledge/challenge thinking
• Integration with peers
• New opportunities and experiences
(D'Abate, 2009)
(Hall, 2011)
OVERALL EFFECTIVENESS
• 75% found information to be helpful
• 75% felt prepared for the semester ahead
• 91% would recommend future students the part in the program
• 77% understood what was expected of them after the fact
• 66% had high levels of optimism for their potential
• 76% felt part of the community
CONCLUSION
• Retention hardly effected
• Other positive effects apparent
• Transition
• More involved
• Better communication and stronger connections
• Skills for success
• Part of the community
• Some demographics of students get left out
CONCLUSION
• Important pieces:
• Orientation/welcome week
• Peer mentors
• Credit bearing courses
• Convocation
• Benefit to any institution and their first-year students
REFERENCES
Benjamin, M., Earnest, K., Gruenewald, D., & Arthur, G. (2007). The First Weeks of the First
Year. New Directions for Student Services, (117), 13-24.
D'Abate, C. (2009). Defining mentoring in the First-Year Experience: One institution's
approach to clarifying the meaning of mentoring first-year students. Journal of The FirstYear Experience & Students in Transition, 21(1), 65-91.
Enke, K. (2011). Lasting Connections: A case study of relationships formed during a first-year
seminar course. Journal of The First-Year Experience & Students in Transition, 23(1), 75-102.
Hall, R., & Jaugietis, Z. (2011). Developing peer mentoring through evaluation. Innovative
Higher Education, 36(1), 41-52.
Jamelske, E. (2009). Measuring the impact of a university first-year experience program on
student GPA and retention. Higher Education: The International Journal of Higher
Education and Educational Planning, 57(3), 373-391.
Schrader, P., & Brown, S. (2008). Evaluating the First Year Experience: Students' knowledge,
attitudes, and behaviors. Journal of Advanced Academics, 19(2), 310-343.