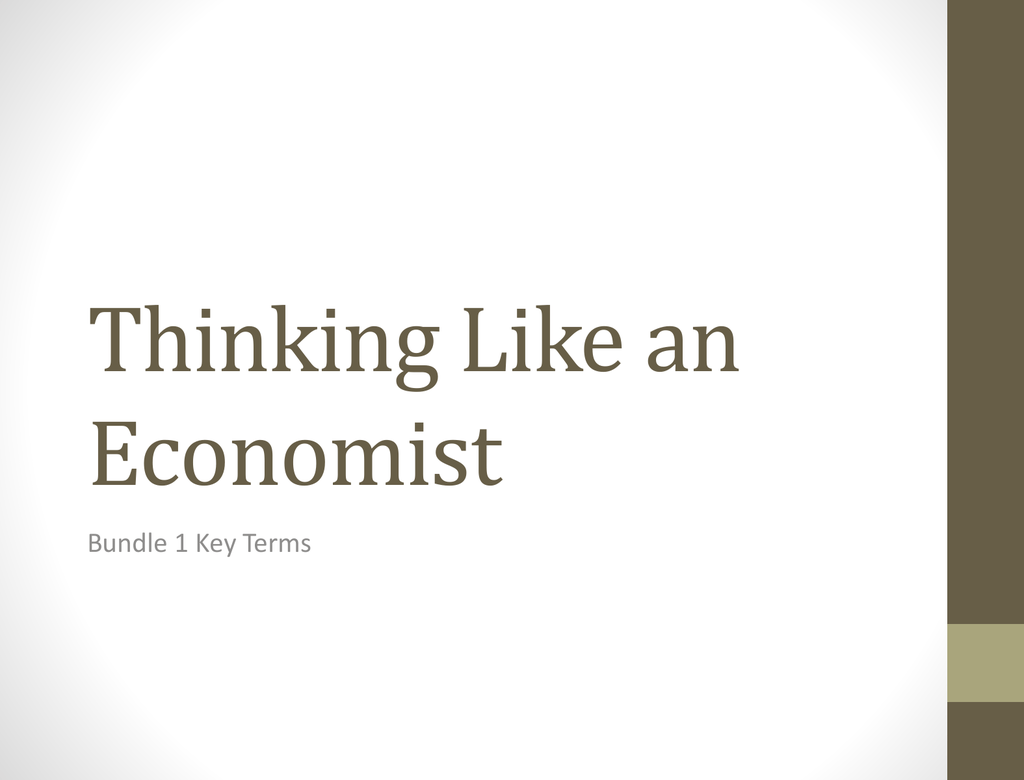 Thinking Like an
Economist
Bundle 1 Key Terms
Capitalism
• Private
citizens own
and use
factors of
production
to make
money.
Command Economy
• Central authority
(government) makes
most big economic
decisions.
Cost-Benefit Analysis
• Comparing the cost
of something to the
benefit you get from
it.
Division of Labor
• Dividing work into
separate tasks to be
performed by
different workers.
Economic Growth
• An increase in a
country's output of
goods and services.
Economics
• The study of how
people use scarce
resources to satisfy
unlimited wants and
needs.
Factors of Production
• Resources needed to
produce goods;
Land, capital, labor,
and
entrepreneurship.
Free-Enterprise System
• Privately owned
businesses work to
make a profit with
limited government
intervention.
Goods
• Physical product that
is useful,
transferable, and
satisfies wants and
needs.
Market Economy
• An economic system
where supply,
demand, and price
help people make
economic decisions.
Needs
• Basic requirements
for survival, such as
food, clothing, and
shelter.
Opportunity Cost
• Cost of the next best
alternative use of
money, time, or
resources.
Productivity
• The amount of
output in a specific
time period using a
given amount of
resources.
Scarcity
• Economic problem
of meeting unlimited
wants and needs
with limited
resources.
Services
• Work performed for
someone else.
Socialism
• Economy where
government owns
some factors of
production and
chooses what is
produced and how.
Specialization
• Someone performs a
specific task and gets
better at doing it.
Usually as part of a
larger group.
Trade-Offs
• What is given up
when one choice is
made instead of
another.
Traditional Economy
• Economy where
scarce resources or
other economic
activity is the result
of ritual, habit, or
custom.
Utility
• How useful
something is.
Value
• How much
something is worth.