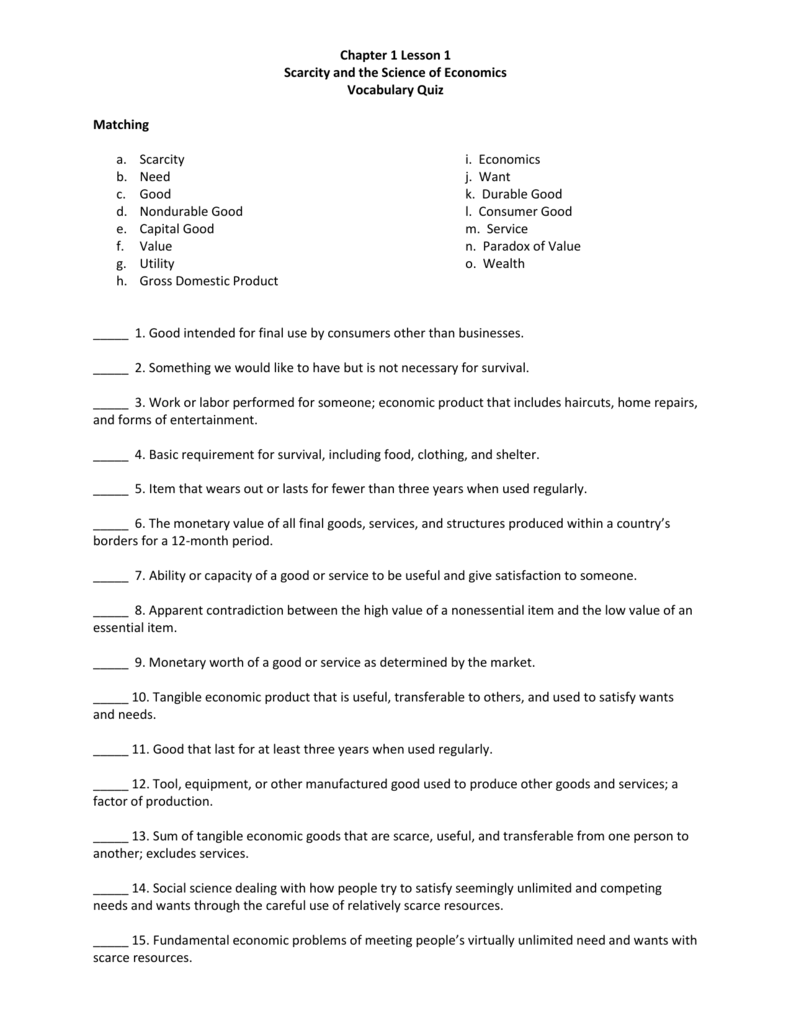 Chapter 1 Lesson 1
Scarcity and the Science of Economics
Vocabulary Quiz
Matching
a.
b.
c.
d.
e.
f.
g.
h.
Scarcity
Need
Good
Nondurable Good
Capital Good
Value
Utility
Gross Domestic Product
i. Economics
j. Want
k. Durable Good
l. Consumer Good
m. Service
n. Paradox of Value
o. Wealth
_____ 1. Good intended for final use by consumers other than businesses.
_____ 2. Something we would like to have but is not necessary for survival.
_____ 3. Work or labor performed for someone; economic product that includes haircuts, home repairs,
and forms of entertainment.
_____ 4. Basic requirement for survival, including food, clothing, and shelter.
_____ 5. Item that wears out or lasts for fewer than three years when used regularly.
_____ 6. The monetary value of all final goods, services, and structures produced within a country's
borders for a 12-month period.
_____ 7. Ability or capacity of a good or service to be useful and give satisfaction to someone.
_____ 8. Apparent contradiction between the high value of a nonessential item and the low value of an
essential item.
_____ 9. Monetary worth of a good or service as determined by the market.
_____ 10. Tangible economic product that is useful, transferable to others, and used to satisfy wants
and needs.
_____ 11. Good that last for at least three years when used regularly.
_____ 12. Tool, equipment, or other manufactured good used to produce other goods and services; a
factor of production.
_____ 13. Sum of tangible economic goods that are scarce, useful, and transferable from one person to
another; excludes services.
_____ 14. Social science dealing with how people try to satisfy seemingly unlimited and competing
needs and wants through the careful use of relatively scarce resources.
_____ 15. Fundamental economic problems of meeting people's virtually unlimited need and wants with
scarce resources.