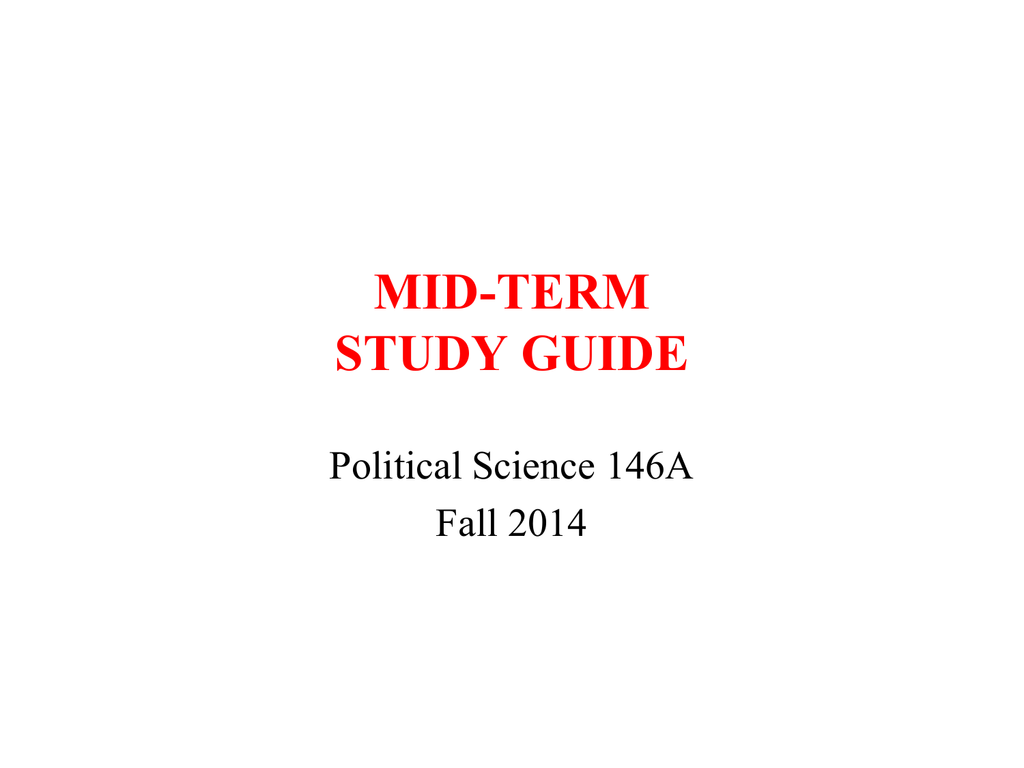 MID-TERM
STUDY GUIDE
Political Science 146A
Fall 2014
TIME AND PLACE
• Thursday, November 20
• Classroom
• 11:00-12:20
• Closed-book exam
• Bring blue books and pens/pencils
• Write legibly!
SCOPE OF MATERIAL
Videos:
• "Missing"
• "Reportero" (optional)
Reading:
• Smith, Talons, intro through ch. 12 + ch. 14
• Domínguez and Fernández de Castro, chapters
2, 6-9
Lectures:
• Sessions 1-13, at <pages.ucsd.edu/~phsmith>
I. DISCUSSION ITEMS (~30 points)
Write short (two- to three-sentence) statements identifying
and explaining the significance of such items as:
Roosevelt Corollary
José Martí
Alliance for Progress
Rafael Trujillo
Charles Horman
Organization of American States
Economic Commission for Latin America (CEPAL)
"dirty war"
Truman Doctrine
Lula
Salvador Allende
Good Neighbor Policy
César Augusto Sandino
MERCOSUR
Operation Just Cause
II. ESSAY QUESTIONS (~70 points)
1. Describe the concept of "manifest destiny" and its implications for U.S.-Latin
American relations.
2. Describe and analyze the ideological content of Latin American reactions to
the rise of U.S. power during the so-called "imperial era." .
3. What were the principal political effects of the Cold War within Latin
America?
4. How has Latin America played the "geo-economic game" since the 1990s?
Which countries have been most successful? Why?
5. What have been the impacts on Latin America of 9/11 and the "global war on
terror" ?
6. Many people now advocate "legalization" as a solution to drug problems. Do
you agree? Why or why not? Be sure to base your response on realities of the
drug market, not just your personal opinion.