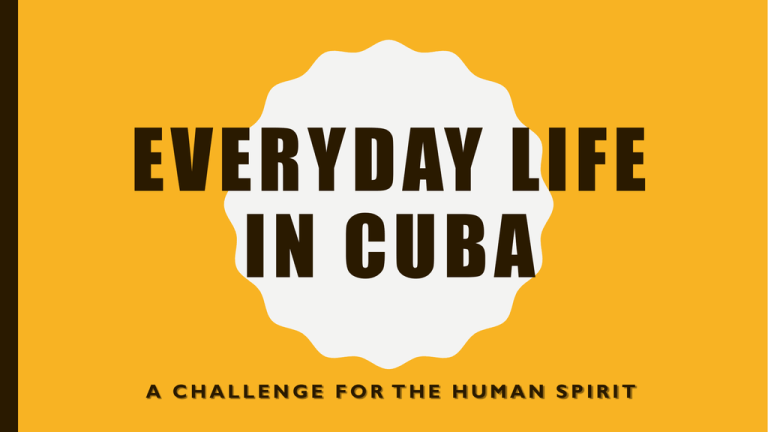 EVERYDAY LIFE
IN CUBA
A CHALLENGE FOR THE HUMAN SPIRIT
CUBA
•
Population of 11.2 million
•
Marxist-Socialist
•
$6500 GDP per capita
•
Slightly smaller than
Pennsylvania
•
Median age 40.4 years
•
Life expectancy 78.4 years
•
2nd in the world for education
expenditures
•
5% have access to the open
internet
•
One of two countries in the
world where you can't legally
buy a Coke
CAR POOL OF CLASSIC PRE-REVOLUTION VEHICLES
OLD HAVANA
THE GOVERNMENT PRINTS TWO CURRENCIES, ONE FOR THE CITIZENS AND ONE FOR TOURISTS
FIRST CURVES FRANCHISE OPENS IN CUBA
TOBACCO FARMERS
MIGRATION OF CRABS EVERY MAY FROM THE MOUNTAINS TO THE SEA
MOUNTAIN LAKE IN SOUTHEAST CUBA
VARADERO BEACH
SUGARCANE WORKER
THE MALECON STRETCHES FOR 5 MILES ALONG THE COAST IN HAVANA
TOURISTS GAWKING AT A LOCAL POTTER
IN 1997,THE CUBAN GOVERNMENT ALLOWED CUBANS TO
RENT OUT ROOMS TO TOURISTS, SIMILAR TO A B&B
A WOMAN RECEIVES HER DAILY RATION OF BREAD
A MAN DISPLAYS HIS "LIBRETA" OR RATION BOOKLET
A DAY IN THE CUBAN LIFE
SUPPLIES BOOKLET OR
RATIONS BOOKLET?
• The ration system in Cuba refers to a
food distribution system known as the
Libreta.
• Cubans are entitled to a basic ration of
groceries (rice, beans, coffee...)which they
can buy at their local bodega (shop) at
subsidized prices.
• Introduced in 1962 by Che Guevara at
that time Minister of Economy
R AT I O N E D
PRODUCTS FOR
H AVA N A ( M O N T H )
Chicken: one pound for consumers
over 14 and also for those persons
under doctor's prescription
Ground Beef: one pound for children
between 0 and 13 years
Mortadela (Italian Bologna): a half
pound for all consumers
Eggs: 5 per consumer and for those
under doctor´s prescription
Chicken or Fish: 11 ounces per
consumer. Likewise, 6 lbs. of frozen
fish with heads and tail for those with
medical prescriptions.
Rice: 7 lbs. per person
1980S: PATERNALISTIC U.S.S.R.
• Soviet Union was subsidizing the Cuban
economy to the tune of $4-6 billion a year.
• The ration was enough to last all month
and guaranteed everyone a decent diet. It
included rice, beans, lentils, milk, coffee,
weekly portions of chicken and hamburger
meat, occasional fish and pork.
"EL TIEMPO DE LOS FLACOS"
• Right after the fall of the Soviet Union in
1991, Cuba's ability to import food
dropped by 75%
• Rations fell by half, the average Cuban lost
20 pounds, and persistent hunger—
something not seen since before the
revolution—became a daily reality.
THE OPTIONS HAVE RUN OUT
• The Cuban economy had improved
considerably since then, thanks in part to
the rise in tourism dollars and to
Venezuela's subsidized oil.
• The food rations last only about 10 days
out of every month.
• Cubans must buy in markets where prices
are much higher
• The Venezuelan economy has collapsed
RAUL CASTRO SAYS:
NO MORE LIBRETA
• Cubans pay less than $2 for their monthly
rations, which is an estimated 12 percent of
the food's real value
• The average official salary stands at less than
$20/month
• Retirees fixed incomes average between
$12-$14/month
• Cuba's guaranteed food basket and free
healthcare, the poor island nation has one of
the lowest infant mortality rates and highest
life expectancy rates in the world.
TWO-TIERED SOCIETY
• Cuba imports close to 80% of the food it
consumes, costing $1.5 billion
• The best food is reserved for tourists.
• Cubans who work in the tourist sector or
receive remittances can afford market
prices and supplement their diets with
restaurant meals.
• Schools don't allow students to bring their
lunches from home to suggest equality
THERE'S NO
I N C E N T I V E TO
FA R M
Cuba has miles and miles of fertile,
lush countryside where nothing is
growing or grazing.
The government is giving out free
10-year leases on state-owned land
to anyone willing to take a crack at
farming.
The island harvested fewer than
6,000 tons of coffee last year, down
from 60,000 tons a half-century
ago, forcing the government to
spend $40 million on imported
beans.
THERE'S AN OLD JOKE IN CUBA
T H AT I F E D U C AT I O N , H E A LT H
CARE AND ATHLETICS ARE THE
CUBAN REVOLUTION'S GREATEST
ACHIEVEMENTS, THEN ITS THREE
BIGGEST FAILINGS ARE
B R E A K F A S T, L U N C H A N D D I N N E R .