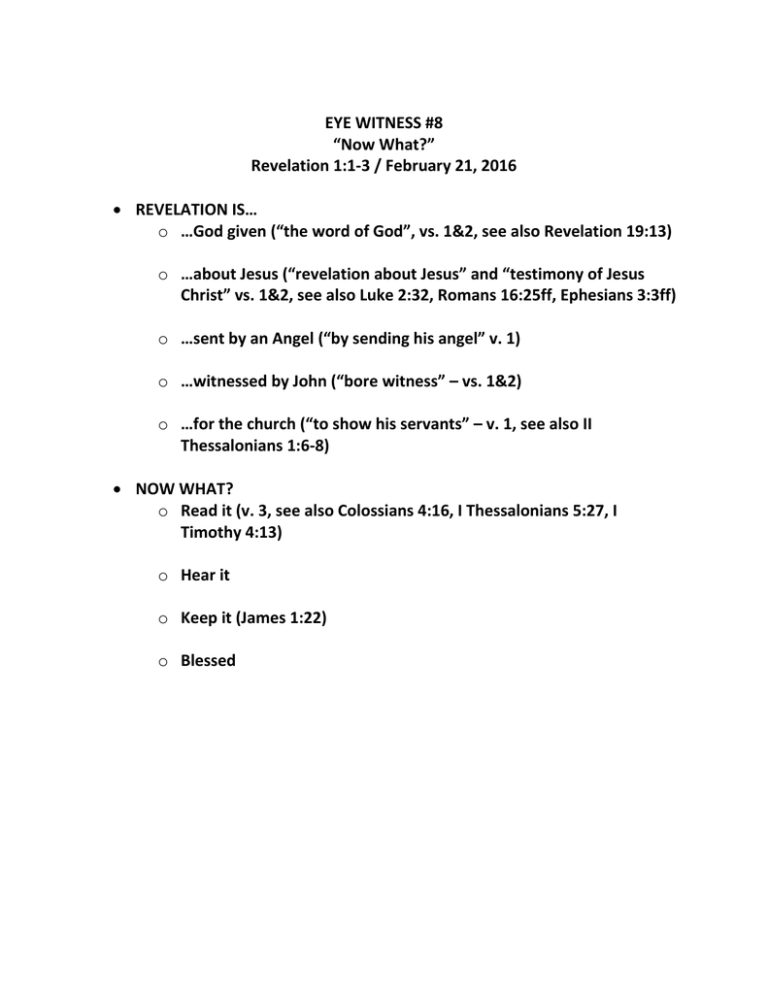 EYE WITNESS #8
"Now What?"
Revelation 1:1-3 / February 21, 2016
 REVELATION IS…
o …God given ("the word of God", vs. 1&2, see also Revelation 19:13)
o …about Jesus ("revelation about Jesus" and "testimony of Jesus
Christ" vs. 1&2, see also Luke 2:32, Romans 16:25ff, Ephesians 3:3ff)
o …sent by an Angel ("by sending his angel" v. 1)
o …witnessed by John ("bore witness" – vs. 1&2)
o …for the church ("to show his servants" – v. 1, see also II
Thessalonians 1:6-8)
 NOW WHAT?
o Read it (v. 3, see also Colossians 4:16, I Thessalonians 5:27, I
Timothy 4:13)
o Hear it
o Keep it (James 1:22)
o Blessed
Prayers for ECC
 Pray for our ministry partners in San Diego - Brandon and Jamie Grant and
the ministry of Rise City Church
 Pray for our search for a new Jr. High pastor, that God will direct us to the
right person to help nurture and lead Jr. High students for Christ. Pray for
Brooke, Christine, and Mendy as they carry the load in the interim.
 Pray for the hundreds of Jr. High youth and sponsors who will have
travelled to Cincinnati this weekend for the CIY believe conference. Ask
God to instill a deep faith in our Jr. High students and to prepare them for
leading in the church.
 Pray for our college students at Eastview and our partnership with
Encounter Campus ministry. Pray that we can be a light on the campuses of
this town through our life and witness.
Four Views of Interpretation
(source: Plain Truth Ministries, ptm.org )
Preterist. Most prophecies in the book of Revelation were
fulfilled during the time of the Roman Empire.
Historicist. The prophecies have been fulfilled throughout
history and are still being fulfilled today.
Futurist. Most prophecies beyond Revelation 3 are yet to
be fulfilled.
Spiritual (or Symbolic or Idealist). Most prophecies portray
the ongoing cosmic conflict of spiritual realities and may
have many fulfillments throughout history.