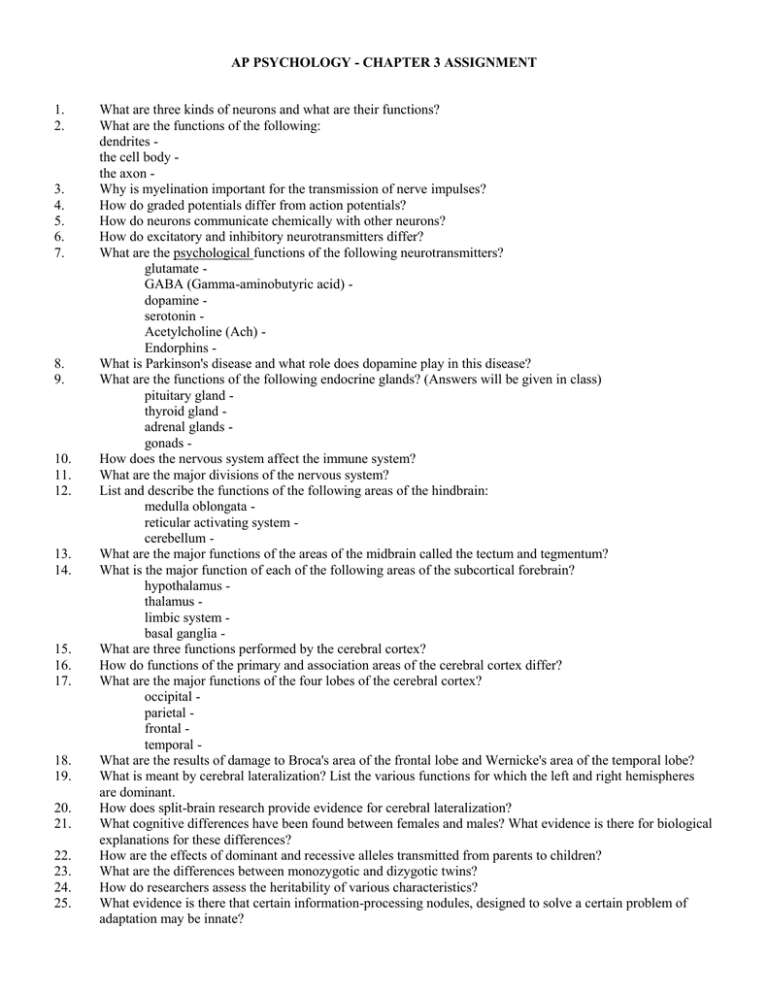 AP PSYCHOLOGY - CHAPTER 3 ASSIGNMENT
1.
2.
3.
4.
5.
6.
7.
8.
9.
10.
11.
12.
13.
14.
15.
16.
17.
18.
19.
20.
21.
22.
23.
24.
25.
What are three kinds of neurons and what are their functions?
What are the functions of the following:
dendrites the cell body the axon Why is myelination important for the transmission of nerve impulses?
How do graded potentials differ from action potentials?
How do neurons communicate chemically with other neurons?
How do excitatory and inhibitory neurotransmitters differ?
What are the psychological functions of the following neurotransmitters?
glutamate GABA (Gamma-aminobutyric acid) dopamine serotonin Acetylcholine (Ach) Endorphins What is Parkinson's disease and what role does dopamine play in this disease?
What are the functions of the following endocrine glands? (Answers will be given in class)
pituitary gland thyroid gland adrenal glands gonads How does the nervous system affect the immune system?
What are the major divisions of the nervous system?
List and describe the functions of the following areas of the hindbrain:
medulla oblongata reticular activating system cerebellum What are the major functions of the areas of the midbrain called the tectum and tegmentum?
What is the major function of each of the following areas of the subcortical forebrain?
hypothalamus thalamus limbic system basal ganglia What are three functions performed by the cerebral cortex?
How do functions of the primary and association areas of the cerebral cortex differ?
What are the major functions of the four lobes of the cerebral cortex?
occipital parietal frontal temporal What are the results of damage to Broca's area of the frontal lobe and Wernicke's area of the temporal lobe?
What is meant by cerebral lateralization? List the various functions for which the left and right hemispheres
are dominant.
How does split-brain research provide evidence for cerebral lateralization?
What cognitive differences have been found between females and males? What evidence is there for biological
explanations for these differences?
How are the effects of dominant and recessive alleles transmitted from parents to children?
What are the differences between monozygotic and dizygotic twins?
How do researchers assess the heritability of various characteristics?
What evidence is there that certain information-processing nodules, designed to solve a certain problem of
adaptation may be innate?