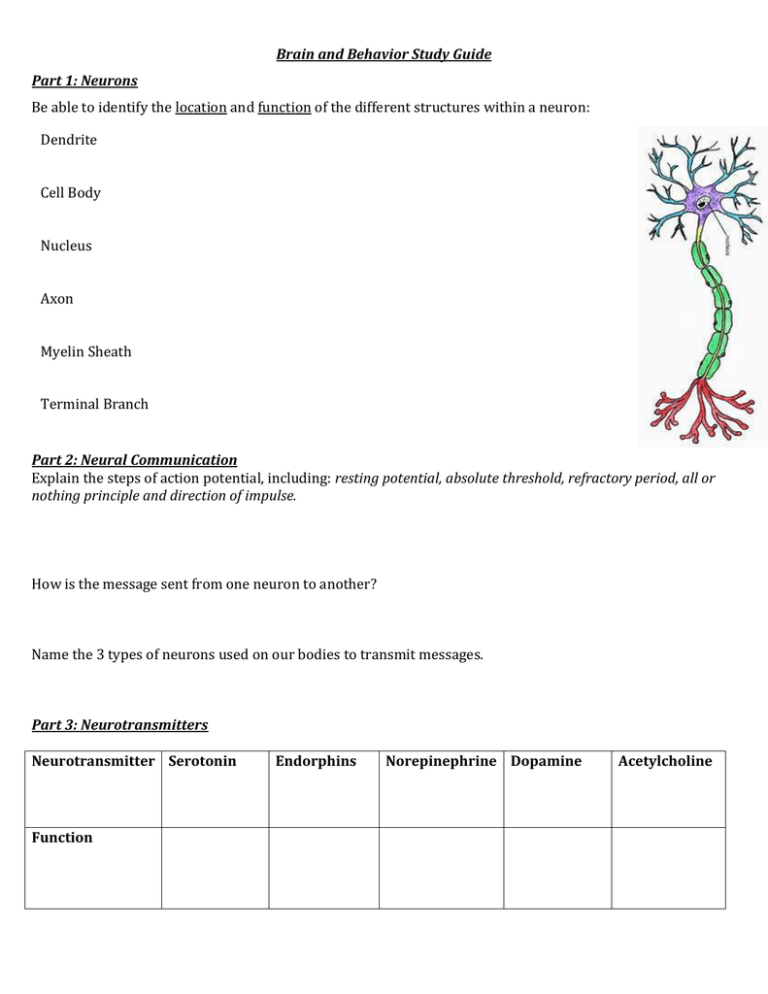 Brain and Behavior Study Guide
Part 1: Neurons
Be able to identify the location and function of the different structures within a neuron:
Dendrite
Cell Body
Nucleus
Axon
Myelin Sheath
Terminal Branch
Part 2: Neural Communication
Explain the steps of action potential, including: resting potential, absolute threshold, refractory period, all or
nothing principle and direction of impulse.
How is the message sent from one neuron to another?
Name the 3 types of neurons used on our bodies to transmit messages.
Part 3: Neurotransmitters
Neurotransmitter Serotonin
Function
Endorphins
Norepinephrine Dopamine
Acetylcholine
Part 4: Nervous System
Explain the key functions of each of the following systems within the body. Be able to identify situations
where each would be active:
Central Nervous SystemAutonomic Somatic SympatheticParasympatheticEndocrine System-
Part 5: Brain
Identify the function of each structure of the brain and label the location on a diagram!
Thalamus:
Amygdala:
Occipital Lobe:
Cerebellum:
Cerebral Cortex:
Temporal Lobe:
Corpus Callosum:
Hippocampus:
Broca's Area:
Hypothalamus:
Frontal Lobe:
Wernicke's Area:
Brainstem:
Parietal Lobe:
Motor Cortex (Space):
Sensory Cortex (Space):
Adrenal Gland:
Plasticity:
Part 6: Hemispheric Dominance
Name 4 responsibilities dominated by the right brain:
1.
2.
3.
4.
3.
4.
Name 4 responsibilities dominated by the left brain:
1.
2.
What does it mean that your body is contralateral?
Describe the disability Prosopagnosia.
Part 7: Split Brain
How will the participant
most likely respond to each
of the following situations?


Avoid a
AND STUDY!