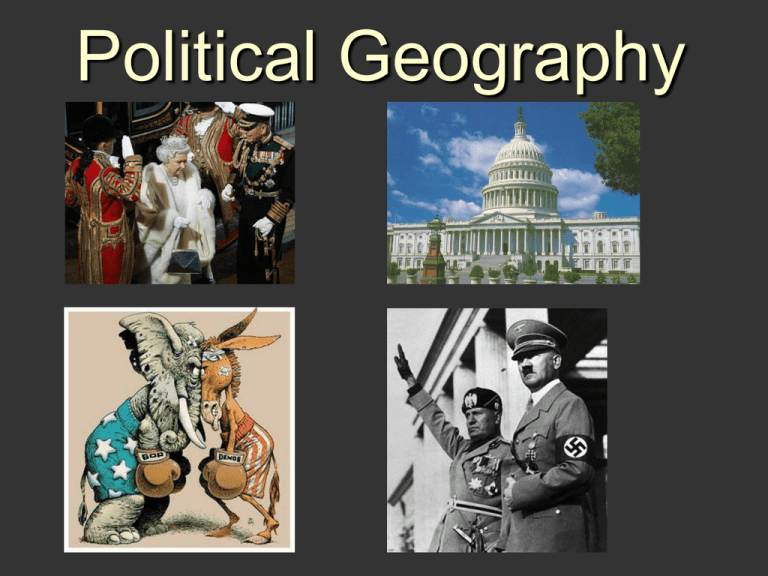 Political Geography
What is Political Geography?


Study of governmental systems
Study of nation-states
Nations, States, and Nation States?

Nation – a people with
common culture, usually in
a specific territory
+

State – sovereign
government, located in
specific territory
=

Nation-State – nation and
state in same territory
Types of Borders


Natural Borders – created
by physical features
Example: Rio Grande River
(Mexico and US)
Political Borders
–artificial, set by
govt. (imaginary
lines)
Example: North
and South Korea
Major Functions of Governments

Different government systems
divide powers and responsibilities
differently. Separation of powers,
distribution of powers vary by
country.

Executive – authority for the dayto-day operation of the
government
Legislative – decision-making
assembly or other body
Judicial – law and justice issues


Major Types of Political Systems
We will discuss good things and bad things about each one.
Democracy
or
Republic

citizens hold political power

2 main kinds – "direct"
democracy, "representative"
democracy
Example:
 USA, most modern nations
"Monarchy"
Who has power?
 King or Queen
What else should you
know?
 Usually shares power
with other groups,
typically a legislature –
making them a
"constitutional monarchy"
Example?
 Great Britain, Jordan
Communism
"Authoritarian"
Who has power?
 Government has all political
power (not the people)
What else should you know?



One ruler – "Dictatorship"
Group – "Oligarchy"
Total control of all aspects of a
citizen's life – "Totalitarianism"
Examples?
Nazi Germany, Soviet Union
Cuba, North Korea, Syria
People's Republic of China
"Anarchy" or "Failed State"
Who has power?
•Nobody, or gangs and warlords… violence = political power in a failed
state. There often is a government, but it has no control over its territory.
What else should you know?
•The instability is often fueled by illegal drugs or resources, because of
external interference.
Examples:
•See map
Human Interactions
What is an Ethnic Group?

A group of people who share language,
customs and a common heritage.
What is Race?

Race A group of human beings
distinguished by physical traits, blood types,
genetic code patterns or genetically
inherited characteristics.
Ethnocentrism

Believing that one's own culture is best or
better than others.
Why people move.

Push – means leaving an area because of
what is happening in the area you are
leaving.
 Ex. Political unrest, no jobs, natural disaster

Pull – means leaving an area because of
what is happening in the area you are going
to.
 Ex. Good jobs, stable government, weather
What happens when people move?

Do you become like them??
 Assimilation –the minority is absorbed by the
majority.
What happens when you move?

Do they become a little like you?
 Cultural Diffusion – The spread of ideas,
inventions or patterns of behavior to
different societies.
What happens when you move?

Acculturation – Cultural change that occurs
when individuals in a society accept or adopt an
innovation.