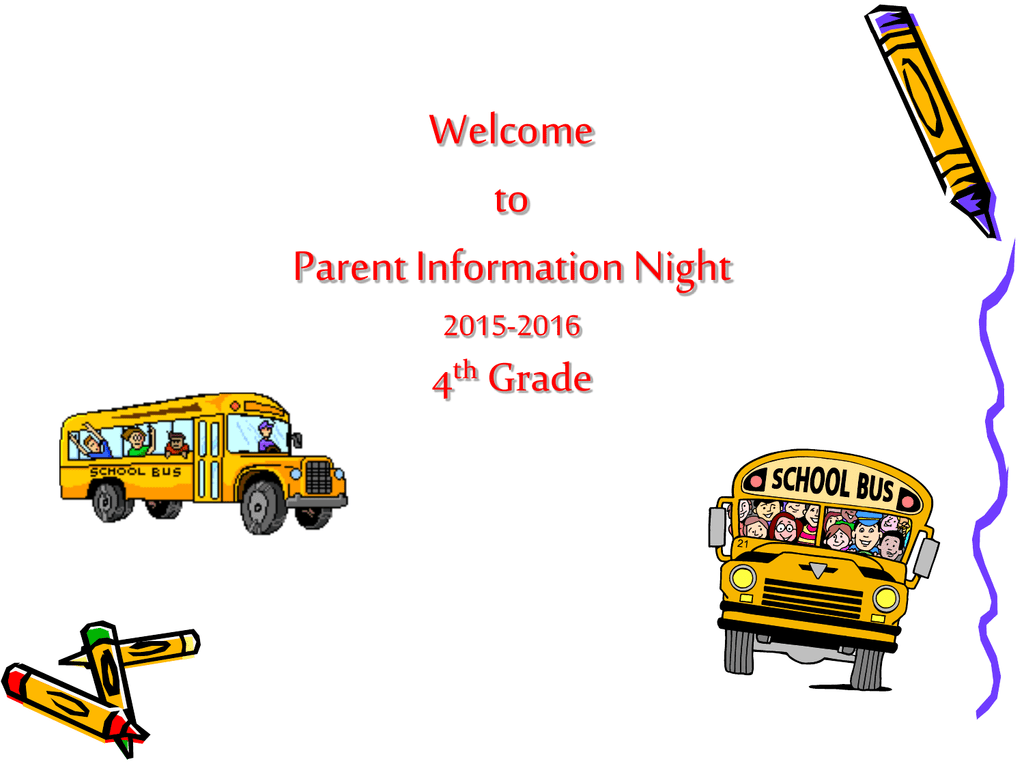 Welcome
to
Parent Information Night
2015-2016
4th Grade
Welcome Fourth Grade Parents!
• We welcome you and your child to
the fourth grade at West Chatham
Elementary. This presentation will
provide an overview of the
upcoming year and answer
questions you may have. Although
it is just one grade higher, fourth
grade is a giant step from third
grade in terms of curriculum,
academic requirements, and
expectations. As the fourth grade
curriculum is broad, there is more
content for teachers to present
and for students to learn.
We believe students should have goals to help get
them through the year. Here are some goals for
our students.
1. Believe in oneself
2. Be committed and determined to learn
3. Be responsible for your work and
behavior
4. Take pride in the quality of your work
5. Be positive to other students and adults
Eagle Rules (PBIS)
• Stay Safe
• On task
• Attitude
• Respectful
PBIS
• Positive Behavior Intervention System
• By following school and classroom rules and going
above and beyond what is expected, students can
earn Eagles.
• Class Eagles and Individual Eagles can be given by
any member of the school staff.
• Students can use their Eagles at the Eagle school
store to cash in for different rewards.
4th Grade Testing
• Reading/Lexile Level:
Scholastic Reading Inventory
(SRI- Fall, Winter, Spring)
• MAP (Math - Fall, Winter, and
Spring)
• GA Milestones (Spring)
• Cold Reads: Data collected
biweekly
Scholastic Reference
Test (SRI)-Reading
Students must have a 645 or
greater for promotion to the 5th
grade!
MAP- Math
Students must obtain a 205 or
greater for promotion to 5th
grade!
GA Milestones
• TAKEN ON COMUPTERS! KEYBOARDING
SKILLS NEED TO BE PRACTICED WEEKLY
AT HOME AND AT SCHOOL !
•
ELA will consist of 3 sections, 1 of which will focus
mainly on writing
•
Mathematics will consist of 2 sections
•
Science will consist of 2 sections
•
Social Studies will consist of 2 sections
RTI
Response to Intervention
• Students who do not meet grade level
benchmarks in reading or math for fall, winter,
and spring will be receiving additional support
through means of reading/math interventions.
• Interventions will be given by our classroom
assistants, classroom teachers, speech
pathologists, reading resource, diagnostician,
extended resource teacher, etc.
• Interventions will take place during your child's
FLEX block.
Progress Monitoring
• Students receiving interventions will
be progress monitored weekly if not
bi-weekly to ensure they are making
progress and that the intervention is
working.
Grades/Weights
•
•
•
•
Assessments: 50%
Classwork:40%
Homework: 10%
Classwork needs to be completed and turned in
daily!
• Assignments not turned in are a ZERO unless
turned in. Then, they are -15 for every day late.
• Cold Reads grades will be given biweekly. Keep an
eye out for the grades on these because they
indicate if your child is improving in reading.
• ON MONDAYS!! Folder for classwork goes home
and needs to be signed and returned on Tuesday!
Homework
• All homework is due Friday unless specified!
• 30-40 minutes per night including self-selected
reading and studying math facts.
– Reading Logs will need to be signed weekly
and returned as well.
• All homework assignments will be recorded in
your child's agenda daily.
How can I help my child with
homework/school organization?
• Encourage and support Independence
• Routine, routine, routine
• Encourage your child to reread assignments or directions
before beginning homework
• Have your child read directions aloud
• Encourage your child to ask specific questions
• Use notes when provided
• Encourage your child to ask teacher for help
• Encourage your child to check over their work when
completed
Communication
• Daily Take-Home BEE book (notes and
daily homework assignments in agendas)
• Monday Folders (parent signature neededgraded work)
• Email/Phone/Notes
• Teacher webpage (updated weekly)
Reading
• Our core reading program involves
reading novels. The first two are:
• Who Was Neil Armstrong? (1st 9 weeks)
• George Washington's Socks (2nd 9
weeks)
Ideas to support Reading
at Home
• Model a love for reading and share your
thinking as you read
• Compliment your child on his or her reading
• Have conversations about the books and
various texts your child is reading
• Read together as a family
• Read to younger siblings
• Read aloud to your children
Spelling/Vocabulary
Spelling-
• Lists will go home biweekly.
• Words will be individualized based on Greek
and Latin roots.
• Students will learn the spelling of each word
and test on Fridays rotating with
Vocabulary.
Vocabulary• Students will learn the meanings of each
Greek or Latin word and test on Fridays
rotating with Spelling.
Math
• Emphasis will be on developing students' ability to
use math problem solving processes and on
developing students' math facts, skills, and
concepts.
• We will be covering place value,
rounding/estimation, number sense, multiplication
(2 digit by 1 digit and 2 digit by 2 digit), division
(long division), fractions (adding, subtracting,
reduce/simplify, like denominators), measurement,
decimals, geometry, patterns, and problem solving.
Math Facts!!!!
• Please make sure your child is
working towards mastering their
MULTIPLICATION and DIVISION
facts!!!
Science
• Scientific Method/Science
Process Skills
• 1st MP: Our Stars/Solar System
• 2nd MP: Sound and Light
• 3rd MP: Ecology/Weather
• 4th MP: Force and Motion
Social Studies
• Geography/Regions (Map
Skills and Globes)
• Early Americans thru the
Revolutionary War
• Current events
Computers
• Practice keyboarding! Site:
TYPING!
DANCE MAP
http://www.bbc.co.uk/guides/z3c6tfr
• Computer times will vary depending
on activities and projects.
• Compass Learning/Odyssey
(SRI/MAP goals)
– students can access Compass Learning at home.
T.E.A.M.
Together Everyone Achieves
More
ANY QUESTIONS??
Feel free to contact your
homeroom teacher! 
Thank you so much for
coming!!!
We are all in this
together!