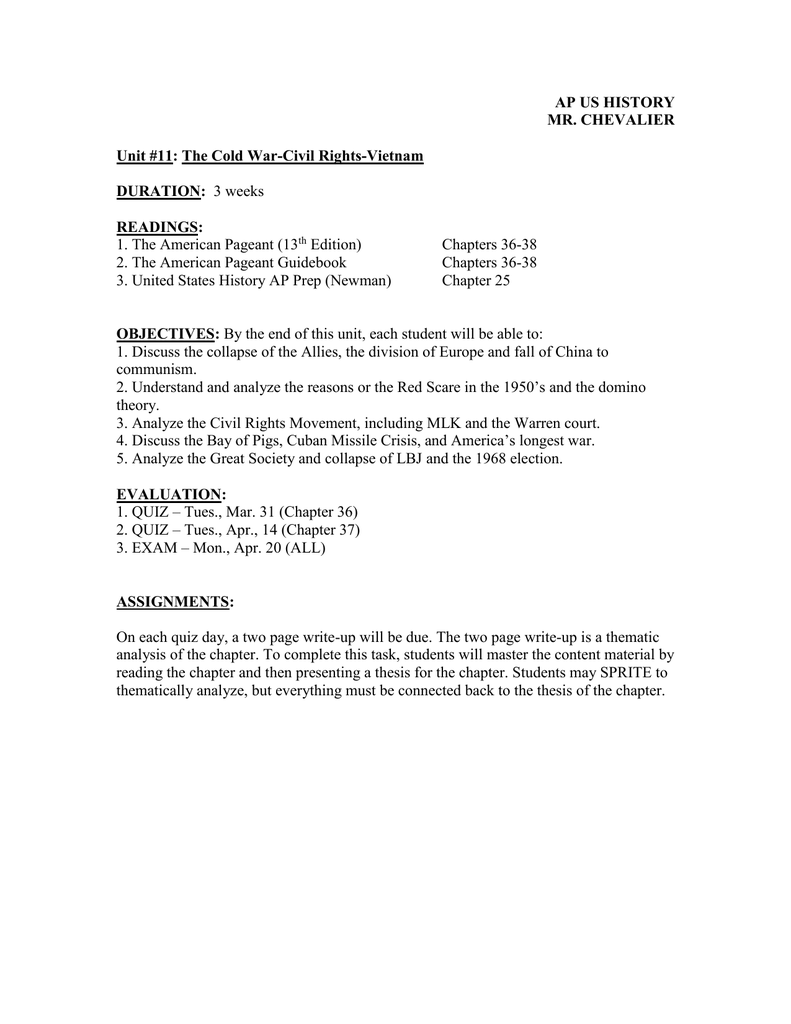 AP US HISTORY
MR. CHEVALIER
Unit #11: The Cold War-Civil Rights-Vietnam
DURATION: 3 weeks
READINGS:
1. The American Pageant (13th Edition)
2. The American Pageant Guidebook
3. United States History AP Prep (Newman)
Chapters 36-38
Chapters 36-38
Chapter 25
OBJECTIVES: By the end of this unit, each student will be able to:
1. Discuss the collapse of the Allies, the division of Europe and fall of China to
communism.
2. Understand and analyze the reasons or the Red Scare in the 1950's and the domino
theory.
3. Analyze the Civil Rights Movement, including MLK and the Warren court.
4. Discuss the Bay of Pigs, Cuban Missile Crisis, and America's longest war.
5. Analyze the Great Society and collapse of LBJ and the 1968 election.
EVALUATION:
1. QUIZ – Tues., Mar. 31 (Chapter 36)
2. QUIZ – Tues., Apr., 14 (Chapter 37)
3. EXAM – Mon., Apr. 20 (ALL)
ASSIGNMENTS:
On each quiz day, a two page write-up will be due. The two page write-up is a thematic
analysis of the chapter. To complete this task, students will master the content material by
reading the chapter and then presenting a thesis for the chapter. Students may SPRITE to
thematically analyze, but everything must be connected back to the thesis of the chapter.