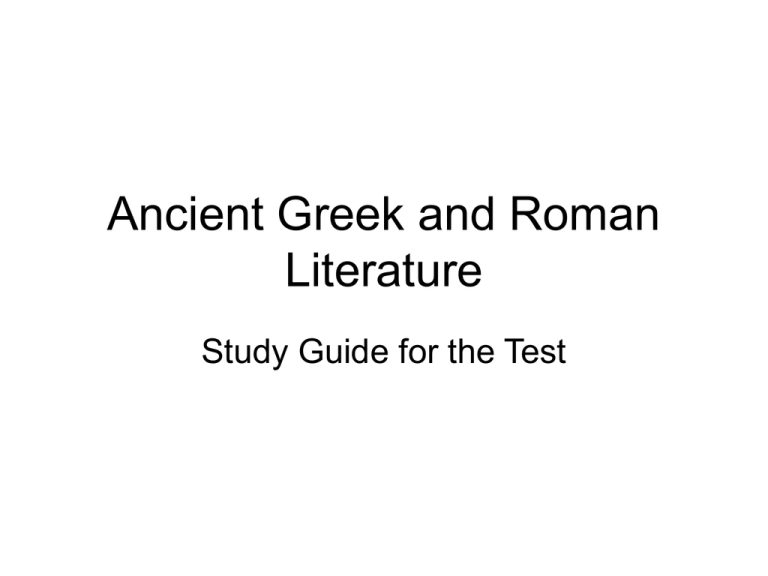 Ancient Greek and Roman
Literature
Study Guide for the Test
History
• Greece civilization began on Crete.
• Called Minoan after King Minos (minotaur
guy!)
• This era known as the Heroic Age,
because of the Heroes of Myths/Homer's
Stories
• Greeks called themselves Hellenes
History
•
•
•
•
•
Olympic games created during this time
Lyric Poetry – personal instead of heroes
Sparta vs Athens
Athens creates democratic govt.
Drama – profound questions about human
suffering, individual free will, moral
responsibility, and the limits of knowledge
History
• Socrates, Plato, Aristotle – Philosophers
• Peloponnesian War ends Athens rule
• Aeneid says a Trojan Prince founded
Rome.
• Julius Caesar stabbed to death on March
15 – Beware the Ides of March
• Rome splits into two Empires (East/West)
and slowly declines
Epic
•
•
•
•
•
Invocation
In medias res
Epic Similes
Stock epithets
An extended narrative poem recounting
actions, travels, adventures, and heroic
episodes and written in a high style
• Know conventions and characteristics!
The Iliad
• Literary Focus – Flashback and
Foreshadowing
• Know the 3 Greek Beliefs
• Characters – Be able to match them to
their sides and know how to describe the
important ones
• Be able to answer simple plot questions
Oedipus Rex
• Literary Focus – Dramatic Irony
• Be able to define Tragedy, Tragic Flaw,
Hubris, and Catharsis
• Discuss Themes – Fate vs Free Will,
Quest for Identity/Truth, Nature of
Innocence vs Guilt, or Nature of Moral
Responsibility
• Greek Drama – Know it!