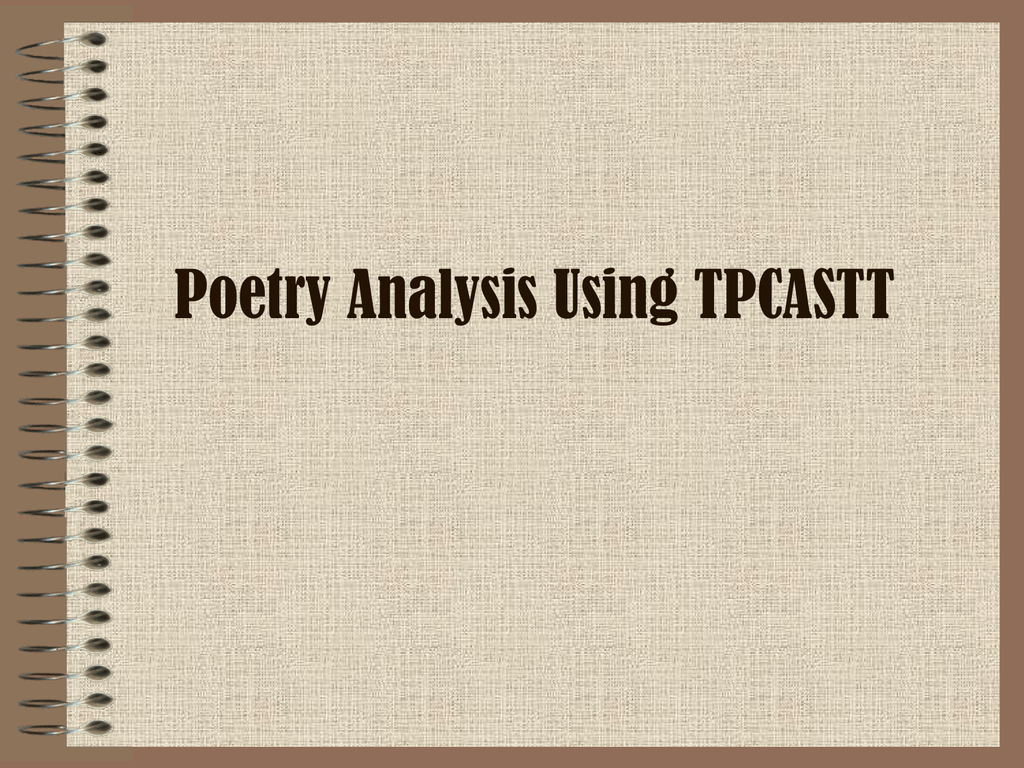 Poetry Analysis Using TPCASTT
Getting Started…
• This is a process to help you organize your
analysis of poetry.
• We have already learned the vocabulary,
now it's time to put it into practice!
• Together, we are going to analyze "My
Papa's Waltz" using TPCASTT.
• You have a note sheet that looks like this…
T is for TITLE
• Analyze the title first.
• What do you predict this poem will be
about?
• Write down your predictions.
• We will reflect on the title again after we
have read the poem.
• The next step is often omitted, but it is the
most important!!!!
READ THE POEM!!!!
P is for PARAPHRASE
• Paraphrasing is
putting something in
your own words.
• After reading the
poem, rewrite it in
your own words.
• This may be three
sentences or a page,
depending on the
particular poem.
C is for CONNOTATION
• Analyze the figures of
speech and sound
effects of the poem.
• These are the poetry
vocabulary we have
already studied.
• These elements add to
the meaning.
A is for ATTITUDE
• Tone is the attitude of
the speaker toward the
subject of the poem.
S is for SHIFT
• If there is a change
in…
– Time
– Tone
– Speaker
This should always
be noted as this
will also affect the
meaning.
T is for TITLE (again)
• At this time, you should reconsider the
title.
• Were you right in your predictions?
• What other meanings might the title have
in light of your analysis?
• Next, the biggie….
T is for THEME
• As you already know, theme is the general
insight into life conveyed by the author
through his/her work.
• It does not make a judgment.
example: "Don't do drugs" is not a theme.
• It merely states something that is true to
life and the human condition.
How do I find the THEME?
• Look at the other
parts of TPCASTT.
• What insight are all of
these working
together to convey?
• What is the poet
trying to say about
life?