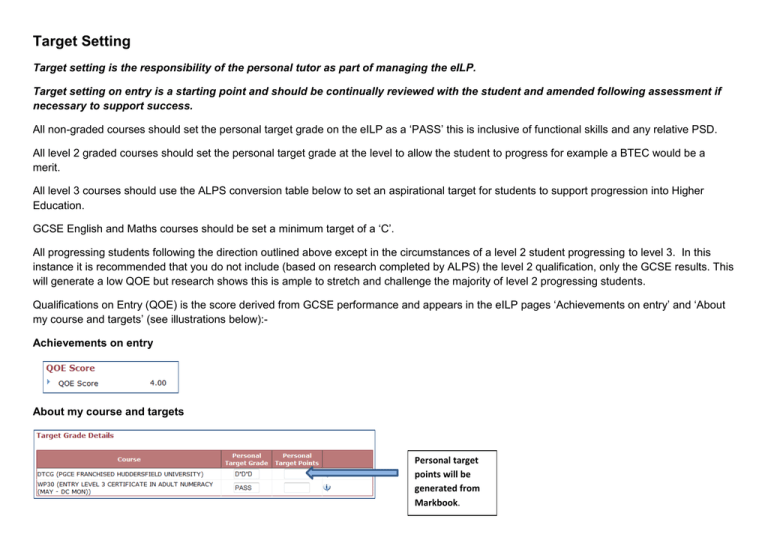 Target Setting
Target setting is the responsibility of the personal tutor as part of managing the eILP.
Target setting on entry is a starting point and should be continually reviewed with the student and amended following assessment if
necessary to support success.
All non-graded courses should set the personal target grade on the eILP as a 'PASS' this is inclusive of functional skills and any relative PSD.
All level 2 graded courses should set the personal target grade at the level to allow the student to progress for example a BTEC would be a
merit.
All level 3 courses should use the ALPS conversion table below to set an aspirational target for students to support progression into Higher
Education.
GCSE English and Maths courses should be set a minimum target of a 'C'.
All progressing students following the direction outlined above except in the circumstances of a level 2 student progressing to level 3. In this
instance it is recommended that you do not include (based on research completed by ALPS) the level 2 qualification, only the GCSE results. This
will generate a low QOE but research shows this is ample to stretch and challenge the majority of level 2 progressing students.
Qualifications on Entry (QOE) is the score derived from GCSE performance and appears in the eILP pages 'Achievements on entry' and 'About
my course and targets' (see illustrations below):Achievements on entry
About my course and targets
Personal target
points will be
generated from
Markbook.
Convert QOE Score to qualification target
GCSE score
Certificate 1
Sub Dip
90 Credit Dip
Diploma
Ext Dip
City&Guilds
AS / A
6.7 - 8.0
D*
D*
D*D*
D*D*
D*D*D*
D
A*/A
6.4 - <6.7
D*
D*
D*D
D*D
D*DD
D
B
6.1 - <6.4
D*/D
D*/D
D*D
D*D
D*DD
D
B/C
5.8 - <6.1
D
D
DD
DD
DDD
D
B/C
5.5 - <5.8
D
D
DD
DD
DDM
M
C
5.2 - <5.5
D
D
DD/DM
DD/DM
DDM
M
C
4.7 - <5.2
D/M
D/M
DM
DM
DDM
M
C/D
4.3 - <4.7
D/M
D/M
DM
DM
DMM
C
D
4.0 - <4.3
M
M
DM/MM
DM/MM
DMM
C
D
3.5 - <4.0
M
M
MM
MM
MMM
P
D
0.0 - <3.5
M
M
MM
MM
MMM
P
D
Alps national benchmarks are used to set targets for students (studying A level, AS level and BTEC subsidiary or extended diploma courses), which in turn generate subject
and school or college targets. The targets are aspirational; they are not seeking to match the national average student performance, but that of the top performing 25% of
schools and colleges.