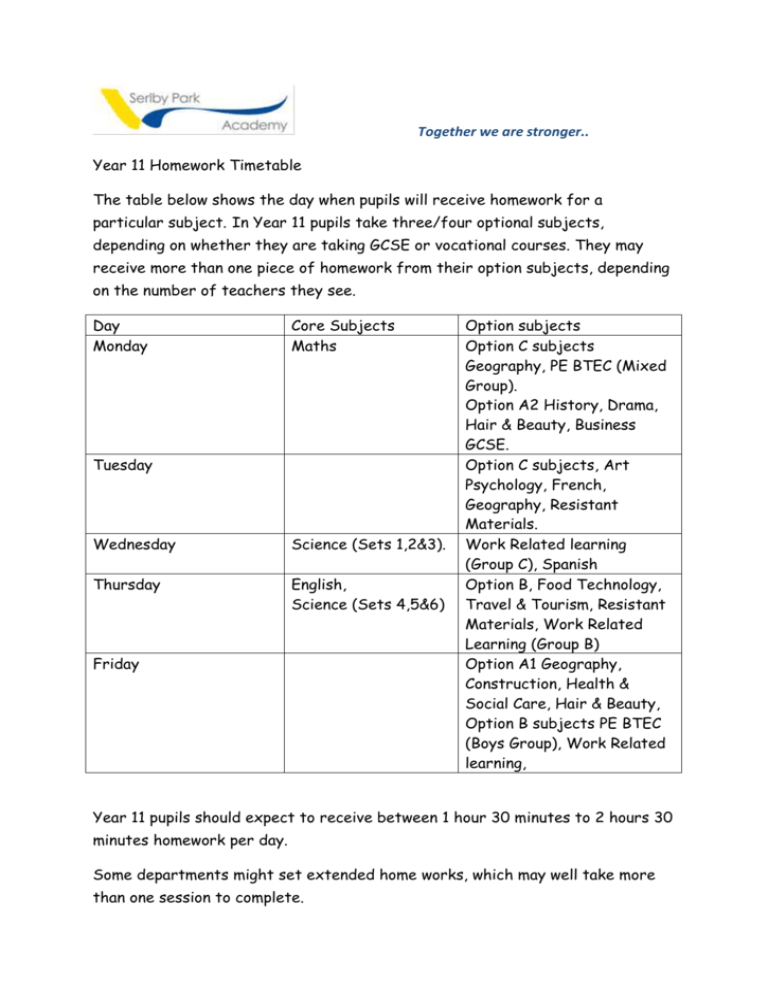 Together we are stronger..
Year 11 Homework Timetable
The table below shows the day when pupils will receive homework for a
particular subject. In Year 11 pupils take three/four optional subjects,
depending on whether they are taking GCSE or vocational courses. They may
receive more than one piece of homework from their option subjects, depending
on the number of teachers they see.
Day
Monday
Core Subjects
Maths
Tuesday
Wednesday
Science (Sets 1,2&3).
Thursday
English,
Science (Sets 4,5&6)
Friday
Option subjects
Option C subjects
Geography, PE BTEC (Mixed
Group).
Option A2 History, Drama,
Hair & Beauty, Business
GCSE.
Option C subjects, Art
Psychology, French,
Geography, Resistant
Materials.
Work Related learning
(Group C), Spanish
Option B, Food Technology,
Travel & Tourism, Resistant
Materials, Work Related
Learning (Group B)
Option A1 Geography,
Construction, Health &
Social Care, Hair & Beauty,
Option B subjects PE BTEC
(Boys Group), Work Related
learning,
Year 11 pupils should expect to receive between 1 hour 30 minutes to 2 hours 30
minutes homework per day.
Some departments might set extended home works, which may well take more
than one session to complete.
Not all homework's will be written or formal, some may involve carrying out
research or collecting data.