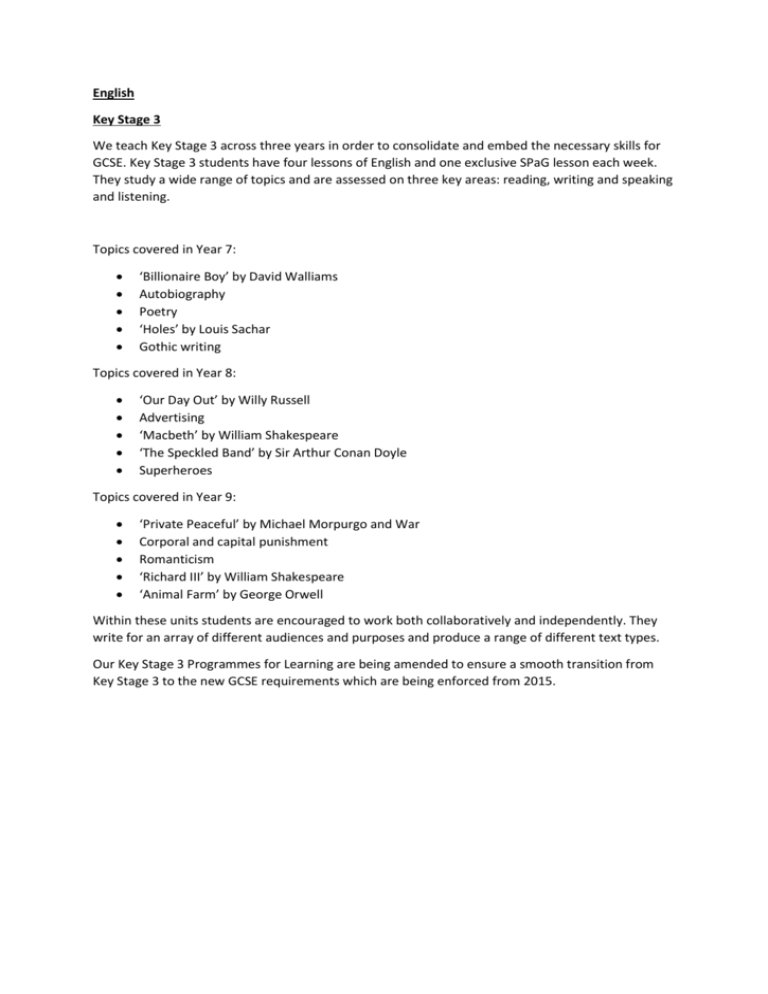 English
Key Stage 3
We teach Key Stage 3 across three years in order to consolidate and embed the necessary skills for
GCSE. Key Stage 3 students have four lessons of English and one exclusive SPaG lesson each week.
They study a wide range of topics and are assessed on three key areas: reading, writing and speaking
and listening.
Topics covered in Year 7:





'Billionaire Boy' by David Walliams
Autobiography
Poetry
'Holes' by Louis Sachar
Gothic writing
Topics covered in Year 8:





'Our Day Out' by Willy Russell
Advertising
'Macbeth' by William Shakespeare
'The Speckled Band' by Sir Arthur Conan Doyle
Superheroes
Topics covered in Year 9:





'Private Peaceful' by Michael Morpurgo and War
Corporal and capital punishment
Romanticism
'Richard III' by William Shakespeare
'Animal Farm' by George Orwell
Within these units students are encouraged to work both collaboratively and independently. They
write for an array of different audiences and purposes and produce a range of different text types.
Our Key Stage 3 Programmes for Learning are being amended to ensure a smooth transition from
Key Stage 3 to the new GCSE requirements which are being enforced from 2015.