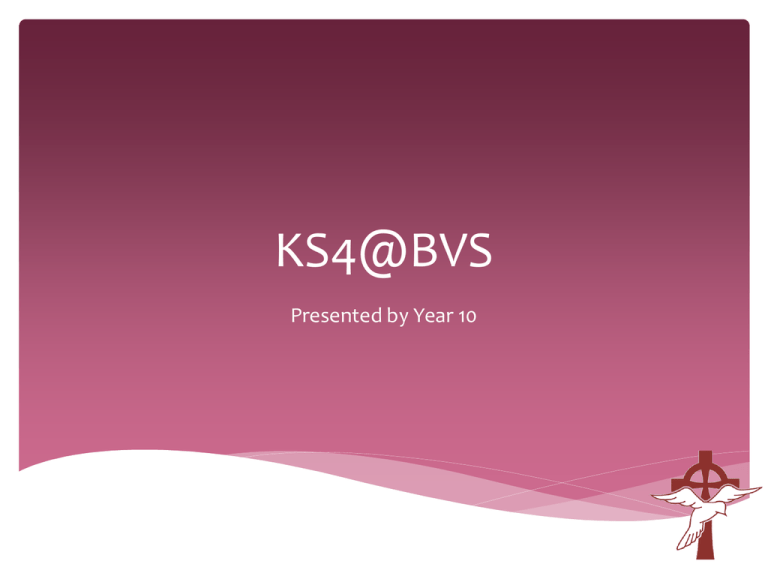 KS4@BVS
Presented by Year 10
Your Worries
 You may be worried about moving from Year 9 to
Year 10, You have asked us questions such as:
What is the
difference
between BTEC and
GCSE?
How much
homework are we
expected to do?
How much course
work will be
expected from me?
What is the main
difference
between Year 9
and Year 10?
What equipment
do you need in
Year 10?
When do I need to
start revising?
BTECs vs GCSEs
BTEC





Lots of Course work
Equivalent to A*-C at GCSE
On going assessment.*
Includes some vocational element
Assessed through coursework and
portfolio
 Pass, Merit, or Distinction
*You maybe required to do a small exam*
GCSE





Exam based
Some Course work
Can get A* - G
Includes controlled assessments
Controlled assessments Assessed
through school
Equipment and Homework
You will be required to have the
following:
 Pens, Pencils, Ruler etc.
 Resources specific to your
subject e.g. Spanish dictionary,
Revision guides
 You are going to have 2 homework tasks a
day!
 This is set by the school.
 The homework will normally be due in 3-7
days.
Attendance
If your attendance is below 80% then you can not sit
your GCSE external exams
If you miss school work then it is crucial that you
catch up or you will be missing out huge parts of the
course
 You will not be allowed to miss school for term time
holidays
Poor attendance
keeps adding up!
Revision/Preparing for external
exams
 You will be sitting your first external exams in May/June 2015
 It is recommended to start revising as soon as possible (around
Feb/March)
 Don't leave until last minute , you won't pass your GCSE's based
on one nights work!
 Attend after school revision lessons if you can
 Keep yourself organised with homework and revision for each
subject
 Set away one evening or afternoon each term to review the
terms work in each subject- this way you can make a list of what
you don't understand and tell your teachers so it won't build up
before the exams.
Who to talk to
 Talk to the subject teachers or Director of
Learning
 Talk to your parents/guardians
 Talk to your tutors and Senior Tutors.
"It is our choices...that show what
we truly are, far more than our
abilities."
– Albus Dumbledore
"Failing to prepare, is preparing
to fail."
…and finally
Don't panic!
KS4@BVS
Thank you for listening!
Please remember to take a booklet as you leave!