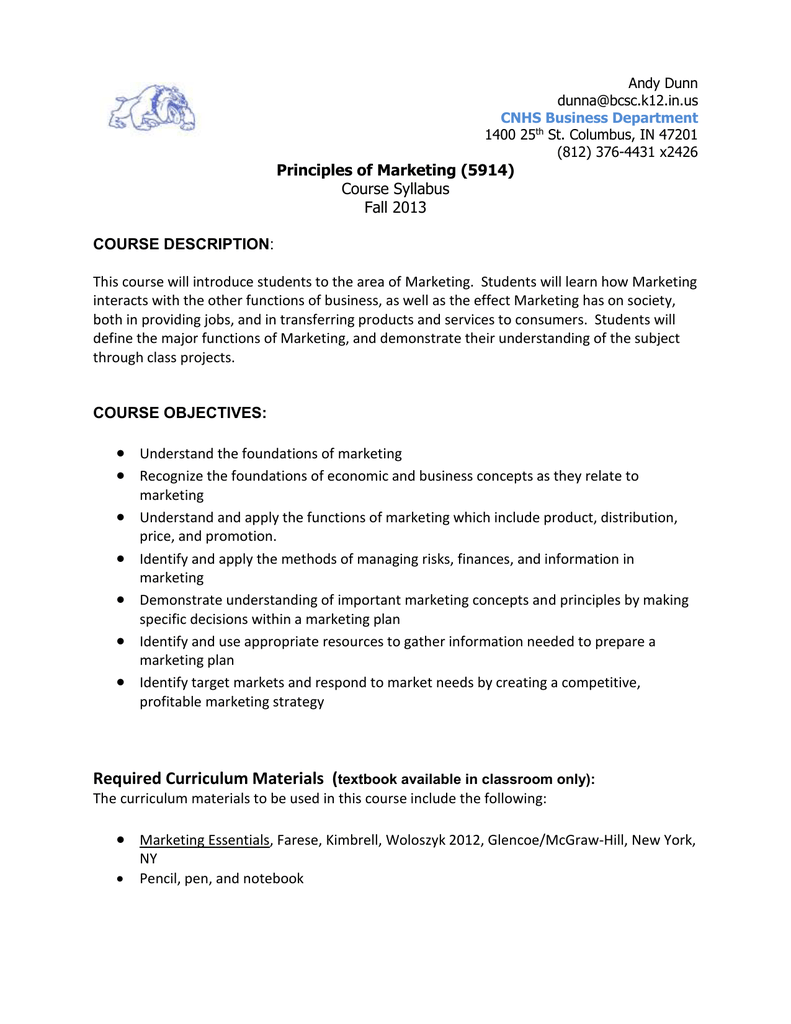 Andy Dunn
[email protected]
CNHS Business Department
1400 25th St. Columbus, IN 47201
(812) 376-4431 x2426
Principles of Marketing (5914)
Course Syllabus
Fall 2013
COURSE DESCRIPTION:
This course will introduce students to the area of Marketing. Students will learn how Marketing
interacts with the other functions of business, as well as the effect Marketing has on society,
both in providing jobs, and in transferring products and services to consumers. Students will
define the major functions of Marketing, and demonstrate their understanding of the subject
through class projects.
COURSE OBJECTIVES:
 Understand the foundations of marketing
 Recognize the foundations of economic and business concepts as they relate to





marketing
Understand and apply the functions of marketing which include product, distribution,
price, and promotion.
Identify and apply the methods of managing risks, finances, and information in
marketing
Demonstrate understanding of important marketing concepts and principles by making
specific decisions within a marketing plan
Identify and use appropriate resources to gather information needed to prepare a
marketing plan
Identify target markets and respond to market needs by creating a competitive,
profitable marketing strategy
Required Curriculum Materials (textbook available in classroom only):
The curriculum materials to be used in this course include the following:
 Marketing Essentials, Farese, Kimbrell, Woloszyk 2012, Glencoe/McGraw-Hill, New York,

NY
Pencil, pen, and notebook
Testing
Students will be tested at the end of each chapter. Chapter tests consist of true/false, multiple
choice, completion, and short answer/essay questions. The time required to complete a
chapter test is usually one class period. There will be a comprehensive final exam at the end of
the semester. This test will be comprised of multiple-choice questions and some short
answer/essay questions.
Missed Tests and Assignments
If a student misses school, it is the student's responsibility to make arrangements with the
instructor to make up test and assignments immediately upon return to school. A fair and
reasonable amount of time will be made to accommodate students with lengthy absences.
BUSINESS DEPARTMENT GRADE SCALE:
Range
Grade
99-100
93-98
90-92
88-89
83-87
80-82
78-79
73-77
70-72
68-69
63-67
60-62
0-59
A+
A
AB+
B
BC+
C
CD+
D
DF
SEMESTER GRADE:
First 9 Weeks
Second 9 Weeks
Final Exam
Semester Grade
45%
45%
10%
100%
COURSE CONTENT: (approximate)
(Subject to change)
Week 1
Week 2
Week 3
Week 4
Week 5
Week 6
Week 7
Week 8
Week 9
Week 10
Week 11
Week 12
Week 13
Week 14
Week 15
Week 16
Week 17
Week 18

Chapter 1
Marketing Is All Around Us
Chapter 2
The Marketing Plan
Chapter 2
Continued & History of Advertising & SWOT Analysis
Chapter 12
Selling Overview
Chapter 13
Beginning the Sales Process
Chapter 14
Presenting the Product
Chapter 15
Closing the Sale
Chapter 16
Using Math in Sales
Chapter 17
Promotional Concepts and Strategies
Chapter 18
Visual Merchandising and Display
Chapter 19
Advertising
Chapter 20
Print Advertisements
Chapter 21
Channels of Distribution
Chapter 22
Physical Distribution
Chapter 23
Purchasing
Chapter 25
Price Planning
Chapter 26
Pricing Strategies
Study Guide / Final Exam!
Students will also have guest speakers and projects assigned throughout the semester
to help enhance the course.