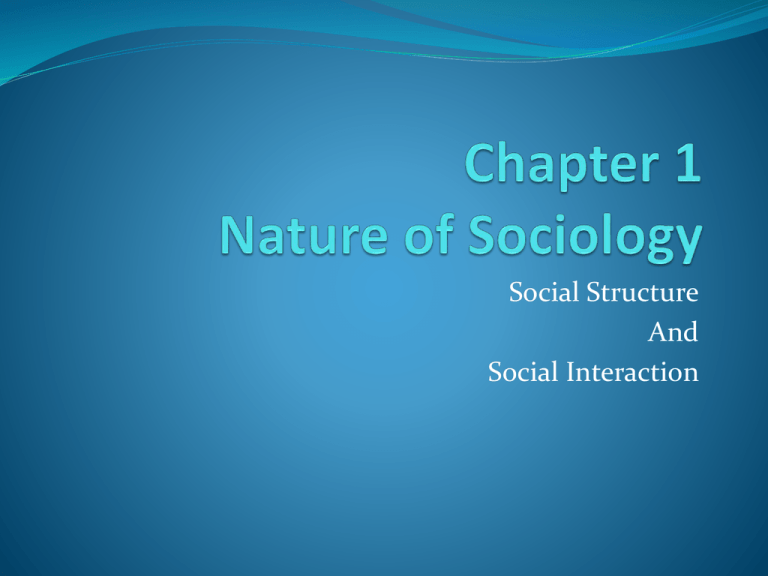 Social Structure
And
Social Interaction
What is Sociology?
 Systematic, scientific study of human
society
 Relies on scientific evidence—helps
straighten out myths vs. realities
 We learn more about ourselves by studying
others
 BUT learn more from social marginality –
being excluded from main-stream society
("outsiders")
Social Class: A system of ranking people into
abstract categories of social positions
Scientific Method
 Observations
 Hypothesis
 Testing
 Theory
Sociological Imagination
 Sociology studies "from the outside" versus "from
the inside" (Psych.) to explain social forces – forces
that arise from society in which we are a part
 we see it through behavior
 Example: People in wide-open areas more likely to
commit suicide. Why?
 We have to use our sociological imagination
can't look at individual personalities, but at the
social forces.
Social Integration
 The degree to which people are tied to a
social group – social integration
 Therefore, inadequate levels of integration =
high suicide rate (different in other cultures,
though)
 We are each other's sociological backbone!
History of Sociology
 19th century, because of Industrial
Revolution – brought new ways of living
together
 Then French Revolution – people
questioning legitimacy of monarchies;
wanted more freedoms
 Grew because of social unrest of this time
AUGUSTE
COMTE
•Father of
Sociology
•3 stages
• Religious
• Metaphysical
• Scientific
Auguste Comte, Part II
 Said a science of society has 2
branches:
1. Statics – study of organization that
allows societies to endure
2. Dynamics – study of processes by
which societies change
Herbert Spencer
 Thought society can be
compared to a living
organism
 Each part of animal
has own function, but
all parts are
interdependent
 Also says if society is
left alone, it fixes its
own problems
KARL
MARX
•Says main
feature of
sociology is class
conflict –
struggle between
capitalists and
proletariats
•Did not believe
in natural
selection – urged
people to change
society, not let it
evolve
Emile Durkheim
 Pioneered scientific
method application
to Sociology
 Really studied
suicide and the
"social facts"
MAX
WEBER
•Thought one
must go
beyond
observations
& find out
how people
feel about
their own
behavior Verstehen
Fundamentals
 Theoretical perspectives – sets of general
assumptions about nature of society
 Functionalist perspective – focuses on
social order; each part of society performs as
the whole, interdependently
 If something happens to this social order, a
social consensus must be made for this
new change
Functions of Behavior
 Manifest –
intended & obvious
behaviors
 Latent –
unintended &
unrecognized
behaviors
The Good and the Bad
 Society does change, but only for a reason 
conflicts
 When status quo is criticized, everyone
starts to focus on differences & emphasizes
their group is better than others – conflict
perspective
 Society is always changing because of this
competition
SPORTS!!!
BENEFICIAL
HARMFUL
 Conducive to success in
 Sports act as an opiate,
other areas of life
 Develops skill, ability, selfdiscipline, mental
alertness, physical fitness
 Enhances health &
happiness
 Contributes to social order
& stability through
unification
numbing the masses sense
of dissatisfaction
w/capitalist society
 Reinforces social, gender, &
racial inequalities
 Big business – elitist
system
 "Man's world" – glorifies
masculinity
Wrap-Up
 Sociology can help enrich our lives 
intellectual exercise, general guide, pursue
careers, & just obtain a better understanding
of the world through our own
interpretations
 The world around us affects our lives more
than what the world does to us.