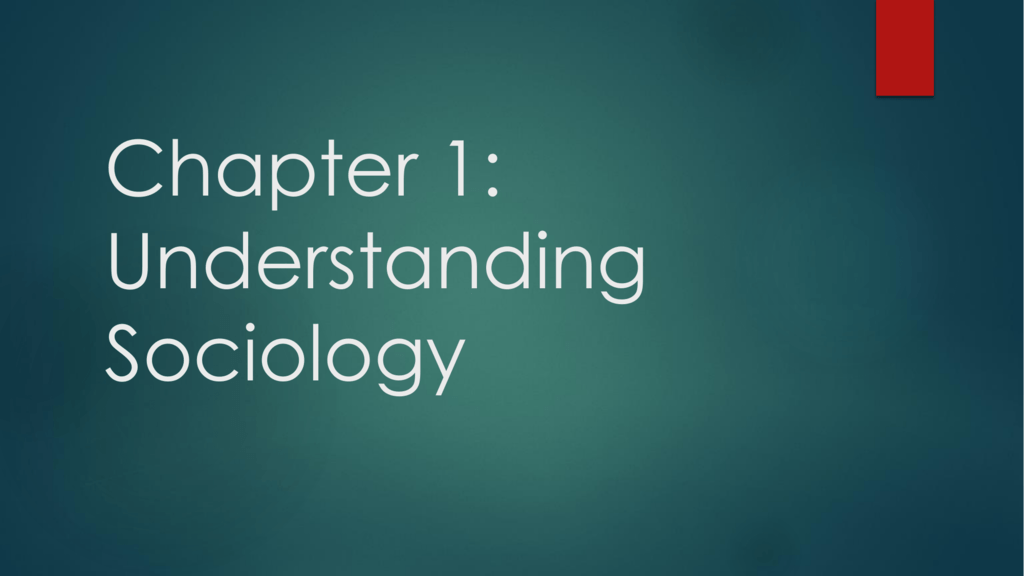 Chapter 1:
Understanding
Sociology
Important Questions

What is Sociology?

Why is it important?

What types of things
do Sociologists study?
Sociology and the Social Sciences

Science: a body of knowledge obtained by
methods based on systematic observation
What's the difference between the social sciences
and the natural sciences and what do they have in
common?


Hook- Up Culture in College:
https://www.youtube.com/watch?v=UoJsUXr3P88
The Sociological Imagination
The Sociological Imagination

Allows us to look at the world
critically and question common
sense assumptions
Thomas Theorem: what you
believe to be real is real in it's
consequences.
The Three Main Sociological
Perspectives
Symbolic-Interactionism
 Focuses
on the Micro and Social Psychology
 Humans
living in a world of meaningful
objects
 Looks

at Nonverbal Communication
Founder: George Herbert Mead
Functionalism

Emphasizes the ways parts of a society are structured to maintain
stability. Looks at the Macro

Interconnected parts working together to keep society functioning

Social Institutions make up these parts.

Manifest functions

Latent Functions

Dysfunctions

Founder: Emile Durkheim
Conflict Perspective

Groups struggle for resources and power
 Bourgeoisie
and the proletariat
 Helps
to maintain privileges of some groups at the
expense of others.
 Looks
at the science of exploitation
Feminist View: Sees inequality in gender as central to all
behavior
Are you feeling overwhelmed?
 That's
ok! That's why I am here. Let's
practice!!!!
Example #1- The Family
How might we analyze the family
using the three sociological
perspectives?
Jenna McCarthy's Ted Talk:
https://www.youtube.com/watch?v=Y
8u42OjH0ss
Example #2: Prostitution
 How
does the world's oldest profession
create stability for society?
 What
social institutions
are involved?