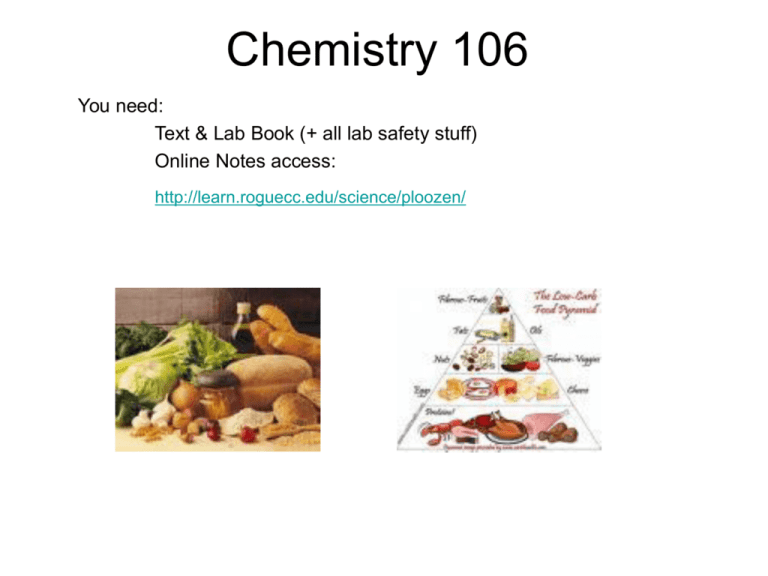 Chemistry 106
You need:
Text & Lab Book (+ all lab safety stuff)
Online Notes access:
http://learn.roguecc.edu/science/ploozen/
The 3-D Structure of Molecules
-StereochemistryFor additional help with stereochemistry, check out the Organic Chemistry section of the following
website:
http://www.khanacademy.org/#browse
Isomerism
• Consitutional isomers
– Atoms are bonded to
different atoms,
therefore, different
bonding patterns different IUPAC names &
structural formulas
– Structural
– Positional
– Functional group
• Stereoisomers
– Atoms are oriented
differently, but same
bonding patterns
– Cis-Trans - orientation
around a double bond
– Tetrahedral C atom
mirror images
• Chiral vs. Achiral
Chirality
•
The mirror image of the
right hand is the left hand.
Conversely, the mirror
image of the left hand is the
right hand.
Chirality is based on whether a molecule has a "chiral" center.
– Carbon atom with FOUR DIFFERENT attached (tetrahedrally) groups
(the atom + attached atoms which are attached to the center carbon)
– Chiral molecules = mirror images that are NOT superimposable
• (left vs. right handedness)
– Achiral molecules = mirror images that are superimposable
• (no left vs. right handedness)
•
Important Biochemical example:
– Left or right handedness of monosaccharides is determined by the position of OH on the chiral center.
– Naturally occurring monosaccharides are almost always right-handed.
– Plants produce only right-handed monosaccharides
Chirality
Chirality
Stereoisomerism - molecules that have the
same molecular AND structural formulas but different orientation of
atoms
•
In order for molecules to exhibit stereoisomerism
they must have:
–
–
A chiral center
Structural rigidity
•
•
This is the basis for cis-trans isomerism
Two types of Stereoisomers
a) Enantiomers - molecules that are nonsuperimposable
mirror images
•
Ex.: Left & right handed with single chiral centers
b) Diastereomers - molecules that are not mirror images
•
Ex.: Cis-trans (possible in some rings and around double bonds)
Enantiomers
Diastereomers
Thalidomide
- introduced as a sedative and antiemetic in later 1950s and withdrawn in 1961 due
to its teratogenicity.
an example of a chiral center in a cyclic compound
Fischer Projections
• 2- dimensional structural notation showing the spatial
arrangement of groups around chiral centers (to
show handedness)
• Tetrahedral geometry:
– Vertical lines = bonds directed into the page
– Horizontal lines = bonds directed out of the page
Fischer Projections
•
•
•
Carbon chain is positioned vertically, with the carbonyl group at or near
the top.
Ex.: glyceraldehyde (2,3-dihydroxypropanal)
Latin:
– Dextro = Right
– Levo= Left
– Determine "D" vs "L" by examining the
position of the functional group on the
chiral center
Compounds with multiple chiral centers
• Naming is complex
– Use the highest # chiral C atom in the chain to determine "D"
or "L".
– If there are 2 or more "D"s and 2 or more "L"s, use different
common names for each pair.
– Ex. 2,3,4-trihydroxybutanal
Number of Stereoisomers possible for a
particular molecule:
• General rule*
– # of isomers = 2n (n = # of chiral centers)
• *Sometimes symmetry considerations make some mirror
images superimposable.
Properties of Isomers
• Constitutional - differ in most physical and
chemical properties
• Diastereomers - differ in most physical and
chemical properties
• Enantiomers - differ in only two properties:
– Interactions with plane-polarized light (ppl)
– Interactions with other chiral substances
Dextrorotatory & Levorotatory
Compounds
• An enantiomer (chiral cpd) that rotates "ppl" in a
clockwise direction is dextrorotatory. (+)
• An enantiomer (chiral cpd) that rotates "ppl" in a
counterclockwise direction is levorotatory. (-)
• The handedness of enantiomers and the direction of
rotation are, unfortunately, not related.
Interactions Between Chiral
Compounds
•
Enantiomers have the same FP, BP, density, etc.
– Properties depend on IMF
• IMF does not depend on Chirality
• IMF depends on functional groups
• Enantiomers have the same solubility in achiral solvents
(ethanol), but different solubility in chiral solvent (D-2-butanol).
• Rate & Extent of Reaction of Enantiomer is the same with an
achiral reactant but different with another chiral reactant.
• Receptor sites for molecules in the body have chirality, so
enantiomers generate different responses.
Enantiomers react differently to taste buds:
spearmint vs.carroway
Thalidomide
beneficial vs. teratogenic
D-Epinephrine binds to the receptor at three points.
The human body exhibits a response to the D form that is 20 times greater than the response to
the L form.