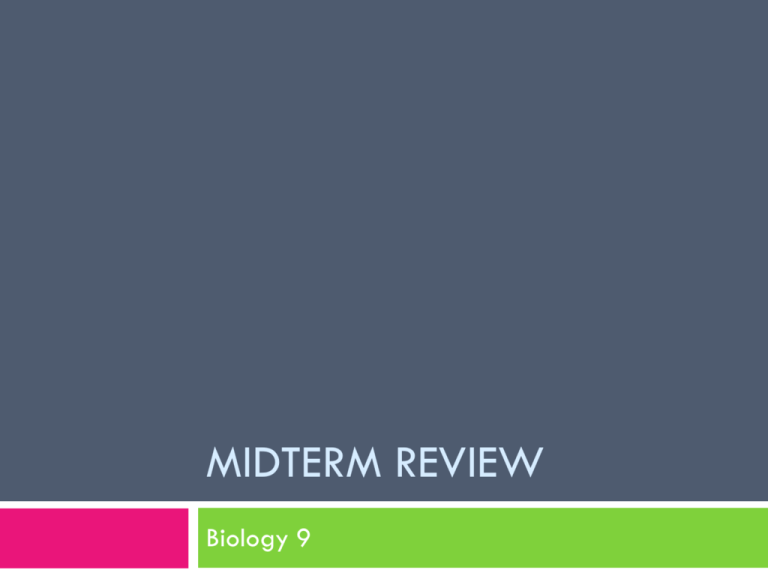 MIDTERM REVIEW
Biology 9
Warm-Up (p. 2): Thursday Dec. 10
objective
I can use my notes and textbook to
review highest priority topics.
warm-up
1. What is the difference between an
autotrophic and heterotrophic
organism? Give an example of
each. (HINT: Use a book index!)
2. List TWO differences between
prokaryotes and eukaryotes.
Thursday Dec. 10
hw
Study for midterms!! Biology exam will
be…
agenda
-6th: Binder Quiz
-Do You Have A Study Guide?
-Trivia:
Intro/Method/Classify/Chemistry
-Work on study guides
-Exit Ticket
Midterm Review, Day 1
Overview of Midterm Preparation

Overview/ explanation of review process

Steps For Mid-Term Review:
1.
2.
3.
4.
Rank your understanding of each unit and prioritize
studying (Course Content Meter, p. 69)
Collect study guides and order by priority from Step
1- highest priority unit goes on top, second highest
priority goes next..
Organize your binder!
Begin filling out the study guide & reviewing for your
highest priority unit
1) All organisms are composed of:
A.
B.
C.
D.
diatoms.
cells.
cellulose.
None of the above.
2) A hypothesis is:
A.
B.
C.
D.
a definite answer to a given problem.
a testable possible explanation of an
observation.
a proven statement.
a concluding statement.
3) A neutral solution has a pH of:
A.
B.
C.
D.
1
5
7
10
4) Polar molecules such as water have:
A.
B.
C.
D.
no negative or positive poles.
both negative and positive poles.
only a negative pole.
only a positive pole.
5) All living things maintain a balance within their cells
relative to the environment through the process of:
A.
B.
C.
D.
growth.
development.
homeostasis.
evolution.
6) Which of the following is an example of a
quantitative observation?
A.
B.
C.
D.
The chemical is 25 degrees Celsius.
The chemical is liquid.
The chemical is blue.
The chemical has an odor.
7) When a molecule gains an electron, it has been
A.
B.
C.
D.
oxidized.
reduced.
digested.
inactivated.
8) The smallest particle of carbon that can retain the
chemical properties of carbon is
A.
B.
C.
D.
a carbon molecule.
a carbon macromolecule.
a carbon atom.
the nucleus of a carbon atom.
9) The scientific name for the woodchuck is Marmota
monax. What is its genus?
A.
B.
C.
D.
Monax
Eukarya
Marmota
Animalia
10) Which of the following is contained in eukaryotic
cells but NOT prokaryotic cells?
A.
B.
C.
D.
cell membrane
cytoplasm
ribosomes
nucleus
11) The organism depicted to the right is a member of
Kingdom..
A.
B.
C.
D.
Fungi.
Animalia.
Plantae.
Protista.
12) _____________ is a bond formed by electrical
attraction between two oppositely charged atoms.
A.
B.
C.
D.
Hydrogen
Covalent
Divalent
Ionic
13) Which of the eukaryotic kingdoms consists mostly
of unicellular organisms?
A.
B.
C.
D.
Plantae.
Animalia.
Fungi.
Protista.
14) Humans and apes are both classified in the order
Hominidae. Humans and apes are therefore also
classified in the same:
A.
B.
C.
D.
class.
genus.
family.
species.
15) Compared to eukaryotes, prokaryotes…
A.
B.
C.
D.
are less complex and have a nucleus.
are more complex and have a nucleus.
are less complex and don't have a nucleus.
are more complex and don't have a nucleus.
16) The diagram on the right indicates that sodium's
_______________ is 11.
A.
B.
C.
D.
atomic weight.
molecular mass.
atomic number.
molecular stability.
17) List the hierarchical classifications in order from
most general to most specific.
A.
B.
C.
D.
kingdom, phylum, order, class, domain, genus,
species, family
species, genus, family, order, class, phylum,
kingdom, domain
family, species, genus, domain, class, order,
phylum, kingdom
domain, kingdom, phylum, class, order, family,
genus, species
18) A _____________ is a substance that is formed
when atoms of 2 or more elements join together.
A.
B.
C.
D.
molecule.
compound.
solution.
particulate matter.
19) These two particles make up the nucleus of an
atom.
A.
B.
C.
D.
protons & electrons
electrons & neutrons
protons & neutrons
none of the above
20) This is the substance that dissolves a solute to form
a solution.
A.
B.
C.
D.
ice
molecule
particle
solvent
Warm-Up (p. 2): Friday Dec. 11
objective
I can use my notes and textbook to
review highest priority topics.
warm-up
1. What is the function of enzymes?
2. How are enzymes affected in a) heat, and b) cold
3. Copy the table below and fill it in!
k Macromolecule Monomer
Function
k 1)
2)
k 3)
4)
Friday December 11
hw
Study for midterms!! Biology exam will be…
-6th: Tues 12/15, 8:00-9:30
-7th: Tues 12/15, 9:35-11:05
-8th: Wed 12/16, 9:35-11:05
agenda
-Individual: Unit 3/4 Questions
-Small Groups: Key Questions/High Priority
Units
-Work on study guides
-Exit Ticket
1) This organelle is a jelly-like fluid
that fills all cells:
1.
2.
3.
4.
Cytoskeleton
Nuclear envelope
Cytoplasm
Centriole
2) This molecule stores genetic
instructions in all cells:
1.
2.
3.
4.
Ribosome
DNA
Centriole
Nuclear Envelope
3) This organelle make proteins:
1.
2.
3.
4.
Ribosome
Endoplasmic
reticulum
Golgi apparatus
Mitochondria
4) This structure controls what enters
and leaves the cell:
A.
B.
C.
D.
Cell Wall
Nucleolus
Cell Membrane
Nucleus
5) All cells contain these three
components:
1.
2.
3.
4.
DNA, ribosomes,
cytoplasm
DNA, cell membrane,
ribosomes
ribosomes, cell
membrane, DNA
cell membrane, DNA,
cytoplasm
6) This organelle performs cell
respiration to make ATP energy:
A.
B.
C.
D.
Mitochondria
Golgi Apparatus
Nucleolus
Endoplasmic
Reticulum
7) This organelle helps to digest food,
wastes, and dead organelles:
1.
2.
3.
4.
Lysosome
Vacuole
Endoplasmic
Reticulum
Golgi Apparatus
8) This cell structure is made of thin protein rods
and provides internal support and movement:
1.
2.
3.
4.
Cytoplasm
Cell Membrane
Nucleus
Cytoskeleton
9) Plant cells have these 3 structures,
which animal cells lack:
1.
2.
3.
4.
Cell membrane,
chloroplast, chlorophyll
Cell wall, chloroplast,
chlorophyll
Cytoskeleton,
chloroplast, centriole
Cytoskeleton, centriole,
cell membrane
10) This organelle modifies, packages,
and ships proteins:
1.
2.
3.
4.
Endoplasmic
Reticulum
Mitochondria
Golgi Apparatus
Chloroplast
11) This molecule carries genetic
instructions from the nucleus to the
ribosomes:
1.
2.
3.
4.
DNA
RNA
Protein
Lipids
12) This organelle stores water
(especially in plant cells):
1.
2.
3.
4.
Centriole
Lysosomes
Vacuole
Nucleolus
13) This organelle contains chlorophyll, a green
pigment that collects sunlight for photosynthesis:
1.
2.
3.
4.
Chloroplast
Cell membrane
Cell wall
Centriole
14) Which of the following most likely happens to the
cells of a person running the Boston Marathon?
A.
B.
C.
D.
The respiration rate increases to
produce more ATP
The replication rate increases to
produce more DNA
The photosynthesis rate increases
to produce more sugars
The cell division rate increases to
produce more muscle fibers
15) In red blood cells, the compound carbonic
anhydrase increases the rate at which carbon dioxide is
converted to bicarbonate ions for transport in the
blood. In red blood cells, carbonic anhydrase acts as
which of the following?
1.
2.
3.
4.
A lipid
A hormone
An enzyme
A sugar
16) Some bacteria live in hot springs. Their cells contain
enzymes that function best at temperatures of about
70oC.
At a temperature of 150oC, how will the enzymes in
these bacterial cells most likely be affected?
A.
B.
C.
D.
The enzymes will be
destroyed by lysosomes.
The enzyme will require
less energy to function.
The protein structure of the
enzyme will be deformed.
The enzyme will increase
the rate of reactions than
at 70oC.
17) Many plants have waxy coatings on some surfaces.
This coating reduces water loss because it is not waterpermeable. This waxy coating is which of the following
types of organic molecule?
1.
2.
3.
4.
Carbohydrate
Lipid
Nucleic Acid
Protein
18) Passive transport is the movement of molecules from
areas of _____ concentration to areas of _____
concentration.
1.
2.
3.
4.
equal, low
equal, high
high, low
low, high
19) When sodium ions rush into a cell during
transmission of a nerve stimulus, this creates a very high
concnetration of sodium molecules in the cell and a low
concentration of sodium molecules outside of the cell.
This is an example of:
1.
2.
3.
4.
passive transport
osmosis
active transport
facilitated diffusion
20) DNA and RNA are examples of which
macromolecule?
1.
2.
3.
4.
Proteins
Carbohydrates
Lipids
Nucleic Acids
BONUS: The drawing below represents an
organism that a student observed when examining
a sample of pond water with a light microscope.
What is the organism?
A.
B.
C.
D.
Prokaryote
Plant
Fungus
Protist
SURVEY…
1.
2.
When you receive your square, write your name on
top.
On the same side as your name, write the unit that you
need the MOST work on currently.
REMINDER:
-Unit 1: Classifications, Scientific Method
-Unit 2: Chemistry
-Unit 3: Biochemistry (Macromolecules, Enzymes)
-Unit 4: Cells, Membranes, Transport
Today's Review: Key Questions


These will help you be prepared to answer open
response questions!
Each person in your group should write out a
paragraph or a list of bullet points to answer the key
question for this unit. Work together but write your
own answers!
When finished, continue reviewing anything you
want WITH YOUR GROUP.
Exit Ticket



Put a 1 next to the Unit that you still need the most
work on
Put a 2 next to the Unit you need the next most
work on
Put your name on the ticket and hand it in!