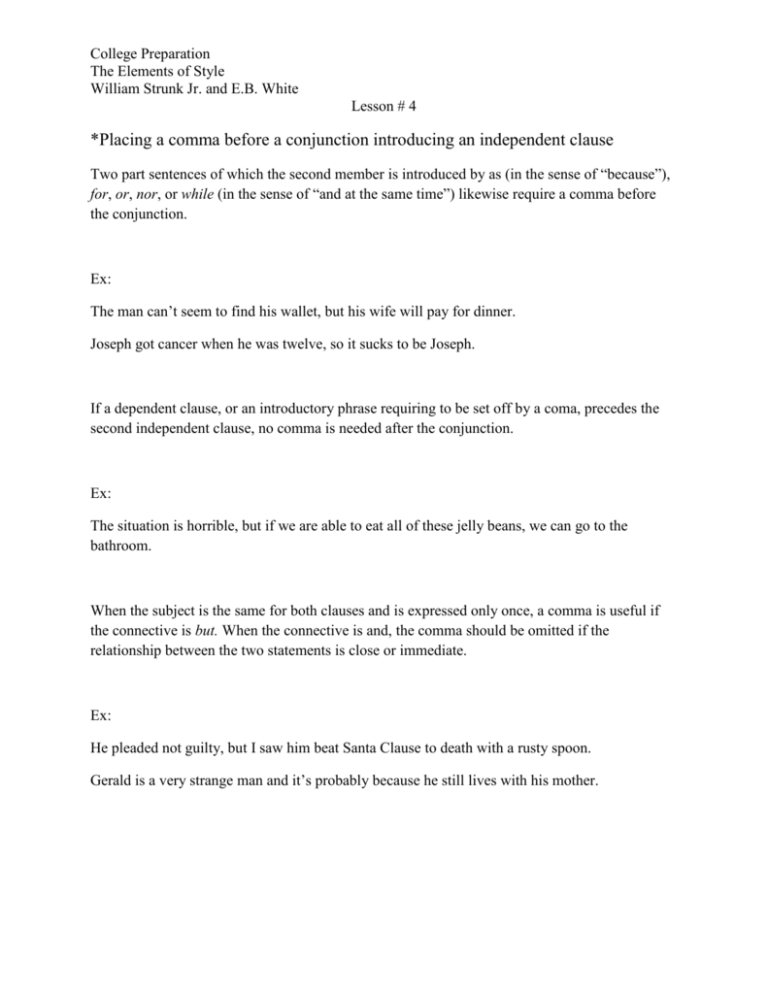 College Preparation
The Elements of Style
William Strunk Jr. and E.B. White
Lesson # 4
*Placing a comma before a conjunction introducing an independent clause
Two part sentences of which the second member is introduced by as (in the sense of "because"),
for, or, nor, or while (in the sense of "and at the same time") likewise require a comma before
the conjunction.
Ex:
The man can't seem to find his wallet, but his wife will pay for dinner.
Joseph got cancer when he was twelve, so it sucks to be Joseph.
If a dependent clause, or an introductory phrase requiring to be set off by a coma, precedes the
second independent clause, no comma is needed after the conjunction.
Ex:
The situation is horrible, but if we are able to eat all of these jelly beans, we can go to the
bathroom.
When the subject is the same for both clauses and is expressed only once, a comma is useful if
the connective is but. When the connective is and, the comma should be omitted if the
relationship between the two statements is close or immediate.
Ex:
He pleaded not guilty, but I saw him beat Santa Clause to death with a rusty spoon.
Gerald is a very strange man and it's probably because he still lives with his mother.
College Preparation
The Elements of Style
William Strunk Jr. and E.B. White
Lesson # 4 practice
Here are a few examples that you should correct (or write OK next to).
Good luck; they are very DIFFICULT.
1. A man fell off a bridge so you probably shouldn't go on bridges.
2. People get in car accidents everyday and that's why I won't get my license
3. My girlfriend left me but with a box of tissues and a Playboy magazine I should get over her
quickly
4. When I get sad I throw rocks at little kids. I have better aim than Peyton Manning.
5. I hope I'm actually awake right now because that'd mean that I'm not in a coma
6. Two monkeys are jumping on a bed and one monkey fell off and broke his head so the other
monkey called the cops on his banana phone and now the other monkey's dead.
7. Furry animals make me want to shave so I pretend I have a beard and then I shave.
8. Santa Clause keeps note of who's naughty and nice, because if he didn't do it, no one would.
9. Bob locked his keys in his car again and now he'll have to walk to work, or he can decide to
not go and risk losing his job
10. Spiderman swung to the rescue and saved Mary Jane from the fire.