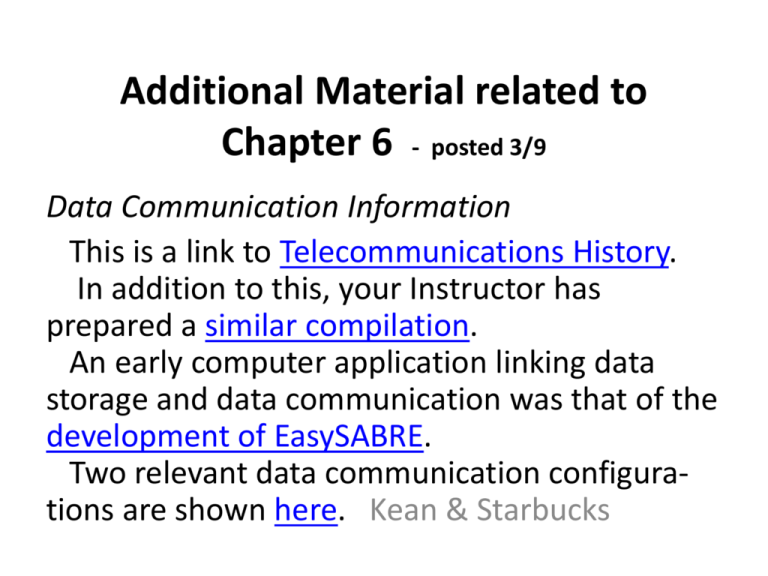 Additional Material related to
Chapter 6 - posted 3/9
Data Communication Information
This is a link to Telecommunications History.
In addition to this, your Instructor has
prepared a similar compilation.
An early computer application linking data
storage and data communication was that of the
development of EasySABRE.
Two relevant data communication configurations are shown here. Kean & Starbucks
The Internet
A history of the Internet is has been maintained by
Hobbes. Similarly, here is a history of the WWW.
Information about Internet2 may be found here.
Particular computer Internet access speeds may be
checked at InternetFrog, bandwidth.com, or the text
suggested (page 215) Speakeasy. Information about
broadband Internet access (cable and DSL) are
discussed at speed guide.net . The Gibson Research
Corporation has excellent (detailed) material about the
security of Internet connections at a site called
ShieldsUP!.
Internet Platforms and Services
Midterm Exam
The Midterm exam will be available in Blackboard from 1pm 9pm on 3/25, but must be taken in a continuous 2 hours and 45
minutes wherever you have Internet access. As discussed in
class it will consist primarily of about 50 questions similar to
those in the 6 exams posted in Blackboard, with additional
questions from the Learning Aids that were presented in
class. Please be aware that material in the course text provides
the basis for correct answers related to the presentations - not
necessarily what was in student work.
In the unlikely event that Blackboard is not available. a copy
of the exam will se sent by e-mail to all students. It then would
be expected that a return e-mail be submitted with answers,
within 3 hours of receipt of the exam.
I will be available during class time to respond to any e-mails
received. Good luck on the exam, and see you back in our
regular class 4/1 ....