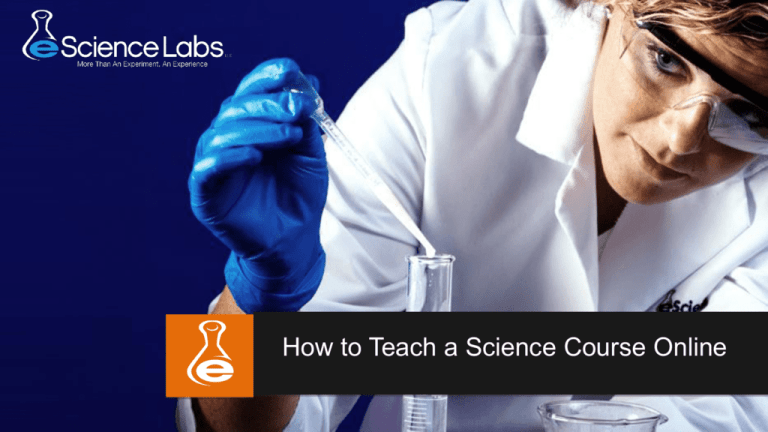 How to Teach a Science Course Online
Y Generation (1982–2001)
Is Our Educational System Designed For Them?
➔ View lectures as boring and uninteresting
➔ Need instant feedback and evaluation
➔ Become easily disengaged
➔ Desire high interactivity
➔ Want to work smarter not harder
2
Y Generation (1982–2001)
Benefits of Online
Greater
Mobility &
Convenience
Increases
Opportunities for
Collaboration
Increases
Course
Availability
Lower Tuition
Cost
Work at Their
Own Pace
No Time
Constraints
Creates a Global
Learning
Community
3
Y Generation (1982–2001)
Challenges of Online
➔ Interactive Laboratory Exercises
➔ Understanding Difficult Topics
➔ Group Work and Interaction
➔ Instructor/Student Communication
➔ Class Integrity: Attendance and Exams
➔ Retention Rate
4
Y Generation (1982–2001)
Current Options
➔ Campus/Hybrid – Face-to-Face or Online with Labs on Campus
➔ Simulations – Do not provide practical laboratory skills or measurement,
instrumentation, and analysis.
➔ Commercial Lab Kits – eScience Labs, LLC provides complete and
comprehensive labs kits for your online and hybrid science courses.
www.esciencelabs.com
Goal for Online
➔ Student Engagement and Interaction
5
Tools To Utilize in Online Courses
Tools for Online Courses
Lecture Component
Group Work
➔ Take full advantage of the components your
LMS provides.
Webcams
➔ Utilize the technology available to you.
➔ Jing
➔ YouTube
Chat Rooms
Tools
Office Hours
Simulations
Videos
7
Tools for Online Courses
Lab Component
➔ Virtual
➔ 2nd Life
➔ Hands On
8
Tools for Online Courses
How do we know the students are doing their labs?
How do we ensure students are doing the labs?
 Data collection
 Lab Quizzes
 Peer interaction/ critiques
 Unknowns in kit
 Photos
9
LMS Integration
Embed information into the text of your course
10
Tools for Online Courses
Expectations
• What do you expect of the students?
• Time on task & devotion
• Online Learning Packet
• What should the students expect of you?
• Availability, online office hours, grading
• Assignments should match expectations
11
Tools for Online Courses
Ask the experts
➔ Dallas TeleLearning
Jennifer Baggett is using the Biology Lab
component developed from Dallas
TeleLearning. Her advice to online
teachers:
"Find a way to reach students early in the
semester. Give them information on the
textbook, assignments, and navigating the
learning environment. "
http://gln.dcccd.edu/Biology_Demo/
12
Tools for Online Courses
Ask the experts
Nahel Awadallah
Johnston Community College
Biology Instructor, Director of Programs
nwawadallah@johnstoncc.edu
919-209-2059
➔ Doing online for multiple years
➔ Sees the benefits that online courses offer his students:
➔ Convenience
➔ Cost
➔ Communication
13
Professional Development Course
Professional Development
Do you have what it takes?
 Are your instructors:
•
Informed of the objectives for the
online course
•
Knowledgeable of the tools available
•
Ready to take on the challenge
15
Professional Development
Transforming from the "Sage on the Stage" to the "Guide on the Side"
➔ Give your teachers the tools to learn how to teach
online
➔ Science is critical to a students growth in their
program
➔ Engage yourself in the learning process
➔ Must know how to utilize the tools
16
Professional Development
Workshops
1. Setting the Foundations for Teaching Online Science Courses with a HandsOn Lab Component
2. Teaching with eScience Lab Kits
3. Assessing Learning in Your Online Science Courses
17
Questions?
Courtney Smith
Account Manager
csmith@esciencelabs.com
888-ESL-KITS
©2011 eScience Labs LLC All rights reserved.