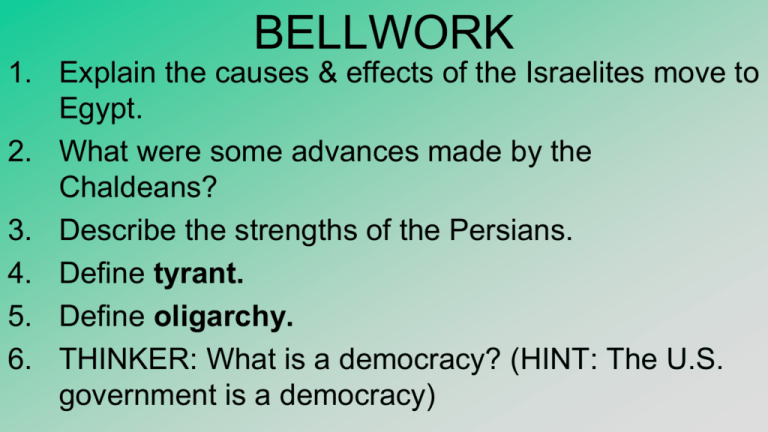 BELLWORK
1. Explain the causes & effects of the Israelites move to
Egypt.
2. What were some advances made by the
Chaldeans?
3. Describe the strengths of the Persians.
4. Define tyrant.
5. Define oligarchy.
6. THINKER: What is a democracy? (HINT: The U.S.
government is a democracy)
Hittite Empire – 2000BC
Assyrian Empire – 650BC
Chaldean Empire – 612 BC
Persian Empire – 539 BC
Ancient Greece
• The Greeks took over the Mediterranean region and
contributed greatly to the way we live today.
• Ancient Greece included the southern part of
Europe's Balkan Peninsula and islands in the
Aegean Sea.
• Greece's mountain ranges protected against
invaders but also limited communication.
• Greece is surrounded by sea, which encouraged the
Greeks to become traders, and expand their empire.
Greek Civilization
• Originated in Minoan and
Mycenaean civilizations
between 3000BC to
1000BC.
• Early on, they developed
legends of gods and heroes.
• Main themes throughout
Greek civilization: bravery,
honor, dignity, and the love
of beauty.
• In religion, the Greeks
worshiped gods and
goddesses
Temple built for Apollo (God of
music, prophecy, archery &
medicine) – 4th Century B.C.
The Polis
• Polis, or city-state, emerged as the political unit of
Greek civilization.
• A Polis included a city & surrounding villages/fields.
• Citizens within a polis government could vote, hold
public office, own property, and speak for themselves
in court.
• In return, they were expected to defend the polis in
time of war.
• Greek women had no political or legal rights.
Greek Government
• By the 700s BC, Kings were losing their powers and
being challenged by lower classes.
• As unrest increased, tyrannies arose in the city-states.
(Tyrant: one man who seized power and ruled the
polis on his own)
• Tyrants ruled until 500BC until city-states became
either:
• Oligarchy: rule by a few wealthy people
• Democracy: government and rule by the citizens
Greek City-States
• The two major city-states of ancient Greece were Sparta and
Athens.
• Sparta
– Located in the Peloponnesus peninsula
– Warlike society, used its army for control
• Athens
– Located on the Attica peninsula
– Freer society known for artistic/intellectual achievements
– Created a constitution, or plan of government, that stated
all men were equal regardless of social class
The Persian Wars
This will be our focus next week,
so stay tuned……
• Persia and Greece
were enemies that
fought for control of
trade/travel routes.
• Between 490-480B.C.,
the rivals go to war
three times.
• 7,000 Greeks
(Spartans/Athenians)
vs. 100,000 Persians
The Peloponnesian War
• War between Sparta and Athens that lasted
from 431BC to 404BC.
• Sparta allied with the Persians
• A plague struck Athens and killed 1/3 of their
population
• Persian-financed Spartan navy destroyed
Athens fleet.
• Athenians surrendered
CLOSURE
• How was the government in Ancient Greece set
up?
• What is the difference between Sparta and
Athens?
• What is a Tyrant? Oligarchy?
• What are the Persian Wars?
• What are the Peloponnesian Wars?
Engineering an Empire
• Citizens of ancient Greece constructed many temples,
statues, and buildings, but how did they do it?
• In this video, you are going to learn about the history
of the Greek city-states and the construction of these
magnificent structures!
• As you watch the video, answer the 15 questions on
the worksheet.
• Be ready to discuss!