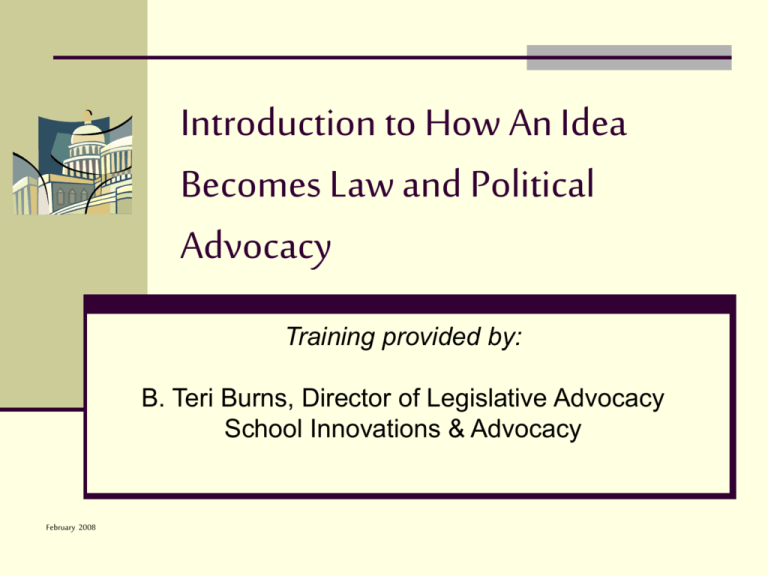 Introduction to How An Idea
Becomes Law and Political
Advocacy
Training provided by:
B. Teri Burns, Director of Legislative Advocacy
School Innovations & Advocacy
February 2008
The purpose of today's training is to:
 Educate you on the legislative
process.
 Explain how to appropriately contact
legislators.
 Teach you how to effectively
advocate.
 Instruct how to skillfully influence
policy decisions.
Organization of the
State Legislature
 There are two chambers of the State
Legislature: Assembly and Senate. (US
Congress is also a two chamber system
made up of the House of
Representatives and the Senate.)
 Leadership Responsibilities



Senate President pro Tempore
Assembly Speaker
Senate & Assembly Committee
Chairs
Other Education Players
 Superintendent of Public Instruction
 Office of the Secretary of Education
 State Board of Education
 California Department of Education
 Department of Finance
Legislative Rules and Processes
 Two-year sessions:
January-September (odd years; first year of session)
 January-August (even years; second year of session)
Late January: Deadline for bills to Legislative Counsel
Late February: Deadline to introduce bills
Policy and fiscal committee deadlines
Majority and 2/3rds vote
Effective date of new laws
Single subject
Amendment rules
Hearings in both houses
Governor's Veto and Veto Override










Bill Enactment Process
Bill Introduced
Policy Committee
Fiscal Committee
Floor
Repeat in Second House
Governor
Terminology










Across the Desk
Appropriation
Caucus
Coauthor
Concurrence / Unfinished
Business
Daily File
First, Second &Third Reading
Reconsideration
Spot Bill
Suspense File
Reading Legislative Documents

Bills:
 Summary/Digest
 Sections
 Amendments

Committee/Floor Analyses
 Bill Information: www.leginfo.ca.gov
Language amended out
Dates Amended
House and Bill Number
Author and Coauthor(s)
Date Introduced
Section(s) of
Code(s) Affected
&
Subject of Bill
("relating clause")
Digest / Summary
Anatomy of a Bill
Language amended in
Build a Relationship with
Your Legislators
 Know your legislators and staff.
 Subscribe to the legislators' newsletters.
 Understand the issues important to your
legislators.
 Know what your legislators are looking for.
 Recognize them for efforts to help.
Effective Letter Writing
(Sample Letter)
Date
The Honorable __________________, Chair
_____________________ Committee
State Capitol, Room #
Sacramento, CA 95814
Support (or Oppose): Bill Number and Author
Dear Senator / Assembly Member__________:
On behalf of the _______________ School District, I urge your support of bill number and author when it is heard in the
__________________ Committee.
This bill would…provide brief summary of the bill.
Provide information on the effect this bill would have on your district program. Summarize your point and urge the
legislator to support or oppose the bill.
Please feel free to contact me at phone # if I can provide any additional assistance in this matter.
Sincerely,
cc:
Members, _____________ Committee
Author of the Bill
Other Interested Parties
*Be sure to check with your district administration before sending letters*
Meeting A Legislator
 Create a one-page executive summary
(a "leave-with" document)
 Start with conclusion
 Use easy-to-read charts
 Do your homework
 Understand opposing position
 Ask for advice
Meeting A Legislator
 Strategize with your group about who will start




the conversation.
Introduce yourselves.
Mention something that you have learned
about the legislator's background.
Be as gracious to a legislative aide as you
would be to a legislator.
In light of term limits, the aide's role is
significant.
Meeting A Legislator





Be aware of all sides of the issue and look at the total
educational picture when proposing action(s). Be prepared to
respond to potential criticism and prepared to explain why your
issue should be a high priority.
Offer to be available to answer questions in the future.
Invite them to your program anytime they are in the district.
Be alert to cues regarding timing, apparent interest, level of
understanding, etc.
Thank them and offer to be a resource.
Post-Meeting Follow-Up
 Communicate
 Share information with the your group
 Evaluate
 What was gained?
 What could have been improved?
 Plan your strategy for the next meeting.
 Send a thank you note to legislator/staff.
What makes an
effective advocate?
Effective Advocates Are:
 Well informed regarding the subject and armed
with information supporting their goals.
 Knowledgeable about the legislator's
constituency.
 Resourceful
 Quietly persistent
 Sincere
What makes an
effective advocate?
 Respectful of others' points of view
 Politically aware
 Tactful
 Enthusiastic
 Timely
 Focused
Helpful Legislative Links:
 Bill language and analyses: www.leginfo.ca.gov
 Information on Senate members and committee
hearings: www.sen.ca.gov
 Information on Assembly members and
committee hearings: www.assembly.ca.gov
Thank you!
 The next step is up to YOU!
 Don't be afraid to go talk to your elected
representatives. They work for you.