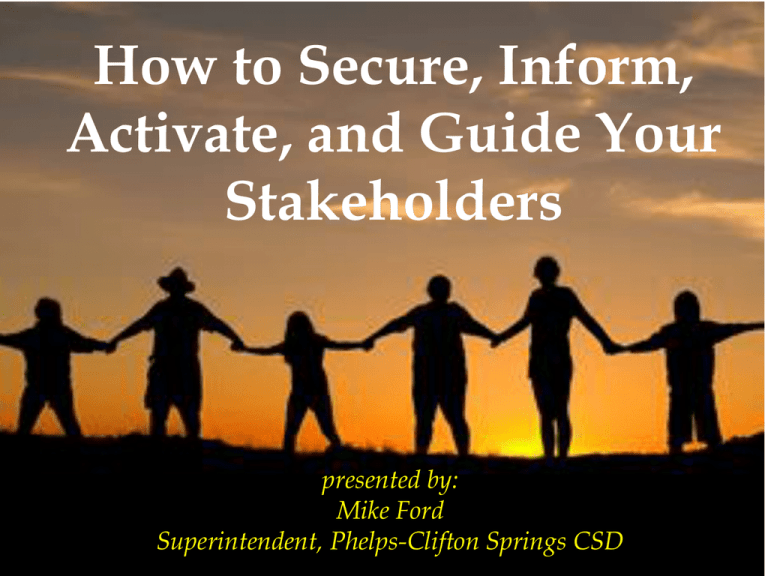 How to Secure, Inform,
Activate, and Guide Your
Stakeholders
presented by:
Mike Ford
Superintendent, Phelps-Clifton Springs CSD
• How do you
feel?
• Who needs to
know?
• What fight
needs to be
fought?
Why are we the
wrong soldiers or the
insufficient soldiers
to fight the battle?
The Usual Army
Benefits
Superintendent
Board of Ed
Teachers
NYSUT
Limitations
The New Army
Benefits
Parents
Senior Citizens
Business
Owners
Students
Real Estate
Professionals
Elected Officials
???
???
Limitations
Why do organizations hide
the truth or create a positive
spin to negative news?
•
•
•
Activating the Army
Clarifying the Message
• Three Realities of Your Situation
1.
2.
3.
• What Needs to Be Remedied?
1.
2.
• What Do You Need to Happen?
1.
2.
Identify the Issue
WHAT DO YOU WANT TO CHANGE?
–
–
–
–
Make it specific & Make it local
Gather the data
Compile compelling stories/facts
Paint a scary, though real, picture of the
consequences of inaction
HOW TO
GIVE A
LASER TALK
The Problem
• Be brief, specific and to the point
• Identify the problem in language that
leads to the solution you want
The Problem
The aid distribution is fully inequitable.
Our school district has made and will
continue to make cuts that others will
not. These cuts will have a devastating
impact upon our kids, our community,
and, ultimately, our economy.
The Solution
• Lead your legislator to a solution
• Elaborate a little more here to show the
problem
• Use a compelling story, statistic, or fact to
seal the deal
The Solution
We need equitable aid for districts like
ours. Wealthy districts have more
programs than do poor districts, while
also having greater opportunity to raise
local funding due to their expansive tax
bases. We cannot allow our kids to
attend substandard schools.
Call to Action
• Answer the question of "what can the
legislator do for you?"
• Be as specific as you can
• Phrase it in the form of a "yes" or "no" so
you get an answer
• Ask a second time if it is not answered
Call to Action
Can the residents of our school district
count on you to refuse to accept any state
budget that does not remedy this? Will
you lead your colleagues to do what is
right for our students?
Strategies for Engaging Your Team
• Letter writing nights…electronic as well as snail
mail – use both…often!
• Meeting with your legislators in their home office…
• Better yet – Help your stakeholders convene a town
hall meeting & "invite" your legislators to attend
• Invite officials to Board meetings, PTO meetings,
student government meetings
• Letters to the editor
• Tin cup Tuesdays in Albany
• Stakeholder fund raising to purchase advertising in
local papers
• What else?