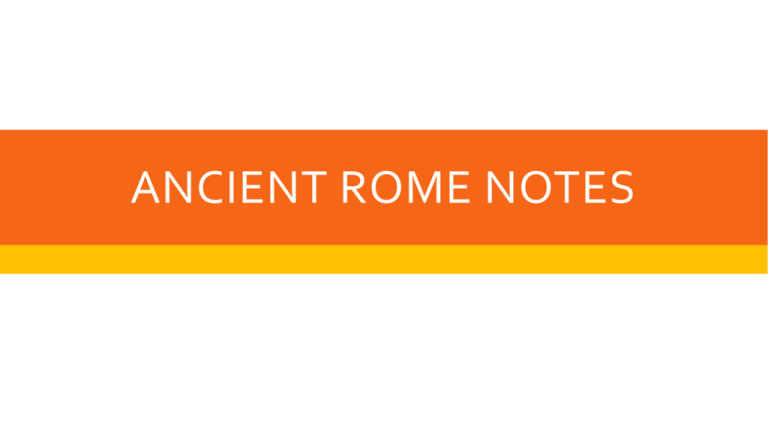 ANCIENT ROME NOTES
THE IMPORTANCE OF ROME
 Considered to be the start of Western
Civilization
 Was one of the first and largest political
empires to ever exist in our world
 Their laws and language (Latin) was
passed on to other civilizations
 Was used as the main means of
spreading Christianity throughout
Europe
 Time Frame: 753 BC- Around 400 AD
SOCIAL STRUCTURE
 Patricians  rich landowners who inherited their power and
social status; held most of the power in Rome
 Plebeians commoners, artisans, and merchants who made up
the majority of the population; citizens who could vote, could
not hold important government positions
 Slaves  captured peoples during the wars; made to work on
the latifundia, huge estates; were one-third of the population
Patricians
Slaves
Plebeians
DAILY LIFE
 Rich - had country estates (villas), enjoyed a high quality of life
 Poor- lived in apartment houses, no running water, jobless, lots
of fires in Rome, very dirty
 Slaves- slaves almost no rights, worked in homes of rich and on
farms or in the army
 All enjoyed the games at Colosseum (circuses, gladiators,
animals)
 Family life- strong family values, government rewarded parents
who had many children, father had absolute power, women's
role depended on wealth
GOVERNMENT
Roman Republic- a system of government in which people can vote on who will rule
them. In Rome, there were several types of leaders.
2 Consuls— elected (chosen) by the people through a vote. The consuls oversaw other
government officials, directed the army, and acted as judges. The two consuls had to agree
in order to take action.
Senate— Were all patricians, chosen by the consuls, were advisors to the consuls, approved
laws passed by the Assembly, decided how money should be spent, had influence over the
consuls and army
Assembly— Largest branch of government made up of Plebians and Patricians. voted on
laws suggested by government officials, could declare war or make peace treaties, elected
the 2 Consuls
ACHIEVEMENTS
 Architecture and Technology- used arches
and columns, invented concrete
 Built Colosseum (50,000 people, used for
fighting, and ship battles), Circus Maximus for
chariot racing, aqueducts
 Roman roads- "All roads lead to Rome"
 Roman Law- an early form of the Bill of
Rights (Justinian Code), have to face your
accusers, "Beyond a shadow of doubt"
STOP AND THINK
 What you do you think about the Romans? How do they
compare/contrast with other civilizations we have discussed?