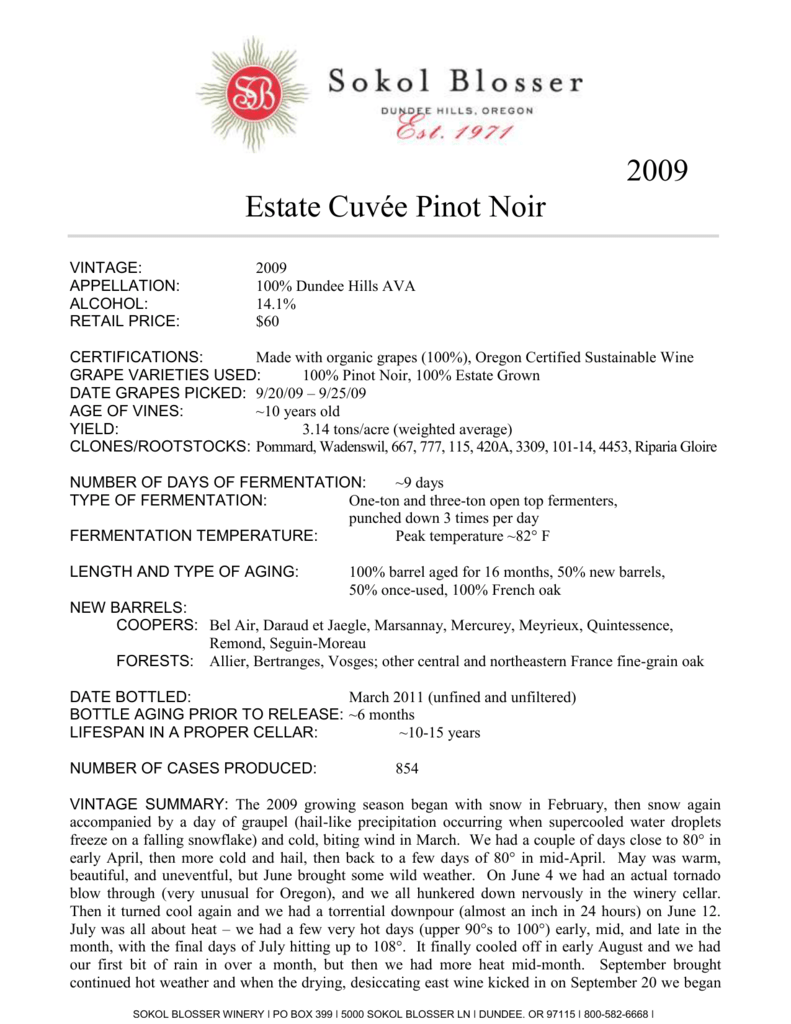 2009
Estate Cuvée Pinot Noir
VINTAGE:
APPELLATION:
ALCOHOL:
RETAIL PRICE:
2009
100% Dundee Hills AVA
14.1%
$60
CERTIFICATIONS:
Made with organic grapes (100%), Oregon Certified Sustainable Wine
GRAPE VARIETIES USED:
100% Pinot Noir, 100% Estate Grown
DATE GRAPES PICKED: 9/20/09 – 9/25/09
AGE OF VINES:
~10 years old
YIELD:
3.14 tons/acre (weighted average)
CLONES/ROOTSTOCKS: Pommard, Wadenswil, 667, 777, 115, 420A, 3309, 101-14, 4453, Riparia Gloire
NUMBER OF DAYS OF FERMENTATION:
~9 days
TYPE OF FERMENTATION:
One-ton and three-ton open top fermenters,
punched down 3 times per day
FERMENTATION TEMPERATURE:
Peak temperature ~82° F
LENGTH AND TYPE OF AGING:
100% barrel aged for 16 months, 50% new barrels,
50% once-used, 100% French oak
NEW BARRELS:
COOPERS: Bel Air, Daraud et Jaegle, Marsannay, Mercurey, Meyrieux, Quintessence,
Remond, Seguin-Moreau
FORESTS: Allier, Bertranges, Vosges; other central and northeastern France fine-grain oak
DATE BOTTLED:
March 2011 (unfined and unfiltered)
BOTTLE AGING PRIOR TO RELEASE: ~6 months
LIFESPAN IN A PROPER CELLAR:
~10-15 years
NUMBER OF CASES PRODUCED:
854
VINTAGE SUMMARY: The 2009 growing season began with snow in February, then snow again
accompanied by a day of graupel (hail-like precipitation occurring when supercooled water droplets
freeze on a falling snowflake) and cold, biting wind in March. We had a couple of days close to 80° in
early April, then more cold and hail, then back to a few days of 80° in mid-April. May was warm,
beautiful, and uneventful, but June brought some wild weather. On June 4 we had an actual tornado
blow through (very unusual for Oregon), and we all hunkered down nervously in the winery cellar.
Then it turned cool again and we had a torrential downpour (almost an inch in 24 hours) on June 12.
July was all about heat – we had a few very hot days (upper 90°s to 100°) early, mid, and late in the
month, with the final days of July hitting up to 108°. It finally cooled off in early August and we had
our first bit of rain in over a month, but then we had more heat mid-month. September brought
continued hot weather and when the drying, desiccating east wine kicked in on September 20 we began
SOKOL BLOSSER WINERY | PO BOX 399 | 5000 SOKOL BLOSSER LN | DUNDEE, OR 97115 | 800-582-6668 |
picking
as
fast
as
we
could.
We brought in all 175 tons of our Pinot Noir in just eight days under mostly hot and hazy skies, but we
managed to avoid overly high sugars and raisining in the grapes, and the acid levels were good. Overall,
another challenging but promising Oregon vintage.
TASTING NOTES: This Estate Cuvée is rich, dark, and opulent in texture and flavor. Aromas of
violet, cassis, and five spice lead to a core of blackberry jam with layers of dark chocolate, black cherry,
Bourbon vanilla, and damp soil. The wine is mouth-filling and lush, with tannins that are already
velvety and refined.