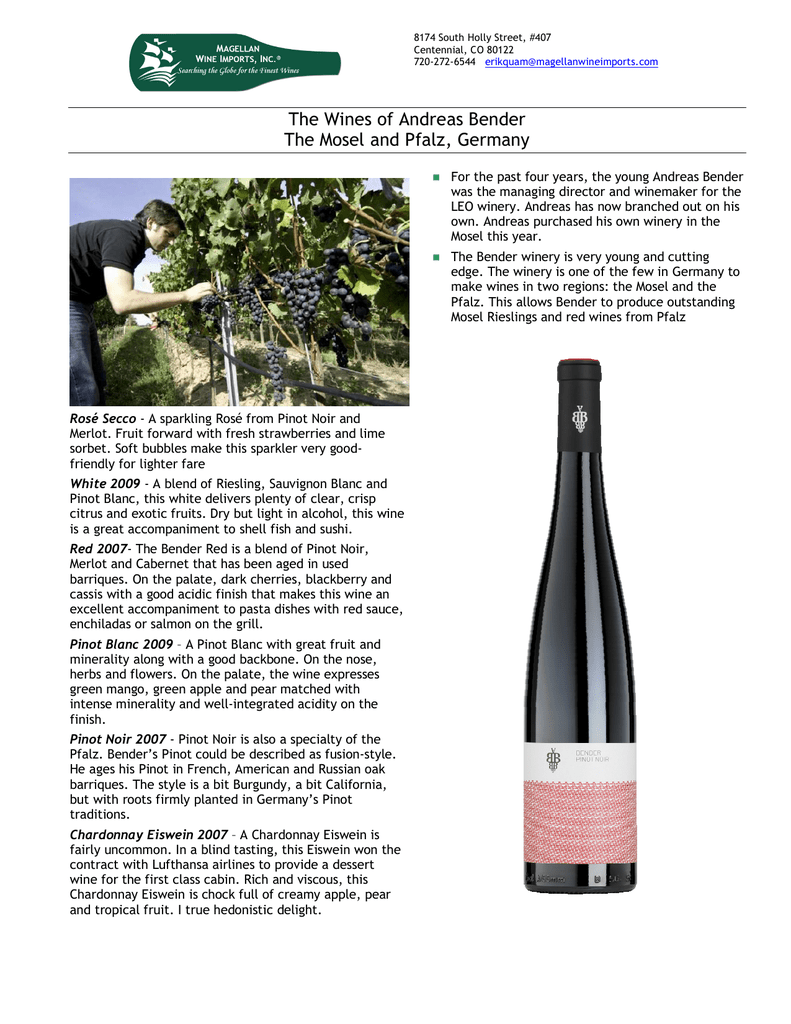 8174 South Holly Street, #407
Centennial, CO 80122
720-272-6544 [email protected]
The Wines of Andreas Bender
The Mosel and Pfalz, Germany
For the past four years, the young Andreas Bender
was the managing director and winemaker for the
LEO winery. Andreas has now branched out on his
own. Andreas purchased his own winery in the
Mosel this year.
The Bender winery is very young and cutting
edge. The winery is one of the few in Germany to
make wines in two regions: the Mosel and the
Pfalz. This allows Bender to produce outstanding
Mosel Rieslings and red wines from Pfalz
Rosé Secco - A sparkling Rosé from Pinot Noir and
Merlot. Fruit forward with fresh strawberries and lime
sorbet. Soft bubbles make this sparkler very goodfriendly for lighter fare
White 2009 - A blend of Riesling, Sauvignon Blanc and
Pinot Blanc, this white delivers plenty of clear, crisp
citrus and exotic fruits. Dry but light in alcohol, this wine
is a great accompaniment to shell fish and sushi.
Red 2007- The Bender Red is a blend of Pinot Noir,
Merlot and Cabernet that has been aged in used
barriques. On the palate, dark cherries, blackberry and
cassis with a good acidic finish that makes this wine an
excellent accompaniment to pasta dishes with red sauce,
enchiladas or salmon on the grill.
Pinot Blanc 2009 – A Pinot Blanc with great fruit and
minerality along with a good backbone. On the nose,
herbs and flowers. On the palate, the wine expresses
green mango, green apple and pear matched with
intense minerality and well-integrated acidity on the
finish.
Pinot Noir 2007 - Pinot Noir is also a specialty of the
Pfalz. Bender's Pinot could be described as fusion-style.
He ages his Pinot in French, American and Russian oak
barriques. The style is a bit Burgundy, a bit California,
but with roots firmly planted in Germany's Pinot
traditions.
Chardonnay Eiswein 2007 – A Chardonnay Eiswein is
fairly uncommon. In a blind tasting, this Eiswein won the
contract with Lufthansa airlines to provide a dessert
wine for the first class cabin. Rich and viscous, this
Chardonnay Eiswein is chock full of creamy apple, pear
and tropical fruit. I true hedonistic delight.