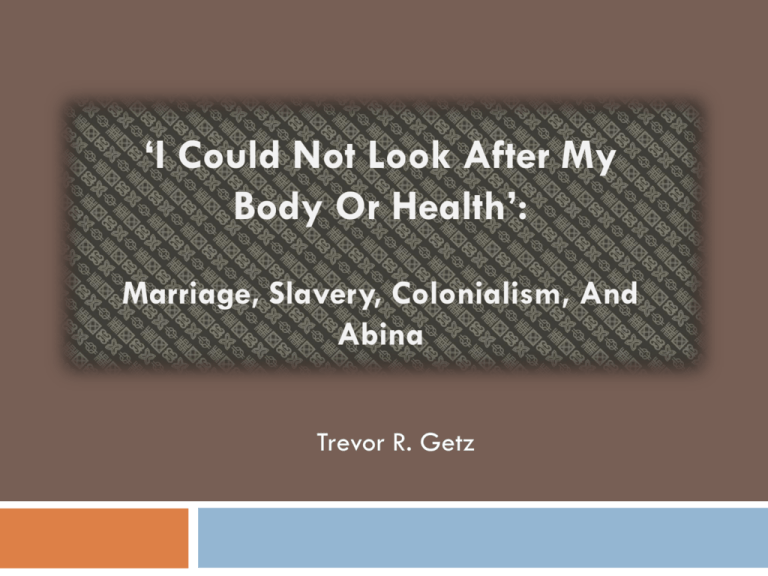 'I Could Not Look After My
Body Or Health':
Marriage, Slavery, Colonialism, And
Abina
Trevor R. Getz
Regina v. Quamina Eddoo, 1876,
Cape Coast Judicial Assessors Court
2








William Melton, Acting Judicial
Assessor
James Davis, prosecutor
Abina Mansah, appearing for
the prosecution
Adjuah N'yamiwheh,
appearing for the prosecution
James Hutton Brew, defense
attorney
Quamina Eddoo, defendant
Eccoah Croom, appearing for
the defense
Yawowhah, appearing for the
defense
Three geographic levels of
interpretation
3
1. The Gold Coast
Colony and
Protectorate as
"state"
3. Akan (Twispeakers) as sociocultural community
2. The British Empire
as "network" and
"system"
Abina's stories in "three keys"
4
SCOPE
FOCUS
METHODS AND INTERPRETIVE
SOURCES
FRAME
Negotiation and
Converging
Social history
impact of abolition documents and
courtroom
testimony
Thick interpretation World history
Imperial/global The colonial
courtroom and the
meaning of
"slavery"
The colony
Akan cultural
world
Marriage
Linguistic analysis,
oral histories, and
proverbs
Gender studies and
ethno-history – informing
a critical world history
1
A social history of abolition on the
Gold Coast
1874 colonial establishment
6
Asante
Confederation:
Adanse
1874 Colony
and
Protectorate:
the
"Protectorate"
is the broader
area
Coastal towns: "The Colony"
British Press cover 1873-1874 war
7
Abolition of slavery in Gold Coast
8




July 1874 – Anglo-Asante war ends
July - August 1874 – Anti-Slavery Societies lobby
for abolition
August1874 – Parliament investigates several
models for gradual emancipation. Chiefs and
"educated men" send petitions opposing abolition.
September 1874 – Governor and Executive Council
adopt "Indian Model".
"Success" of Indian Model
9



Abolitionists largely satisfied, yet little economic or
political dislocation
Under the surface – slave/master negotiation
Rise in importation of young, female captives
Basel Mission postcard from Gold
Coast, 1896: "The freed slave
children say 'thank you'"
Abina's testimony
10
Abina Mansah, having been promised
and declared that she would speak
the truth says:
"A man called Yowawhah brought me
from Ashantee. I was his wife. He
brought me to Salt Pond. Yowawhah
went on purchasing goods. On the
same day as he finished, he handed
me over to defendant to be with with
him, and said that he was going back
and would return………"
World history in the Gold Coast
courtroom
11





Law: The "Indian Model" – adapted from the Raj (India)
Palm oil as imperial commodity
Abolitionism as a British middle-class core value
Conceptualizing slavery as the binary opposite of
"freedom"
Paternalism and ethnography:
"Women and children are…. So much property, which [the
head of the Akan household] can sell, pawn, or give away at
his pleasure" – Brodie Cruickshank
 "Slavery here is an emanation of parental and family
authority" – 1874 Fairfield Report

Melton's formulation of slavery
12





Did any money change hands, or were any rituals
denoting enslavement carried out?
Was the witness physically abused?
Was the witness called a slave (such local terms as
"donko" or "amerfefley")?
What sort of labor was the witness required to do,
and was he or she paid for it?
Was the witness brought into the protectorate from
outside?
The making of James Hutton Brew –
attorney for the defense and cultural broker
13
1750 - Irishman Richard Brew arrived in Gold
Coast. He had two children with Afina Anson, the
daughter of a local paramount Chief.
Grandson Richard Brew II court interpreter and
magistrate for the British.
Grandson Samuel Kante
Brew - "scholar" and slave
trader who operated under
the Spanish flag.
Son Samuel Collins Brew – merchant and magistrate,
married heiress to state of Abora Dunkwa.
Son James Hutton Brew – prince, newspaper founder,
and lawyer. Defended Quamina Eddoo
Abina's arguments
14
"when a free person is sitting down
at ease the slave is working that is
what I know".
 "I had been sold and I had no will
of my own and I could not look after
my body and health".
 "As they were in defendant's house
long before if the defendant had
done anything for them I could not
tell but as for me he did nothing good
for me".

"Health" – 19th century Akan
conceptions
15
Spouse
Physical
needs met
abusua clan
(matrikin)
Relationship
s
Spiritual
protection
Sodalities
(patrikin)
Marriage Proverbs
Peggy Appiah, Kwame Anthoy Appiah, and
Ivor Agyeman-Duah, Bu Me Be: Proverbs of
the Akans
16




"A woman's glory is her marriage"
"An unmarried person eats scantily"
"A single person is like a dead chicken"
"A new marriage, brother-in-law benefits from
it."
Cognates for marriage?
17
Rattray's Akan categories of marriage
 adehye awadie – marriage between a free man
and a free women
 mpena awadie – concubinage
 awowa awadie – marriage between a free man
and a pawn
 afona awadie – marriage between a free man and
a slave
 kuna awadie – levirate marriage
 ayete awadie – sororate marriage
Head drink and marriage rite
John Kofi Fynn – Fante oral histories
18



"The family of the woman is consulted and the
necessary formalities performed."
"When a man loves a woman he first sends envoys to
the woman's father. If the girl is not married the father
informs the family. 2 pounds is first charged as Head
drink; 4 pounds is secondly charged as marriage rite."
"The man proposes to the woman, if the woman
approves the parents are informed and if they like the
man or his character then a day is fixed for the
marriage rites."
Divorce Proverbs
Peggy Appiah, Kwame Anthoy Appiah, and
Ivor Agyeman-Duah, Bu Me Be: Proverbs of
the Akans
19



"If a marriage stinks, we don't sleep with it so that
the scent becomes good."
"Divorce does not destroy the town."
"It is not difficult to get a divorce."
Cognates for "slave"?
20
Rattray's Akan categories of
slavery
 akoa - "servant"
 awowa - "debt pawn"
 donko - "domestic slave"
 dommum - "war captive"
 akyere - "slave under capital
punishment"
1896 Basel Mission image
labeled simply "slave
children"
afona awadie marriages – 1870s
21




Expanded dramatically with increased importation
of women with "donko" status.
Far more affordable than marriage to "free"
women with extensive matrilineages.
British magistrates accepted that wives were not
slaves.
Wives had neither recourse to divorce nor
protection of courts.
Yaw Awoah marries Abina
22
Three advantages for Yaw:
 Provided him with a legal
justification bring her into the
Colony and Protectorate.
 Abina as his wife provided him
essentially free labor for
carrying his goods to the coast.
 The relationship may have made
Abina amenable to sexual
access for Yaw during the
period of their relationship.
Quamina Eddoo tries to force Abina to
marry Tandoe
23
-
-
-
"Whether the defendant purchased me or not I do not know. If the
defendant had not given me in marriage, I could not have formed
any idea that he had purchased me."
"Because defendant gave me in marriage I knew I had been sold"
"I asked him how it was (that when I had been left by Yowahwah to
live with him, and that he would return), that he had given me in
marriage to one of his people. On this I thought that I had been
sold and I ran away. "
PRAAD SCT 5-4-19 Regina v Quamina Eddoo 10 Nov 1876, Testimony of Abina Mansah.
Abina expresses preference
24


"My master said that
I should be married
to Tandoe, and that
he would give me
plenty of cloths, and I
said I did not like
him."
"Defendant asked me
if I liked him and I
said I did not."
PRAAD SCT 5-4-19 Regina v Quamina Eddoo 10 Nov 1876, Testimony of Abina Mansah.