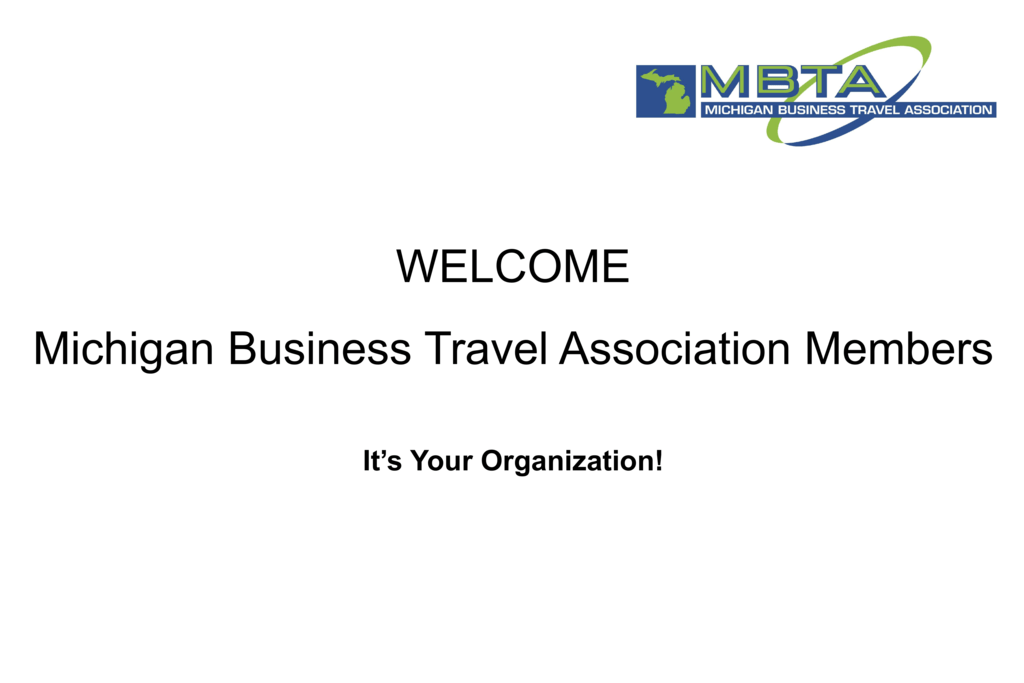 WELCOME
Michigan Business Travel Association Members
It's Your Organization!
It's Your Organization
Scholarship Opportunities
• Recommendations
‾ $1,000 CCTE, CTE or GLP scholarship
‾ $1,000 NBTA Annual Convention
‾ Two (2) Annual Memberships
Sponsorship Opportunities
• Meeting Sponsorships
‾ Morning General Sessions
‾ Feature Program Session
It's Your Organization
Benefits of your MBTA Membership:
• 5 Annual Meetings
• Reach out to your Committee Members
• Presentation, Roundtable, Panel Discussions
‾
‾
‾
‾
‾
‾
•
•
Registration/Networking
AM Session
Board Update
PM Session
4 Webinars
30 – 60 Minutes
Additional Education
Opportunity to "stay involved" for those unable to travel
‾ 9 Opportunities for Education!
‾ UNLIMITED Opportunities to Network
Education Committee
Co-Chairs: Rennie Vanrosmalen, Meijer
Jim Smith, Enterprise Holdings, Inc.
Members: Amy Marciano-Ratliff, American Express Travel
Kathy Myers, Air France/KLM/Delta
Goal:
•
Provide professional development on travel related topics through education forums and
chapter seminars.
Mission Statement:
•
To educate members on timely and relevant industry topics that provide value & enhance
professional development.
•
Solicit Topics for future MBTA Presentations - Be thinking about………..
– Areas You'd Like to Develop/Increase Understanding
– "Hot-Topics"
– Personal Development
– Consider…….
– Resources we might have within our MBTA organization
» Resources within our own organization or company for presenters or topics
Government and
Public Relations Committee
Chair:
George McMullen, MGR & Associates
Members: Rene Andre, Ford Motor Company
Rick Williams, Enterprise Holdings
Goals:
•
•
•
•
•
Provide monthly updates to the membership.
Increase the size and influence of the committee.
Secure governmental speaker for a future meeting.
Reach out to elected offices to communicate the issues and concerns of our membership.
Communicate with local periodicals to increase the exposure of MBTA.
Mission Statement:
•
To educate, update, inform and represent the membership of MBTA on all government
issues affecting the financial and travel policies of each member and their companies.
How You Can Help?
•
•
Support NBTA
Participate in the NBTA PAC
Meeting Planning Committee
Chair: Vicki Berger, American Express Business Travel
Goal:
•
Provide members a location and environment that is favorable for learning
and networking.
Mission Statement:
•
Seek opportunities for both allied and direct members to show case their
facility and services. Familiarize members with venues and options for
potential meetings
Charity Committee
Chair:
Jenny Baumann, Delta Airlines
Members: Kathy Mastin, Visteon Corporation
Sandy Chwierut, Bosch Corporation
Kimberly Krueger, Federal-Mogul Corporation
Jodie Duncan, Avis Budget Group
Goal:
•
The objective of the MBTA Charity Committee is to lead and coordinate the efforts of
MBTA to engage in charitable giving opportunities.
Mission Statement:
•
The mission of the MBTA charity committee is to select and support charities in Michigan
communities by hosting charitable giving events.
Technology Committee
Chair: Jack Reynaert, Travelport
Goals:
•
•
Focus on the technology used by our membership
• Directly (MBTA website)
• Indirectly (Technology used by members within the travel industry
Support our membership through interaction with various committees
•
Communicate key elements in advancing technology which impacts the travel industry
•
•
•
•
Transition of GDS front-ends from "Terminal Emulation to GUI Desktop"
Online booking tools, growth development, and enhancements
Website, widgets, gadgets, and "wagets which support the travelers' experience
Automated quality control from mid-office QC systems to back-office accounting
to travel policy compliance reporting
• Facilitation of travel management with the many "fragmented booking channels"
available to the road warrior
• Future State: The "Bleeding Edge" of travel technology
Mission Statement:
•
To have a tool and resources which support the talent and innovation with the
membership of our Chapter.
If interested in joining, please contact Jack Reynaert, at [email protected]
Membership Committee
Chair:
Tawnya Johnson, The Inn at St. John's
Members: Deborah Barrett, Dollar Thrifty Automotive Group
Goals:
•
•
•
•
•
Establish an ambassador program to ensure that all potential members, guests and new members are
introduced and are made to feel welcome at every meeting by being partnered with an ambassador.
Invite all existing members to bring a potential member as a guest to at least one MBTA meeting in
2010
Reach out to entire membership to assist in generating new members via referrals
Provide effective communication to all members about the MBTA membership rewards
Increase membership
Mission Statement:
•
To increase chapter membership through networking with new members, solicitation/recruitment of
potential members and representation at all chapter meetings and events.
ROUNDTABLE SESSION
LUNCH
MBTA BUSINESS MEETING
Feature Program – Ancillary Fees
Guest Speaker
Matthew Talbot
Product Marketing & Business Intelligence Technology Manager
AirPlus International Inc.