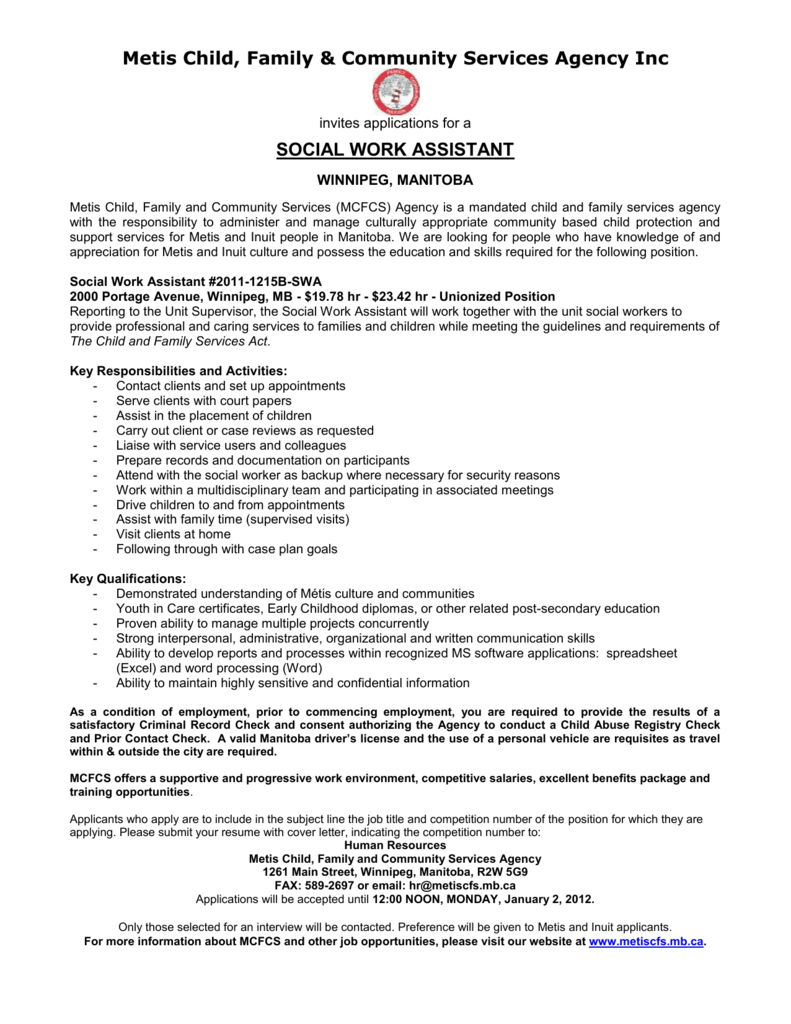 Metis Child, Family & Community Services Agency Inc
invites applications for a
SOCIAL WORK ASSISTANT
WINNIPEG, MANITOBA
Metis Child, Family and Community Services (MCFCS) Agency is a mandated child and family services agency
with the responsibility to administer and manage culturally appropriate community based child protection and
support services for Metis and Inuit people in Manitoba. We are looking for people who have knowledge of and
appreciation for Metis and Inuit culture and possess the education and skills required for the following position.
Social Work Assistant #2011-1215B-SWA
2000 Portage Avenue, Winnipeg, MB - $19.78 hr - $23.42 hr - Unionized Position
Reporting to the Unit Supervisor, the Social Work Assistant will work together with the unit social workers to
provide professional and caring services to families and children while meeting the guidelines and requirements of
The Child and Family Services Act.
Key Responsibilities and Activities:
- Contact clients and set up appointments
- Serve clients with court papers
- Assist in the placement of children
- Carry out client or case reviews as requested
- Liaise with service users and colleagues
- Prepare records and documentation on participants
- Attend with the social worker as backup where necessary for security reasons
- Work within a multidisciplinary team and participating in associated meetings
- Drive children to and from appointments
- Assist with family time (supervised visits)
- Visit clients at home
- Following through with case plan goals
Key Qualifications:
- Demonstrated understanding of Métis culture and communities
- Youth in Care certificates, Early Childhood diplomas, or other related post-secondary education
- Proven ability to manage multiple projects concurrently
- Strong interpersonal, administrative, organizational and written communication skills
- Ability to develop reports and processes within recognized MS software applications: spreadsheet
(Excel) and word processing (Word)
- Ability to maintain highly sensitive and confidential information
As a condition of employment, prior to commencing employment, you are required to provide the results of a
satisfactory Criminal Record Check and consent authorizing the Agency to conduct a Child Abuse Registry Check
and Prior Contact Check. A valid Manitoba driver's license and the use of a personal vehicle are requisites as travel
within & outside the city are required.
MCFCS offers a supportive and progressive work environment, competitive salaries, excellent benefits package and
training opportunities.
Applicants who apply are to include in the subject line the job title and competition number of the position for which they are
applying. Please submit your resume with cover letter, indicating the competition number to:
Human Resources
Metis Child, Family and Community Services Agency
1261 Main Street, Winnipeg, Manitoba, R2W 5G9
FAX: 589-2697 or email: [email protected]
Applications will be accepted until 12:00 NOON, MONDAY, January 2, 2012.
Only those selected for an interview will be contacted. Preference will be given to Metis and Inuit applicants.
For more information about MCFCS and other job opportunities, please visit our website at www.metiscfs.mb.ca.