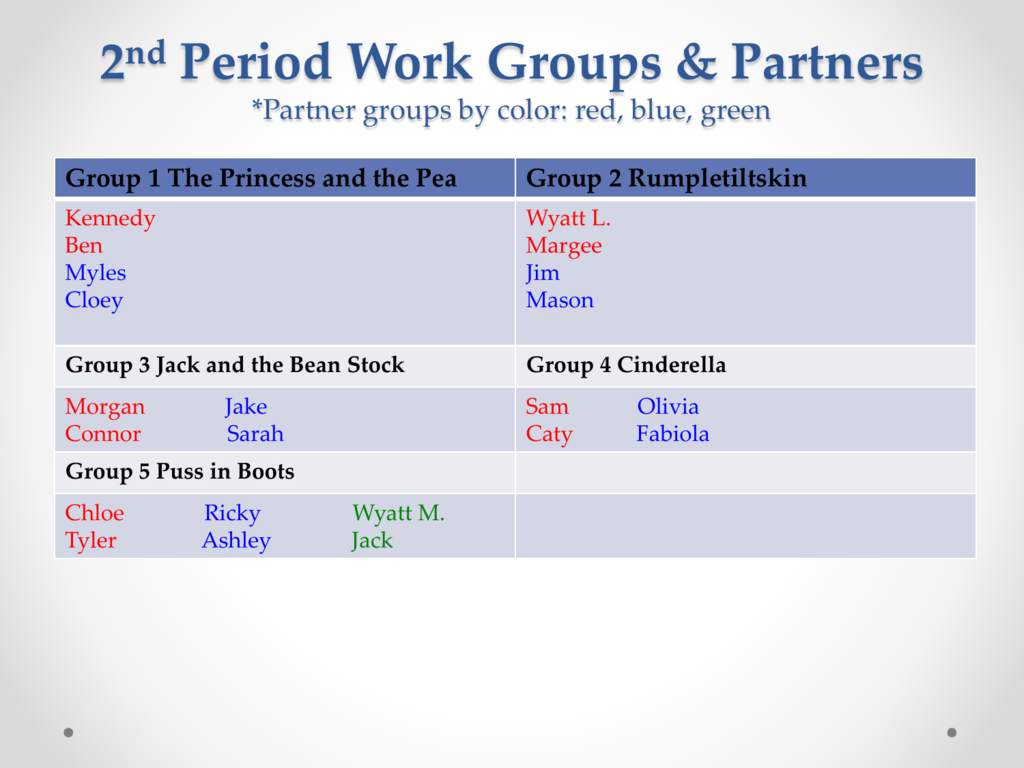 2nd Period Work Groups & Partners
*Partner groups by color: red, blue, green
Group 1 The Princess and the Pea
Group 2 Rumpletiltskin
Kennedy
Ben
Myles
Cloey
Wyatt L.
Margee
Jim
Mason
Group 3 Jack and the Bean Stock
Group 4 Cinderella
Morgan
Connor
Sam
Caty
Jake
Sarah
Group 5 Puss in Boots
Chloe
Tyler
Ricky
Ashley
Wyatt M.
Jack
Olivia
Fabiola
4th Period Work Groups & Partners
*Partner groups by color: red, blue, green
Group 1
Mikayla
Jonathan
Group 2
Annalisa
Ratu
Group 3
Alex
Desteni
Caitlyn
Ethan
Nolan
Zach
Hayden
Ryan
Group 6
Macy
Blayne
Group 7
Adam
Max N.
Aiden
Ty
Group 4
Group 5
Kaleb
Shane
Grace
Scott
Anabelle
Max W.
Jewel
Dawson
Group 8
Mara
Tommy
Janice
Desmond
Cole
Diana
Lily
Derek
March 13, 2015
• Learning Targets: read a well-known fairly tale to
understand an author's style by identifying short story
elements, an author's use of literary narrative
techniques, and identify theme and write a thematic
statement.
• Bell Work:
o Materials: notes spiral, writing utensil.
o Sit in your assigned table group.
• Activities:
o Fairy Tale Background
o Review of elements of fiction, narrative techniques
and theme
o Fairy Tale activity – instructions & time to work
Once
upon a time…
Fairy Tales
• Fairy tales are part of the oral tradition of literature,
usually written to entertain children but were
originally written for adults. As their popularity
spread, the fairy tale came to have a major
influence on children's literature.
• They are stories that tell of man's problems, fears,
and hopes. What makes the fairy tale different from
folklore, fables, and tall tales is its use of magic and
fantasy
• The supernatural characters in fairy stories are not
always fairy godmothers or winged sprites. They
may be magicians, ogres, elfs, goblins, gnomes, or
leprechauns
Fairy Tales
• Often fairy tales involve ordinary people who have
experiences of a supernatural kind and are
affected by charms, disguises, spells, or other
fantastic occurrences.
• In The Sleeping Beauty, a princess is shut up by
enchantment in a castle and sleeps for 100 years;
the thick wood that grows up around the castle is
penetrated by a prince who awakens the princess
with a kiss.
Popular Fairy Tales
•
•
•
•
•
•
•
•
Sleeping Beauty
Cinderella
Rapunzel
Jack and the
Beanstalk
Snow White
Beauty and the Beast
The Frog Prince
Red Riding Hood
Hansel and Gretel
Rumpelstiltskin
Snow Queen
Thumbelina
The Emperor's New
Clothes
• The Real Princess
•
•
•
•
•
Jacob Ludwig Carl Grimm was born on Jan. 4,
1785. Wilhelm Carl Grimm was born on Feb.
24, 1786.
Born in Paris, France in 1628
In the early 19th century the Grimm brothers of
Germany traveled around the countryside
listening to folktales as told by those who had
heard them from their mothers and fathers.
Died in 1703
Collected fairy tales and published
Tales of Mother Goose in 1697
Their 200 stories commonly
called Grimm's Fairy Tales
have been translated into 70
languages.
Among the eight stories in this book
are The Sleeping Beauty, Little Red
Riding Hood, Blue Beard, and
Cinderella.
Born April 2, 1805, on the island of Fyn, off the coast of
Denmark. Andersen's writings began to be published in
Danish in 1829. His first works were poems, plays, novels,
and impressions of his travels. In 1835 Andersen
published Fairy Tales Told for Children.
COMMON ELEMENTS OF
FAIRY TALES
1. A fairy tale begins with "Once upon a time..."
2. Fairy tales happen in the long ago with a detailed setting.
3. Fairy Tales have fantasy and make believe in them. They employ
many types of narrative techniques to captivate their audience &
use language in many different ways – figurative, with imagery,
and irony!
4. Fairy Tales have clearly defined Good characters vs. Evil characters.
5. Royalty is usually present in a fairy tale, a beautiful
princess/handsome prince.
6. There may be magic with giants, elves, talking animals, witches or
fairies.
7. Fairy tales have a problem (conflict) that needs to be solved.
8. It often takes three tries to solve the problem.
9. Fairy tales have happy endings "they all lived happily ever after."
10. Fairy tales usually teach a lesson or have a theme.
Fiction Story Elements
Include:
• Characters: main characters & supporting characters
• Setting: when and where did the story take place
• Problem or Conflict: usually introduced early on; can be
external or internal
• Plot or Text Structure: the rise and fall of action
• Solution or Resolution: how the problem or conflict is
solved
• Point of View: 1st person (main character telling story;
use of "I" and "me") or 3rd person (narrator telling story;
use of "he/she", "him/her")
• Theme: More than the topic of the story, the "message"
the author is trying to send through the use of the story
Literary Narrative Techniques
• Writers employ narrative techniques in their works to
attract readership. The readers are not only
entertained but also learn some underlying
message from the narratives.
• Some literary "narrative" techniques include:
o
o
o
o
o
o
o
o
o
metaphors
similes
personification
Imagery
hyperbole
alliteration
Flashback/flash-forward,
foreshadowing
narrative perspective/point of view.
Examples of Narrative Techniques
• Imagery creates visuals for the reader that appeals to our
senses and usually involves figurative language: The bar was
a dark, gloomy eyesore. This statement appeals to our
senses to help us visualize and feel the negative aspects of
this location.
• Personification is seen when an inanimate object is given
human or animal-like (living) qualities, like, "The stars danced
in the sky." We know stars cannot dance. This statement is
an attempt to help the reader have a better picture of how
the stars appeared to move in a dancing fashion.
• Hyperbole is an over-exaggeration to make a point. You
might have heard someone say, "My purse weighs a ton!"
We know this is not to be meant in the literal sense, but it is
meant to help the reader understand the excessive weight
of the purse.
Examples of Narrative Techniques
• Alliteration is seen when the writer uses the same letters
together in a sentence. Here is a classic example: "Peter
Piper picked a peck of pickled peppers." Some writers use
alliteration to help readers remember phrases or concepts,
while some writers simply use this technique because it is
'catchy' and appealing to readers.
• Onomatopoeia: when a word's pronunciation imitates its
sound. For example, words pertaining to water: splash,
spray, sprinkle, squirt, drip, drizzle or words pertaining to
voice: giggle, growl, grunt, gurgle, grunt, mumble, murmur,
chatter, blurt.
• Allusion: a figure of speech that makes a reference to a
known place, person, or historical event. This can be real or
imaginary and may refer to anything, including paintings,
opera, folk lore, mythical figures, or religious manuscripts. "I
was surprised his nose was not growing like Pinocchio's."
This refers to the story of Pinocchio, where his nose grew
whenever he told a lie. It is from The Adventures of
Pinocchio, written by Carlo Collodi.
What is theme?
(make a new entry and take notes in your spiral)
• Theme: a central idea or central message of
the story or general statement about life;
e.g., "People show their love for each other
by making sacrifices. It usually contains
some insight into the human condition –
telling something about humans and life.
• The theme may be stated directly or implied
by the events and actions in the story.
How do I determine theme?
(continue taking notes)
• Consider how all the story elements work together within
a story and what ideas about life these elements present
• Review your story's plot, how the author uses different
literary narrative techniques, such as figurative
language, and irony, sentence structure and carefully
chosen words, and you will begin to see the theme, or
main message about life, present itself!
• To create a thematic statement, it's okay to start with
theme topics (e.g., love, revenge, humility, etc.) but you
must not leave this word alone! You MUST say something
about what we learn about this topic THROUGH the story
and the techniques used to show us!
What theme is NOT…
(continue taking notes)
• A "topic" (such as love or sacrifice)
• A summary, such as "Two people sell their
valuables to show their love for each other."
• A moral; e.g., "If you love someone, you will do
anything for him or her."
Little Red Riding Hood
Elements of a Short Story:
• Main characters: The Wolf, Little Red Riding Hood. The
main protagonist in this story is Red. The main antagonist in
this story is the Wolf. She is a dynamic character who
changes by the end of the story.
• Minor characters: Granny, mother, father (woodcutter).
Minor characters are flat and have only one or two
characteristics that never change.
• Setting: the time and place in a story. The setting in Red
Riding Hood is the woods and granny's house in a fictional
area.
• Point of View: In Red Riding Hood, the story is told through
third person omnicient point of view. We see how
everyone is feeling.
• Mood (the atmosphere or feeling the writer creates for the
reader): The mood created by the author is suspenseful
and serious.
Little Red Riding Hood
Elements of a Short Story: Plot
• Exposition: In Red Riding Hood, it's when we meet Red, meet
her mother, and learn about her father, the woodcutter. We
also find out why she needs to go through the woods. LRRH
has fixed a basket of goodies for her grandmother & is
traveling through the woods to visit her.
• Conflict (internal/external): An example of external conflict is
man vs animal when Red was confronted by the Wolf.
• Rising action: BBW sees LRRH, runs to G's house, eats G, lays in
wait for LRRH. LRRH sits by G's (really BBW) bed, talking to her,
asking questions.
• Climax: the big bad wolf is about to eat Red.
• Falling action: The huntsman arrives, sees BBW dressed
like Granny, the wolf runs away, afraid of the ax.
• Resolution – H. kills the BBW, and LRRH and G pop out,
safe and sound! The woodcutter walks Red home safely.
Plot Diagram
Model: "Little Red
Riding Hood"
Little Red Riding Hood
has prepared a basket of
goodies for her
grandmother. She
begins walking through
dangerous woods to
deliver the basket.
The Big Bad Wolf
spots Little Red
walking in the woods
and asks her where
she's going with the
basket of treats.
Climax
Little Red arrives at
her grandmother's
house and sits on a
stool at the
disguised wolf's
bedside.
The Wolf runs to
the grandmother's
house , eats her,
puts on her bonnet,
glasses, and night
gown, and climbs
into her bed.
Exposition
Little Red comments on the Wolf's nose,
eyes, ears, and teeth, and he responds by
eating her in one gulp.
Falling Action
Little Red questions
all the things that
appear different
about her
"grandmother."
Rising Action
The Woodsman
arrives on the scene
to discover the wolf
dressed as the
grandmother, and
quickly surmises
what has transpired
in the woman's
cottage.
The Woodsman kills the
wolf and out step the
Grandmother and Little
Red, happy and safe.
Resolution
Little Red Riding Hood
Examples of Literary Narrative Techniques:
• Foreshadowing: An example of this is when the wolf
licks his lips.
• Irony - created when there is a contrast between
what is expected and what is meant. An example
of verbal irony is when the wolf says, "I hope she
feels better" when he really meant "tastes better"!
• Diction: Remember denotation and connotation.
The wolf "snarled."
Little Red Riding Hood
Theme:
• Theme Topics: morality, violence, gender, sexuality
• Thematic Statement Ideas: Don't talk to strangers,
Stay on the path and be wary of strangers; It is
important to listen and be obedient to one's
parents.
• The theme of "Little Red Riding Hood" is IMPLIED.
While the narrator does not directly state a message, the
reader can infer it. be suspicious of things and people
that do not appear the way they should.
Why is all this important?
•
•
•
•
•
Studying the story elements and structure of fiction is an important
way to deepen your reading comprehension and helps you write
your own fictional stories.
Word choice, sentence structure (syntax!), and the writer's voice —
all contribute to the style of a piece of writing. How a writer chooses
words and structures sentences to achieve a certain effect is also an
element of style. bad times," it's likely he wouldn't have made such
an impact!
A WRITER'S STYLE IS WHAT SETS HIS OR HER WRITING APART and makes
it unique.
Style is the way writing is dressed up (or down) to fit the specific
context, purpose, or audience.
Style is not a matter of right and wrong but of what is appropriate for
a particular setting and audience.
2nd Period Work Groups & Partners
*Partner groups by color: red, blue, green
Group 1 The Princess and the Pea
Group 2 Rumpelstiltskin
Kennedy
Ben
Myles
Cloey
Wyatt L.
Margee
Jim
Mason
Group 3 Jack and the Bean Stock
Group 4 Cinderella
Morgan
Connor
Sam
Caty
Jake
Sarah
Group 5 Puss in Boots
Chloe
Tyler
Ricky
Ashley
Wyatt M.
Jack
Olivia
Fabiola
4th Period Work Groups & Partners
*Partner groups by color: red, blue, green. If your partner is absent,
work with the other members at your table group.
Group 1 Rumpelstiltskin
Group 2 Princess and the Pea
Mikayla
Jonathan
Grace
Scott
Annalisa
Ratu
Aiden
Ty
Group 3 Elves and the Shoemaker
Group 4 Puss in Boots
Alex
Desteni
Nolan
Zach
Caitlyn
Ethan
Hayden
Ryan
Group 5 Cinderella
Group 6 Rapunzel
Kaleb
Shane
Anabelle
Max W.
Macy
Blayne
Jewel
Dawson
Group 7 Jack in the Bean Stock
Group 8 The Frog Prince
Adam
Max N.
Janice
Desmond
Mara
Tommy
Cole
Diana
Lily
Derek
How Will You Show Your
Learning Today?
• Read your assigned fairytale in your table groups.
• Discuss what the story was essentially about. What is
happening in the story? Who are the characters?
What techniques does the author use to entertain the
audience and communicate the theme?
• Identify the following in your fairytale:
o Elements of the story, including plot
o Literary Narrative Techniques the author used
o Theme topics (you must also write a thematic
statement)
• Fill out the worksheet for the items above. You may
work with your assigned partner, but must fill out your
own worksheet):
Next Steps & Homework
• Meet back in the library on Monday and Tuesday with ALL
your materials for the fairytale AND your spiral for our activities
Monday and Tuesday.
• Fairy Tale Worksheet: Fill out least 2 of the Short Story Elements,
at least 1 Narrative Technique identified and explained, at
least 2-3 ideas of theme topics, and a thematic statement by
Monday. The entire worksheet is due Tuesday, 3/17 & is
needed for our activity that day!
• Extra Credit Opp: Read Across TJH Bookmarks due March 18th.
Must be done neatly and be of high quality!
• Finish 2.9 Irony – The Cask of Amontillado – second close read
of story (finish "Ideas and Details" questions in your text. Finish
the irony chart on page 123, and Writing Prompt and Check
Your Understanding on page 122 in your spiral! See my website
for more detail. Due Thurs. 3/19 (updated date since we
are in the library on Wed.).
• Finish IRA #2 note-taking worksheet – due Friday 3/20/15.