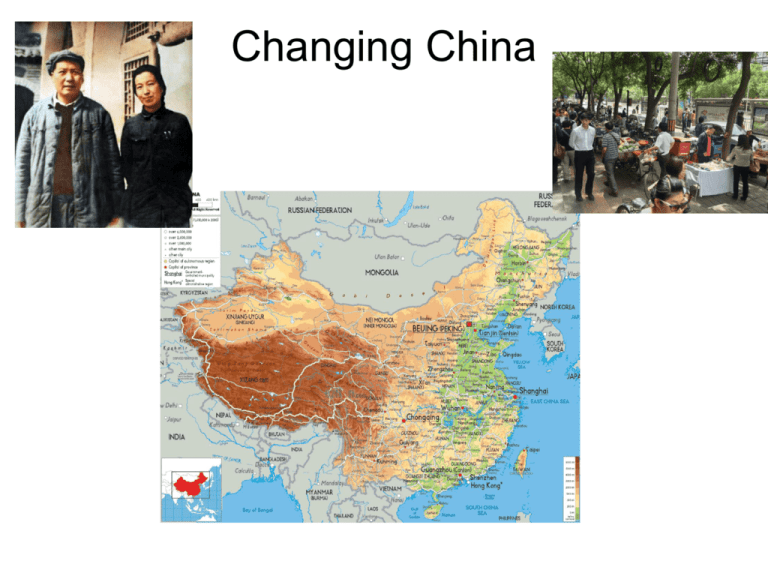 Changing China
Changing China
• L.O.
• To identify/recap some key characteristics
of changing China
• To identify key characteristics of the
country's development
• To place China's development in context
Changing China - review
• What do the following images tell you
about how China has changed in the last
35 years?
•
•
•
•
Images – subjective?
How can we be more objective?
Data? GDP?
Describe the graph.
China's development
• "Development" - what does
this mean?
• The use of resources to improve
a country's standard of living
• Developed/Developing
• North-South
• Third World (1st/2nd World)
• NICs/RICs
• MEDCs/LEDCs
• More/Less developed countries
• HEDCs
• (BRICS)
• Key issue: improvement
• All based on economic
indicators – GNP/GDP
etc
• What about social (&
cultural?) indicators – life
expectancy, birth/death
rate, literacy, access to
safe water etc
• HDI
• PQLI
• HFI…
• "Development is more
than mere economics"
Mark Tully
• Is GDP enough?
• In pairs: choose 6 indicators of
development. You should choose a
mixture of economic & social indicators,
e.g., GN/DP, life expectancy…
• These should be chosen to help put China
into context – objectively.
• Justify your choices
• Sources of information?
Indicators of development
• Comparative statistics:
research the figures for:
•
•
•
•
•
•
•
•
•
•
China,
India
UK
USA
Brazil
Russia
Nigeria
South Africa
Mexico.
Which sources should be
used?
• Produce a table for this
data.
• How does China fare in
relation to the other
countries? Write a
commentary on your results.
• Gini Coefficient: what is
this? What does it tell us
about the country?
https://www.cia.gov/library/publica
tions/the-worldfactbook/fields/2172.html
Useful websites
• http://www.gapminder.org/
• Analyses comparative statistics in scattergraph format and on maps
etc.
• http://www.worldmapper.org/
• Presents data in map form
• http://stats.oecd.org/Index.aspx
• http://www.wri.org/publication/content/8412
• National statistics.
• https://www.cia.gov/library/publications/the-worldfactbook/geos/ch.html
• http://en.wikipedia.org/wiki/People%27s_Republic_of_China
• Also use the BBC's guide to countries – good on political changes.
• You can use these to help you identify and analyse the reasons for
any spatial patterns that exist.