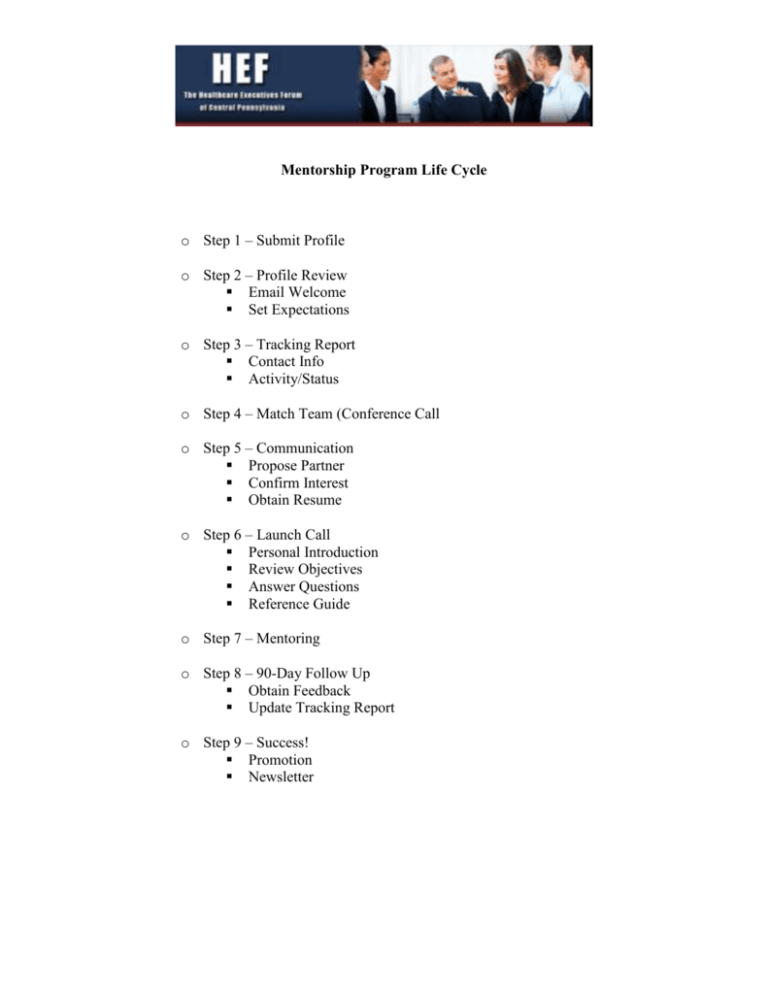 Mentorship Program Life Cycle
o Step 1 – Submit Profile
o Step 2 – Profile Review
 Email Welcome
 Set Expectations
o Step 3 – Tracking Report
 Contact Info
 Activity/Status
o Step 4 – Match Team (Conference Call
o Step 5 – Communication
 Propose Partner
 Confirm Interest
 Obtain Resume
o Step 6 – Launch Call
 Personal Introduction
 Review Objectives
 Answer Questions
 Reference Guide
o Step 7 – Mentoring
o Step 8 – 90-Day Follow Up
 Obtain Feedback
 Update Tracking Report
o Step 9 – Success!
 Promotion
 Newsletter
Profile

Name: Benjamin Pease

Employer: Student

Title/Position:
o Major-Health Policy and Administration, Minor- Labor and Employer
Relations.
o Vice President of Penn State Future Health Executives (FHE)
o Undergraduate Awards Committee Student Representative
o Association of Certified Fraud Examiners- Student Member

Address:
Permanent: 316 North Homestead Drive, Landisville, PA 17538
School: 818 Bellaire Ave, State College, PA 16801

Email
[email protected]

Phone
(717) 669-7120

Education
B.S. Health Policy and Administration (Expected May 2012)
Minor in Labor Employer Relations

Years of Healthcare Experience
12 week Summer Internship at HealthMarkets, Inc. in North Richland
Hills, Texas


List the Principle Responsibilities of Your Most Senior Position
o Penn State FHE Vice President Coordinate meetings and fundraisers for Penn State FHE
 Communicate with 15 other members and President of club
Describe the Area of Expertise for Your Mentor

List Types of Organizations You Have Worked In

What are Your Goals for This Relationship?

What Characteristics are You Looking For In a Mentor/Mentee?
Mentorship Agreement

The following agreement outlines the mentoring partnership between:

This agreement will begin:
And end:

Identify key skills to be developed:

The primary role of the mentor is to:

The primary role of the mentee is to:

Indicate how and when progress will be reviewed and evaluated:

Indicate the frequency, nature, location and duration of the meetings:

Indicate the date and time of the first meeting:

Indicate your expectations with respect to confidentiality of information shared:

At the conclusion of the agreement, how you will know the mentoring
relationship was successful?

We agree to abide by this relationship, the policies and procedures of the
mentoring initiative and the organization. We also agree to a no-fault conclusion
of this relationship if, for any reason it seems appropriate.