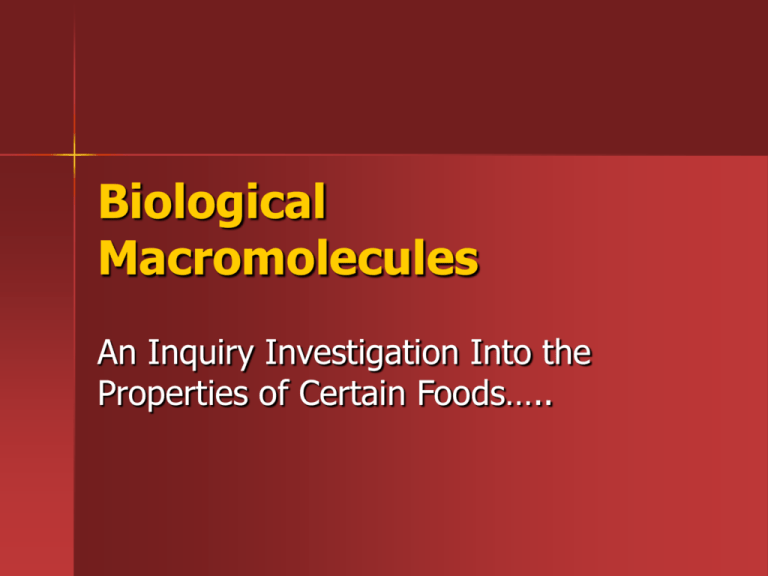 Biological
Macromolecules
An Inquiry Investigation Into the
Properties of Certain Foods…..
Purpose:

To determine which biological
macromolecules are found within each
of the following foods:
– Peanuts
– Crackers
– Eggs
– Milk
Your Goal:


To design a set of experiments that will
illustrate which biological macromolecules
are present in each of the foods previously
listed.
You must include the following sections in
your lab write up:
–
–
–
–
–
–
–
Title
Purpose
Apparatus
Procedure (for each of the 4 tests)
Data
Results & Error Analysis
Conclusion
Questions to think about:






Which macromolecules do you think are
present in each of the foods listed?
What kinds of data will you collect?
What are your variables?
What is your control?
Can each food have more than one type of
macromolecule? How will you know?
How will you convey your results to the
reader?
Testing for Simple
Sugars:

Benedict's Test: In the presence of
monosaccharides, a positive test
results in a yellow-orange colored
solution.
– MUST be heated to activate the test!
– ONLY tests for simple sugars; no positive
tests for polysaccharides.
Testing for Starch
(Polysaccharides):

Starch Test: In the presence of
starch, a positive test results in the
Iodine solution turning a deep blueblack color.
– Does NOT need to be heated.
Testing for Lipids:

Sudan IV Test: In the presence of
lipids, this compound will stain the
long hydrocarbon chains of fatty acids
a red-orange color.
– Must dissolve the lipids in ethanol
(alcohol) first (non-water soluble).
– No heat necessary.
Testing for Proteins:

Biuret Test: In the presence of a
protein, this solution will produce a
violet colored solution.
– Must mix well (shake vigorously)
– Allow solutions to sit for at least 5
minutes BEFORE establishing if there has
been a reaction or not.
What Materials Can You
Use?

The following is a list of materials available
to you:
–
–
–
–
–
–
–
Test tubes
The 4 test solutions previously discussed
Ethanol
Alcohol burners
Saliva (hint, hint…..!)
Beakers, graduated cylinders, and/or flasks
Anything else you can convince me you might
need…..!
What's next?





You have the rest of this class, plus the next
period, to design and conduct your
experiment.
You need my approval to move from the
design phase to actual testing.
EVERYTHING will be written up in you lab
notebook.
Use the AP Bio Lab Rubric to help guide
your official write up.
Make sure to answer all of the following
questions in your conclusion when finished.
Questions to answer:
1.
2.
3.
4.
5.
Summarize your experiment.
Were some of your initial assumptions as
to which type of molecule was in each food
confirmed or denied? Explain.
How did you test each compound for
simple and/or complex sugars? Explain.
Describe the purpose of having a control
for each test.
What might have been some sources of
error during your experimentation?
Explain.