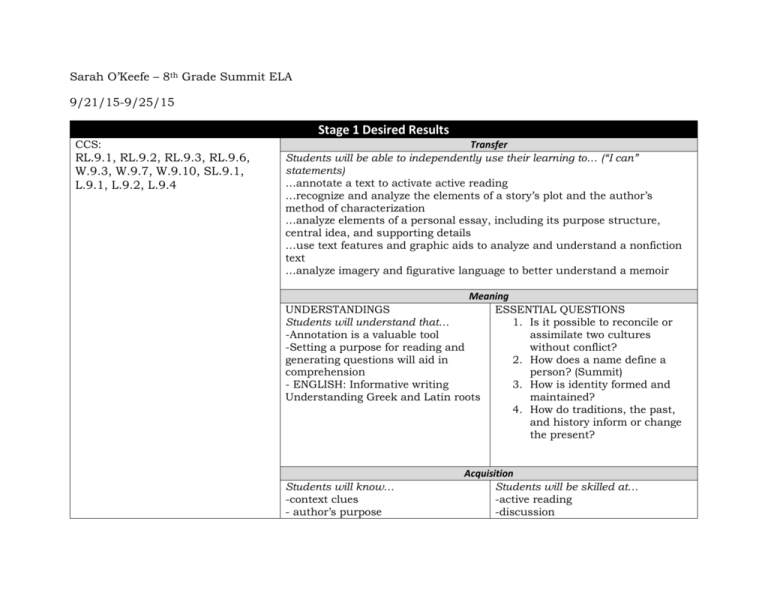 Sarah O'Keefe – 8th Grade Summit ELA
9/21/15-9/25/15
Stage 1 Desired Results
CCS:
RL.9.1, RL.9.2, RL.9.3, RL.9.6,
W.9.3, W.9.7, W.9.10, SL.9.1,
L.9.1, L.9.2, L.9.4
Transfer
Students will be able to independently use their learning to… ("I can"
statements)
…annotate a text to activate active reading
…recognize and analyze the elements of a story's plot and the author's
method of characterization
…analyze elements of a personal essay, including its purpose structure,
central idea, and supporting details
…use text features and graphic aids to analyze and understand a nonfiction
text
…analyze imagery and figurative language to better understand a memoir
Meaning
UNDERSTANDINGS
ESSENTIAL QUESTIONS
Students will understand that…
1. Is it possible to reconcile or
-Annotation is a valuable tool
assimilate two cultures
-Setting a purpose for reading and
without conflict?
generating questions will aid in
2. How does a name define a
comprehension
person? (Summit)
- ENGLISH: Informative writing
3. How is identity formed and
Understanding Greek and Latin roots
maintained?
4. How do traditions, the past,
and history inform or change
the present?
Students will know…
-context clues
- author's purpose
Acquisition
Students will be skilled at…
-active reading
-discussion
- how to identify figurative language
- recognize relevant details
-literary analysis
-annotating
Stage 2 - Evidence
Evaluative Criteria
Accuracy
Timeliness
Knowledge Base
Participation
Assessment Evidence
PERFORMANCE TASK(S):
Vocabulary
Annotating
Critical thinking activity
OTHER EVIDENCE:
Informal observation
Discussion
Stage 3 – Learning Plan
Summary of Key Learning Events and Instruction
ELA
Day One – Skill keeper/AR test/ et al.
Day Two- Skill keeper/AR/Close read: "Golden Glass" by Alma Luz Villanueva. Set a purpose for reading, analyze
story characters, and cite text evidence.
Day Three – Skill keeper/AR/Annotate and continue with "Golden Glass".
Day Four – Skill keeper/AR/Literary Analysis
Day Five – Skill keeper/AR/Personal essay/memoir of "Bonne Annee" by Jean-Pierre Benoit
SUMMIT
Day One- Skill keeper/AR/Introduce Jhumpa Lahiri and analyze her personal quotes
Day Two- Skill keeper/AR/Begin novel study; "The Overcoat" by Nikolai Gogol. ACTIVE reading/annotate/Literary
elements/identify figurative language.
Day Three- Skill keeper/AR/Continue with "The Overcoat" by Nikolai Gogol
Day Four- Skill keeper/AR/Author Study of Jhumpa Lahiri. Activate schema regarding Indian culture. Read and
annotate informative text on Hindu Wedding Traditions and the Taj Mahal
Day Five- Skill keeper/AR/Begin the novel "The Namesake" by Jhumpa Lahiri. Read and annotate Chapter 1 using
the annotation symbols presented in class.
ENGLISH
Day One – Vocab unit 15 exam …. Introduce list 2 in Word Within the Word
Day Two – List 2 WWW/Informative writing
Day Three –List 2 WWW/Informative writing
Day Four – List2 WWW/Informative writing
Day Five – List 2 WWW exam/Informative writing
Modifications for diverse learners as per individual students IEP provided by Mr. McDonald.