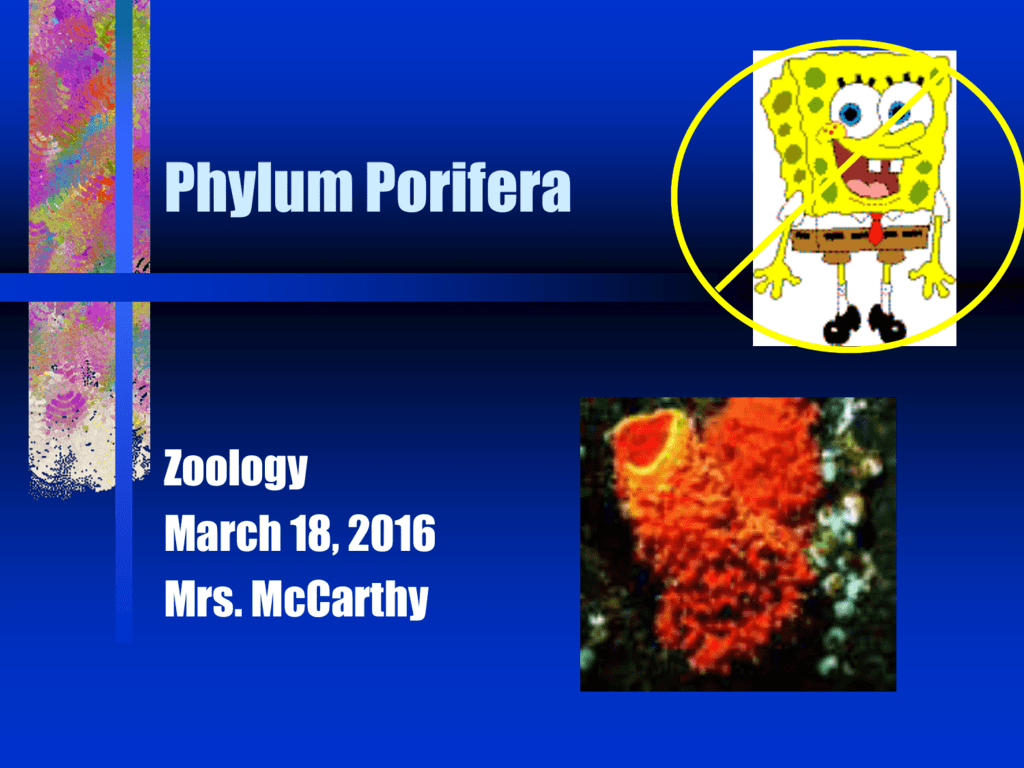 Phylum Porifera
Zoology
March 18, 2016
Mrs. McCarthy
I.
A.
B.
C.
D.
E.
Basic Characteristics
Porifera means "pore bearing"
5,000 species, mostly marine
No organs or true tissues
Mostly asymmetrical
Adults are sessile (attached)
Sponge videoclip
F. Nutrition from filter feeding
1.
Ostia – tiny pores for INCOMING
water
2.
Osculum – big opening to
RELEASE water
3.
All are connected by canals
4.
Spongocoel – inner, hollow
cavity
5.
Choanocytes – collar cells with
flagella that sweep water into
pores and trap food
Sponge Structure
Water Flows out
Water flows in through osculum
Choanocyte
through
Flagellum
porocyte
Spicule
Spongocoel
Epidermis
Archaeocyte
Mesohyl
H. Support System
1.
Spicules – calcium or silicon
"needles" for support
2.
Spongin – soft protein
3.
Mesoglea - jelly like middle
layer
a.
choanocytes- collar cells
b.
amebocytes – move around
and digest food
c.
d.
sclerocytes – make spicules
spongocytes – make spongin
e.
Myocytes – open and close
the ostia (pore cells)
II. Feeding
A. Filter Feeders
1. rely on water currents to bring
food
B. Feed on bacteria, plankton, protists
and other suspended organic
material
C. Some sponges are carnivorous
1. feed on some small crustaceans
D. Also absorb dissolved nutrients
III. Reproduction
A.
Asexual
1. budding
2. regeneration
3. gemmules – internal buds that
remain dormant until the
parent dies
B.
1.
2.
Sexual
monoecious
fertilization produces a
ciliated larva
IV. Body Shapes
A.
Asconoid – simple, tube
shaped
B.
Syconoid – tubular body,
thick walls
1. some connecting canals
C.
1.
Leuconoid – Most complex
and common
contains large, complex
chambers
V. Classes of Sponges
A. Class Calcarea
1.
Spicules of calcium
2.
Small, vase shaped
3.
Leucosolenia
4.
Sycon
B. Class Hexactinellida
1.
Glass sponges
2.
Silicon spicules
3.
Radially symmetrical
4.
Deep sea bottom
5.
Euplectella – Venus' flower
basket
c. Class Demospongiae
1.
95% of all sponges
2.
Silicon spicules & spongin
3.
Spongia – bath sponge
d. Class Sclerospongiae
1.
Looks like coral, calcareous
skeleton
VI. Ecological and Economic
Benefits
A. Large populations of sponges
reduce turbidity in coastal waters
1. a single sponge (1cm in diameter
and 10 cm in height) can filter 20
liters of water per day !!
B. Commercial and bath sponges used
for cleaning, painting
Classification
Kingdom Animalia
Phylum Porifera
Class Calcarea
Genus Leucosolenia
Genus Sycon
Class Hexatinellida
Genus Euplectella (Venus' flowerbasket)
Class Demospongiae
Genus Spongia (bath sponge)
Class Sclerospongiae
A. If you were a
planktonic
organism, why
would you NOT
want to go to this
restaurant?
B. Explain what the
parts represent in
the real sponge.