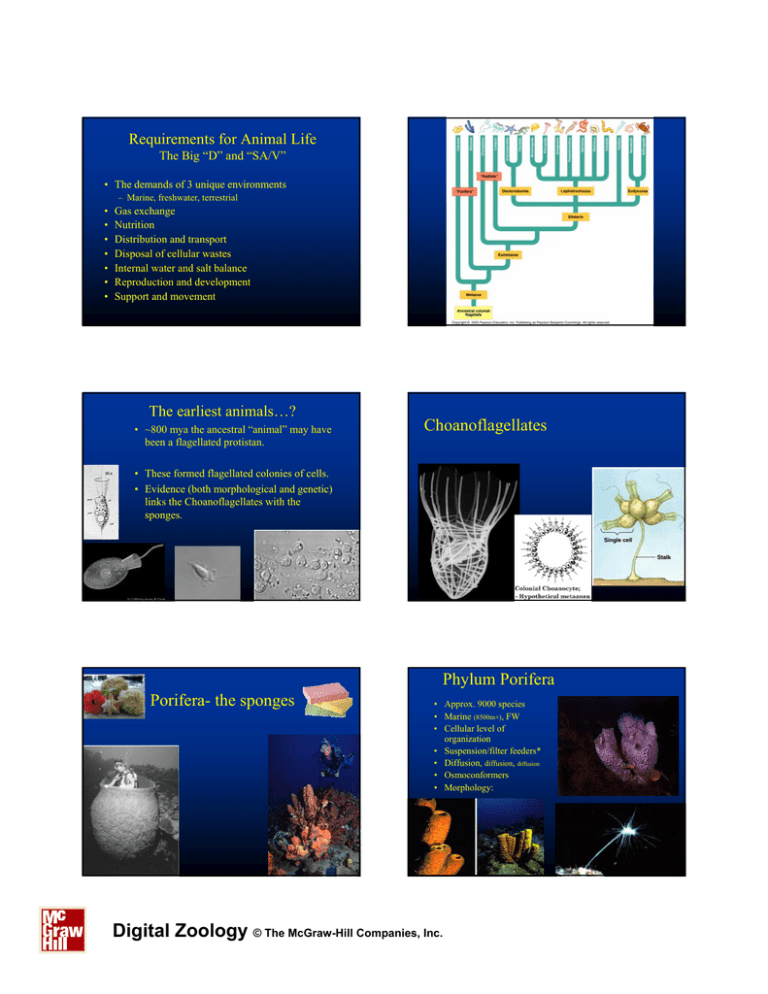 Requirements for Animal Life
The Big "D" and "SA/V"
• The demands of 3 unique environments
– Marine, freshwater, terrestrial
•
•
•
•
•
•
•
Gas exchange
Nutrition
Distribution and transport
Disposal of cellular wastes
Internal water and salt balance
Reproduction and development
Support and movement
The earliest animals…?
• ~800 mya the ancestral "animal" may have
been a flagellated protistan.
Choanoflagellates
• These formed flagellated colonies of cells.
• Evidence (both morphological and genetic)
links the Choanoflagellates with the
sponges.
Phylum Porifera
Porifera- the sponges
• Approx. 9000 species
• Marine (8500m+), FW
• Cellular level of
organization
• Suspension/filter feeders*
• Diffusion, diffusion, diffusion
• Osmoconformers
• Morphology:
Digital Zoology © The McGraw-Hill Companies, Inc.
General Sponge Morphology:
•
•
•
•
•
•
Spongocoel
Ostia and osculum
Epidermis and porocytes
Choanocytes
Mesohyl
Amoebocytes
(archaeocytes)
• Skeletal:
spicules/spongin/CaCO3
Pseudopodia
•Can move 20,000X their vol/24h
•Efficiencies of 75%–99% on
plankton, 0.1–70 µm!
•Others feed on larger particles, w/
one carnivorous family
•Dissolved Organic Matter
•Some have symbionts:
chlorophyta, dinos, or
cyanobacteria
Asconoid Body Type
Syconoid
body type
Digital Zoology © The McGraw-Hill Companies, Inc.
Body Plan Pop Quiz
What am I?
Leuconoid
body type
Support
structures
• Spicules
• Spongin
• CaCO3
The Glass Sponges
• Class. Hexactinellida (subphylum?)
– "Glass" sponges; 6-rayed siliceous spicules
– Syncytial tissues- (the entire sponge is one PM, many nuclei)
with propagate electrical signals
– Fiber-optics
Spongicoloides
Digital Zoology © The McGraw-Hill Companies, Inc.
Poriferan reproduction
Sponge Development
• Asexual
– Budding
– Fragmentation
– Gemmule formation (fw)
• Sexual
Micropyle
Spicule
– Monecious or Hermaphroditic
– Sperm from choanocytes
– Eggs from choanocytes or
Archaeocytes
Flow and environmental effects
• Large sponge can filter
over 2000 l d-1
• Groups of small sponges
can still have major
effect on water quality in
embayments
• Many other organisms
use sponges as a
substrate
Sponge Bob is canceled…
• Other predators
– Turtles, echinoderms, fish, nudibrachs,
Requirements for Animal Life
1. Gas exchange
2. Nutrition
3. Distribution and
transport
4. Disposal of cellular
wastes
5. Internal water and salt
balance
6. Reproduction and
development
7. Support and movement
Digital Zoology © The McGraw-Hill Companies, Inc.