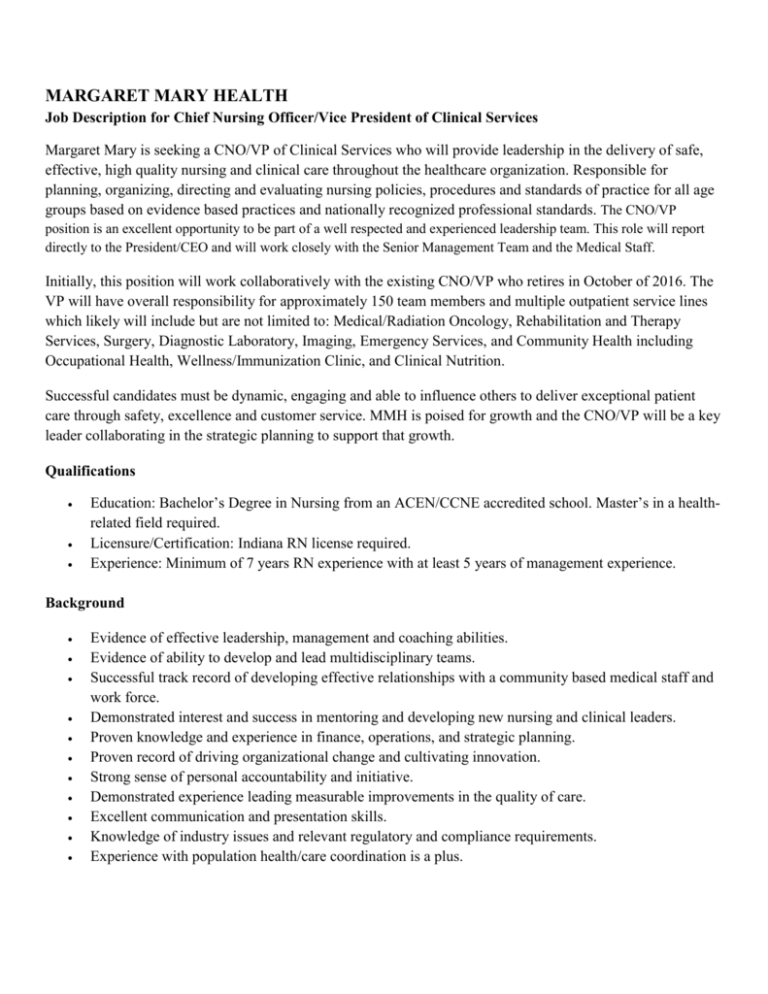 MARGARET MARY HEALTH
Job Description for Chief Nursing Officer/Vice President of Clinical Services
Margaret Mary is seeking a CNO/VP of Clinical Services who will provide leadership in the delivery of safe,
effective, high quality nursing and clinical care throughout the healthcare organization. Responsible for
planning, organizing, directing and evaluating nursing policies, procedures and standards of practice for all age
groups based on evidence based practices and nationally recognized professional standards. The CNO/VP
position is an excellent opportunity to be part of a well respected and experienced leadership team. This role will report
directly to the President/CEO and will work closely with the Senior Management Team and the Medical Staff.
Initially, this position will work collaboratively with the existing CNO/VP who retires in October of 2016. The
VP will have overall responsibility for approximately 150 team members and multiple outpatient service lines
which likely will include but are not limited to: Medical/Radiation Oncology, Rehabilitation and Therapy
Services, Surgery, Diagnostic Laboratory, Imaging, Emergency Services, and Community Health including
Occupational Health, Wellness/Immunization Clinic, and Clinical Nutrition.
Successful candidates must be dynamic, engaging and able to influence others to deliver exceptional patient
care through safety, excellence and customer service. MMH is poised for growth and the CNO/VP will be a key
leader collaborating in the strategic planning to support that growth.
Qualifications



Education: Bachelor's Degree in Nursing from an ACEN/CCNE accredited school. Master's in a healthrelated field required.
Licensure/Certification: Indiana RN license required.
Experience: Minimum of 7 years RN experience with at least 5 years of management experience.
Background











Evidence of effective leadership, management and coaching abilities.
Evidence of ability to develop and lead multidisciplinary teams.
Successful track record of developing effective relationships with a community based medical staff and
work force.
Demonstrated interest and success in mentoring and developing new nursing and clinical leaders.
Proven knowledge and experience in finance, operations, and strategic planning.
Proven record of driving organizational change and cultivating innovation.
Strong sense of personal accountability and initiative.
Demonstrated experience leading measurable improvements in the quality of care.
Excellent communication and presentation skills.
Knowledge of industry issues and relevant regulatory and compliance requirements.
Experience with population health/care coordination is a plus.
Duties and Responsibilities
Serves as a champion for the implementation of effective, evidence-based programs to measure, analyze and
continuously improve the safety and quality of patient care services. Promotes a culture of safety and a healing
environment for patients and families.
Planning: Collaborates appropriately with Senior Management Team and the Medical Staff to define standards
and processes necessary to support optimal patient outcomes. Identifies and implements new services and
programs responsive to community needs.
Performance Improvement: Provides leadership in the development of evidence-based policies, procedures,
protocols and best practice guidelines. Ensures compliance with all accreditation, licensing and operating
requirements for various regulatory agencies.
Managing Performance: Responsible for supervising direct reports including hiring, training, corrective actions,
performance evaluations and terminations. Oversees the professional development of direct reports and is able
to assess and develop necessary competencies. Assures that licensed personnel practice within the scope of
applicable practice as well as approved policies, procedures and standards.
Service Excellence: Holds self and others accountable for exhibiting professional behavior and service
standards. Promotes positive relationships with patients, visitors, providers and fellow team members. Closely
monitors patient satisfaction, HCAHPS and other publicly reported data.
Financial Performance: Leads the development and implementation of the manpower, capital and operating
budgets in alignment with the organization's strategic plan. Analyzes productivity and directs appropriate
changes in processes and staffing. Establishes and oversees lean projects and cost reduction initiatives to
achieve strategic goals.
About MMH
Margaret Mary Health (MMH) is conveniently located off I-74 in Batesville, Indiana (about halfway between
Indianapolis and Cincinnati). MMH is an independent, diversified 25-bed, non-profit acute care hospital
offering an impressive array of inpatient and outpatient services, many of which are found only in much larger
cities. It has established itself as a regional healthcare provider with an excellent reputation serving more than
71,000 residents primarily in Ripley, Franklin and Decatur counties.

Named a Top 100 Hospital in the U.S. by Solucient in 2005

Named one of the Top 100 Great Community Hospitals in the U.S. by Becker's Hospital Review for
2012, 2013, 2014

Named a Top 20 Critical Access Hospital in 2011 and 2014

Received a HealthGrades Outstanding Patient Experience Award in 2013

Ranked in the Top 5% of all Hospitals for Patient Satisfaction by CareChex for 2015
For more information about Margaret Mary Health or to apply for this position, please visit
www.mmhealth.org.