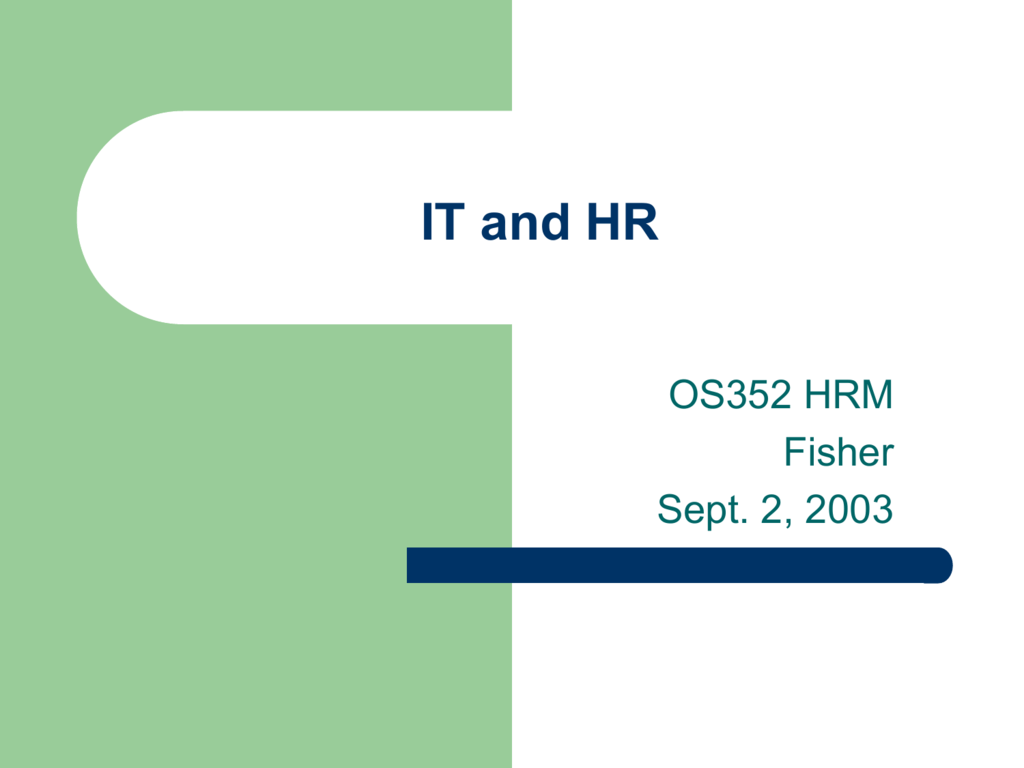 IT and HR
OS352 HRM
Fisher
Sept. 2, 2003
Agenda



SHRM information
How is IT affecting HR?
HR and ERP systems
–

SAP as an example
How do we get people to use these systems?
Human Resource Information
Systems (HRIS)



Capacity for data storage
Linking together multiple systems (payroll,
benefits, etc.)
Challenges
–
–
–
Implementation and upkeep
Data integrity
Using data effectively
Enterprise Resource Planning


HRIS is often part of larger system, such as
SAP, PeopleSoft, Lawson
Links HR data to other critical data
–
–
Production
Financial
Self-service Modules

Manager self-service
–

Employee self-service
–

Manage info without going through HR staff
person
Employees access (and sometimes can
update) HR information
How does self-service change the HR
professional's job?
SAP in organizations


Watch CBC video on SAP
What are the potential
–
–

Advantages of using SAP?
Disadvantages of using SAP?
Is SAP a source of competitive advantage for
the organizations that use it?
Challenges with integrating IT into
organizations

Design of technology
–
–

Do we use vendor's off-the-shelf solution?
Do we customize our own solution?
How do we get people to use the system?
–
–
Training
Change management
Electronic Monitoring

Performance
–
–

Email and internet use
–
–

Call centers (Time Warner, Verizon, Xerox,
Amazon.com)
Package delivery (UPS)
Many employees have come to expect this
benefit
Presents risks to employers
Law is still unclear on monitoring
Key learning points?
For next class


Read Noe Chapter 3
Will be talking about legal issues
impacting the workplace
–
–
Why are these laws necessary?
Why do they not apply to very small
organizations?