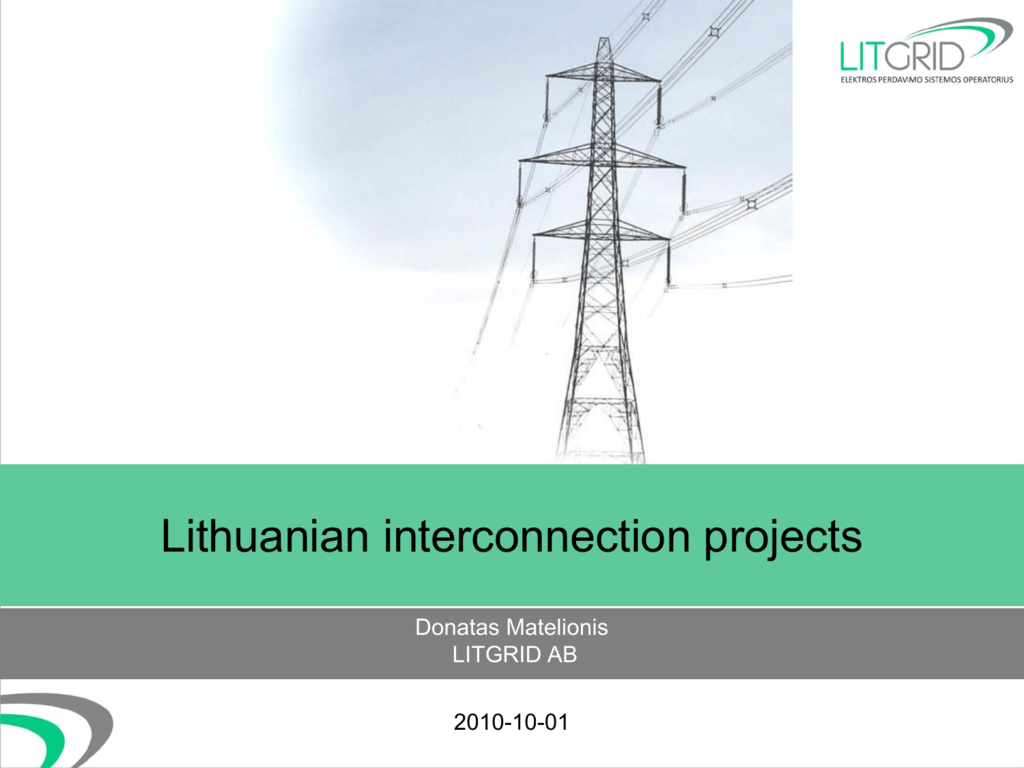 Lithuanian interconnection projects
Donatas Matelionis
LITGRID AB
2010-10-01
Lithuanian–Swedish interconnection project
NordBalt
Information about project
HVDC submarine and land cables
Length – approx. 450 km (400 km
subsea, 10 km land Lithuania, 40
km land Sweden)
Capacity – 700 MW
Voltage ± 300 kV
Converter stations in Sweden and
Lithuania (VSC technology)
Link in operation – end of 2015
Preliminary cost – EUR 552 million
2
Project progress
Progress
• Preparation of territorial planning documents for interconnection on land
• Lithuanian and Swedish TSOs signed an agreement on implementation of
investment
• EC granted financial EU assistance to the project EUR 131 million from EEPR
program
• Baltic seabed survey works completed
• Selected VSC (Voltage Source Converter) technology for interconnection
• Preparation of the technical specifications for cable and converter stations
• Tender for supply of cable and converter stations ongoing – bids from the
supplier's received
Future work
•
•
•
•
•
•
•
Analysis of proposals submitted and negotiation on the contracts
Preparation of territorial planning documents on land in Lithuania and Sweden
Land ownership issues
Preparation of technical project for interconnection
Permits and licensing issues
Construction of the interconnection
Commissioning of the interconnection
3
LITPOL Link
Key figures:
• Type:
 Back-to-back (in Alytus)
• Length:
 154 km (Alytus – Elk)
• Voltage level:
 330 kV LT
 400 kV PL
• Capacity:
 2x500 MW
Description:
Interconnection of Lithuanian and
Polish transmission grids, by building
new back-to-back converter station
and strengthening internal high voltage
transmission grids in Poland and
Lithuania.
Milestones:
Commissioning 2015
(500 MW) and 2020
(1000 MW)
Total investment
costs:
€237 million
LITPOL Link – current status
• Investigation of Environmental Impact Assessment in
Lithuania and Poland ongoing
 Lithuania – due October 2010
 Poland – due August 2011.
• Technical study for reconstructions in 330 kV Alytus
substation, construction of BtB and 400 kV line in
Lithuania under preparation
(The study includes the choice of HVDC technology and
preparation of technical specifications)
 due December 2010.
Thank you!