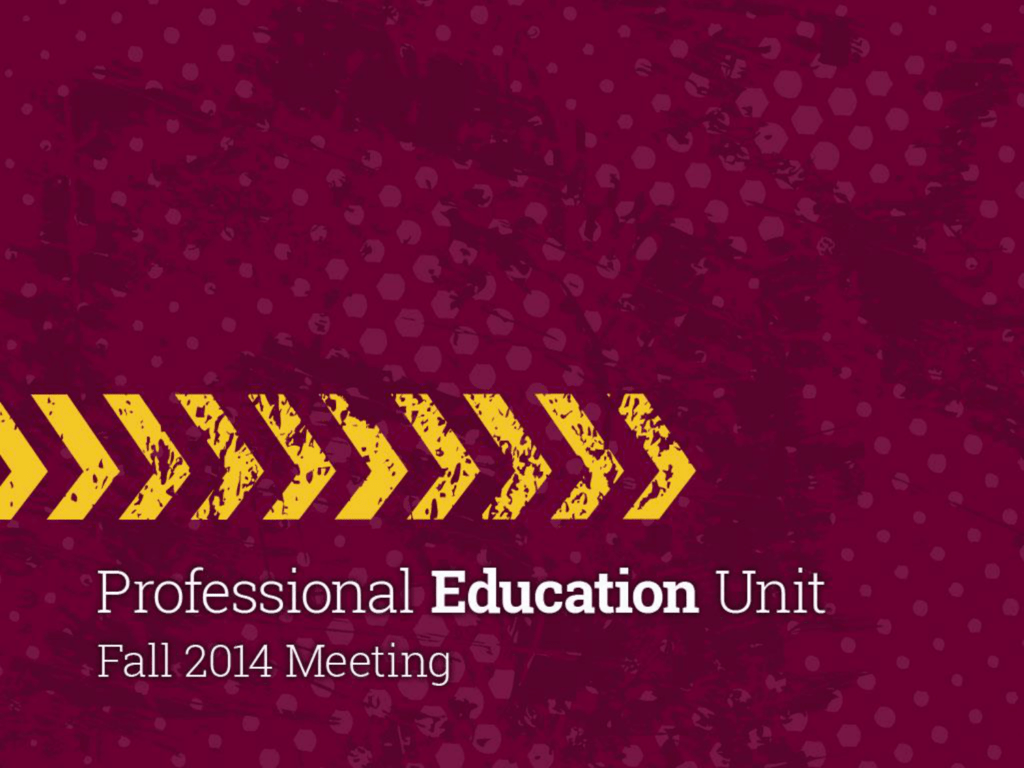 Welcome and opening remarks
Dean Dale-Elizabeth Pehrsson
Director of Professional Education – Dr. Betty Kirby
Educator Preparation: Transformative Change
Comparison of Proposals on Entry into the Teaching Profession
Pre-Service
Selection
AACTE
Recent AACTE PEDS report
indicated that average GPA of
admitted candidates is 3.24
AFT
Entry standards (GPA; SAT or
ACT); midpoint examinations
CAEP
Entry standards (GPA; SAT or
ACT)
CCSSO
Entry standards based on
local needs; candidate
potential for professional
effectiveness
NEA
Support recruitment
strategies that draw high
caliber HS students into
teaching
*Proposals include assessment
in program exit requirements
and/or initial licensure
Clinical Experience
Entry Teacher
Assessment*
One year
edTPA as measure of entry
level teaching skills
One year
Rigorous written exam;
Exit requirements include a
comprehensive teacher
performance assessment
High-quality clinical practice
New licensure tests (with
recommended common cut
scores; pass rates; passing
scores);
encourage use of edTPA as
evidence of candidates'
knowledge /skills
High-quality clinical practice
New performance
assessments aligned to
revised licensure standards
One year residency
Support teacher performance
assessments in state
licensure systems; passage of
assessments prior to
becoming teacher of record
4
Professional Education Data
System (PEDS) 2013 Findings
• 1) Vast majority of new teachers continue
to be prepared in institutions of higher
education (88% in 2009-10)
• 2. Qualifications of teacher candidates are
exceeding college admissions
requirements (3.24 GPA national average)
• 3. Clinical preparation is part of all teacher
education programs.
• 4. Infusion of technology use in
preparation programs is ubiquitous.
• 5. Online learning in preparation programs
is widespread.
• 6. Teacher prep programs are
implementing performance-based exit
measures.
• 7. Majority of teacher prep programs
collect data on their graduates
• 8. Teacher production shortages persist in
key areas.
10. Teacher candidates do not reflect the
demographic makeup of students in PK-12
classrooms.
National Policy Landscape
• Focused on:
– Accountability
– Ratings of universities and teacher prep
programs
National Policy Landscape – 420 bills introduced
related to teacher education in 40 states
• Majority of the new state laws (N=70)covered
the following:
• Educator licensure and certification
• Rating & ranking of educator preparation
programs
• Entry requirements and selectivity into
preparation programs
Seventeen states share
information about how
teachers perform in the
classroom with their
teacher preparation
programs, up from six
states in 2011.
Why do states provide feedback to teacher preparation
programs?
State leaders are increasingly focused on improving college and
university programs that prepare teachers as a route to a highquality teacher workforce.
Use state data to link teachers with their students'
achievement and growth data with the state's teacher
preparation programs.
Teacher Education at CMU
• Admissions
• Testing
• Educator Preparation Institution
Performance Scores
would be captured on Friday, October 5th, 2012. All students who are viewed as a late admit, whatever the reason, will not be included at any time
in the official count number. Students who are admitted prior to the four week deadline count date will be assigned the original application deadline
date. Each late admission will be assigned the specific date they were processed into the program.
BS Ed Admissions History
avg. gpa 3.37!
21% b/wn 2.7-2.99 gpa!
20% qualify PRE policy!
!
• Mel, Admissions graphic goes here
Fa06 Sp07 Fa07 Sp08 Fa08 Sp09 Fa09 Sp10 Fa10 Sp11 Fa11 Sp12 Fa12 Sp13 Fa13 Sp14 1 sem chg 1 yr chg
2 yr chg
X Elementary 145
126
130
135
138
151
173
136
119
176
141
183
176
109
120
72
-40.0%
-33.9%
-60.7%
O Secondary 156
133
148
145
127
136
128
124
115
118
118
121
106
104
80
78
-2.5%
-25.0%
-35.5%
Sem total
259
278
280
265
287
301
260
234
294
259
304
282
213
200
150
-25.0%
-29.6%
-50.7%
-37.8%
301
Year total
560
558
552
561
528
563
495
350
-29.3%
AY
2006
2007
2008
2009
2010
2011
2012
2013
8 yr totals
PRD/CAMPB1TG/20121008
UPDATED/CAMPB1TG/9:08 AM, 6/5/14
OFFICE OF PLANNING AND RESEARCH
PROFESSIONAL EDUCATION UNIT
DIRECTOR OF PROFESSI
ASST TO DEAN, COLLEGE OF EDUCATION
Professional Readiness Exam
• Beginning in fall 2013 the state of Michigan
Dept. of Education began to require the PRE for
the MTTC. This test is required for all future
teachers for all levels of teaching and replaces
what had been known as the MTTC Basic Skills
Test.
2014 EPI Score Report for Central Michigan University
Accreditation
TEAC to CAEP
The Path Forward
Thamizhisai (Tamil) Periyaswamy, PhD
Jennifer Wirz, PhD
July 1, 2013
NCATE
TEAC
The Culture of evidence
CAEP
Council for the Accreditation of Educator Preparation (CAEP) the
new, sole specialized accreditor for educator preparation
Accreditation – The Immediate Steps
Bachelor of Science in Education (BS in Ed) Programs Involving 6 colleges and more than 20 departments
CAEP Expectations during the
transition period (2014 and 2015)
CAEP: Standards in Brief
All aspects of a preparation program from
• Recruitment and Admissions
• Through completion, and
• Into on-the-job performance should be monitored by
multiple measures
Tracing status and progress annually on
• Program impact
• Program outcomes, and
• Consumer information
CAEP: Changes in Terminology
Students in the program: Candidates
Students exiting the program: Completers
Pre-service/field experience: Clinical
Experience
Institutions offering teacher preparation
programs: Educator Preparation Provider
(EPP)
CAEP: Standards in Brief
Levels
EXIT
During the
Program
Monitoring Parameters
Completers achievements STD 4: Program Impact
Candidate progress
(In-class + Clinical
Experience)
ENTRY
CAEP Standards
Effects of
admissions
selection criteria
STD 1: Content and Pedagogical
Knowledge
STD 2: Clinical Partnerships and
Practice
STD 3: Candidate Quality,
Recruitment, and Selectivity
CAEP: Examples of Evidence
Measures
• Candidate score on standardized license or board
•
•
•
•
•
•
•
•
•
examinations
Scores on lesson plan
Ratings of portfolios of academic and clinical accomplishments
Employer evaluations of the EPP's graduates
Clinical capstone evaluations
Graduation rates
Alumni self-assessment of their accomplishments
Impact of P-12 learning and development
Ability of completers to be hired in education positions for
which they have prepared
Rates of graduate's leadership roles, etc.
Where we are?......
• Teacher Preparation Task Force 2023
• Focus groups and pilot studies text/data mining is
underway
• Lesson plan
– Approved by the PEU May 2014
– Pilot data will be included in Data Packets
– More information and guidelines will be available soon
• Data packets will be made available as before (data
access through a shared drive is also available)
• Critical accreditation meeting for all the PEU committees
• Clinical partnership committee will be in effect soon
Syncing the Strategies ....
Communication: Rapid and Responsive
Awareness: Systematic Motivation and Emphasis
Committee Participation:
Streamlining the PEU committees for a common goal (PESAR,
PEAC, PECC, Clinical experience committee)
Language: Thinking in the assessment language
Research:
Strongly encourage research on P-12 educators
preparation/practices and student learning and development
Data: Integrative and Robust DATA Management System
Teacher Education Implementation
Task Force Recommendations
Dr. Tim Hall – Associate Dean CHSBS
Teacher Education Implementation
Task Force Recommendations
• Follow-up to February 14, 2014
Recommendations of the Teacher
Education Task Force
• Continuity--Committee primarily drawn
from the earlier Task Force
• Selected to represent teacher preparation
programs across the university
Teacher Education Implementation
Task Force Recommendations
• Follow-up to February 14, 2014
Recommendations of the Teacher
Education Task Force
• Continuity--Committee primarily drawn
from the earlier Task Force
• Selected to represent teacher preparation
programs across the university
Teacher Education Implementation
Task Force Recommendations
• The Need:
– Task Force Recommendations observed, on the basis of study,
that time to completion of Elementary program has been
problematic
• Precipitous decline in enrollments and admissions, much attributable to
time to completion
• State, national pressure to reduce time to completion
• Longer time to completion is NOT producing better teachers, at least as
measured by MTTC
– CAEP Standards raising the ante, requiring stronger preservice
teacher preparation in content, methods, clinical experiences,
and data-driven decision making
– Assessment date suggests that the program can improve
experience
Teacher Education Implementation
Task Force Recommendations
• Opportunities. . .
– To make the program less onerous and more
achievable for students
– To improve the quality of student admissions
– To improve the quality of preparation through better
alignment of content, professional preparation with
desired outcomes for our newly-certified teachers
– To dovetail—perhaps even to become the leading
edge—with other efforts across campus, especially
the Quality Initiative
Teacher Education Implementation
Task Force Recommendations
• Two Phases
– Phase 1: Reduction in time to completion of
Elementary program AND address the
challenge of the new State of Michigan
Professional Readiness Examination
– Phase 2: Revision and extension of Clinical
Experiences, Revision of elementary program
majors, revision of secondary program
Teacher Education Implementation
Task Force Recommendations
• Elementary Degree Program Changes:
– Reduce overall degree credit hours, not including student teaching
– teaching semester to approximately 92
– Limit major hour requirements to no more than 32
• Achieve reductions by
– Petitioning to include targeted courses in Gen Ed for double-counting,
e.g. ENG 381
– Designing new courses that will
• better meet the standards—more standards addressed by a single course
• Better engage student interest
• Better model best practices in teaching, learning, and assessment of the
disciplines or subject areas
Teacher Education Implementation
Task Force Recommendations
• PRE
– Pathway to preparation for new students
• Analyze programs to make recommendations
• Students below thresholds advised into Math, English preparatory
tracks (below ACT 24 writing, 22 Math)
– Pathway for current students—conditional admission with
aggressive intervention
– Better recruitment to target students most qualified to prepare for
a teaching career
• Target students with 24 on ACT writing
• Utilize articulation agreement with HS Vo/Tech programs
• Partner with CMU Honors program
Teacher Education Implementation
Task Force Recommendations
• Next Steps for Phase II
– Implementation of clinical experiences
recommendations (already in progress)
– Form Working Group for Secondary Programs
– Align CLeaR with InTASC or develop new guiding
philosophy
– Thorough curriculum mapping of degree program and
majors to improve alignment with InTASC, MDE
Standards (already in progress)
Teacher Education Clinical Experiences
Recommendations
Larry Corbett
Center for Clinical Experiences
Teacher Education Clinical
Experiences – Sub-committee
•
•
•
•
•
•
•
Meghan Block – English
Carlin Borsheim-Black – English
Libby Knepper-Muller – TEPD
Jennifer Quick – Center for Clinical Experiences
Kristina Rouech – TEPD
Denny St John – Mathematics
Larry Corbett – Center for Clinical Experiences
CAEP – Standard 2: Clinical
Partnerships and Practice
• The provider ensures that effective
partnerships and high-quality clinical practice
are central to preparation so that candidates
develop the knowledge, skills, and
professional dispositions necessary to
demonstrate positive impact on all P-12
students' learning and development.
Teacher Preparation Task Force
Recommendations for Clinical Experiences
•
•
•
•
•
Align and sequence clinical experiences for vertical coherence.
Create immersive clinical experiences for horizontal coherence.
Develop a strategic plan for faculty to guide clinical experiences.
Maintain duration of clinical experience during student teaching.
Increase the duration of clinical experiences in the BS in Education –
Secondary program.
• Offer clinical experiences in a variety of sites and learning
environments using culturally responsive and place-based pedagogy.
Partnerships for Clinical
Preparation
• Development of partnerships between P-12
schools and CMU clinical experiences at both
the pre-student teaching and student teaching
levels. Major partnerships should be wellplanned with collaboration between the P-12
schools, CMU and other interested entities.
Clinical Educators
• Professional development for university coordinators
for assessment, consistency, program expectations,
and public relations.
• Develop plan to infuse more tenure-track faculty into
supervision of students in clinical experiences to
create a stronger relationship between pedagogy and
field work.
• TEPD identify a course coordinator to help partner the
methods courses with the pre-student teaching
experience for consistency.
Clinical Educators
• Formulate and market the cooperative teaching
model for host teachers and student teachers.
• Centralize the tracking of clinical experiences and
professional development of students.
• evaluate the Early Childhood program to
determine the feasibility of incorporating the
MDE 8-week Pre-K student teaching
requirement into a placement prior to general
education student teaching.
Clinical Experiences
 Curriculum mapping be done in various parts
of the clinical experiences to include
collaboration:
– Between secondary methods courses and EDU
325 – Secondary Methods;
– Between the TEPD methods courses;
– Between the university coordinators teaching EDU
432 – Seminar in Student Teaching.
Clinical Experiences
• All teacher education candidates take EDU 458 as a
16-week experience regardless of academic major.
• All departments within the PEU develop a plan to
infuse a minimum of 60 hours of planned clinical
experiences within their professional education
methods coursework.
• Secondary departments make EDU 325 a pre- or corequisite for the departmental subject matters
methods course.
Clinical Experiences
• PESAR be petitioned to eliminate the open-ended
45-hours of classroom observation for program
admission and replace with the 30-hour directed
observation hours required within EDU 107.
• An online teaching experience be considered as a
possible clinical experience of the newly created EDU
390 course (this course will replace the EDU 290
requirement).