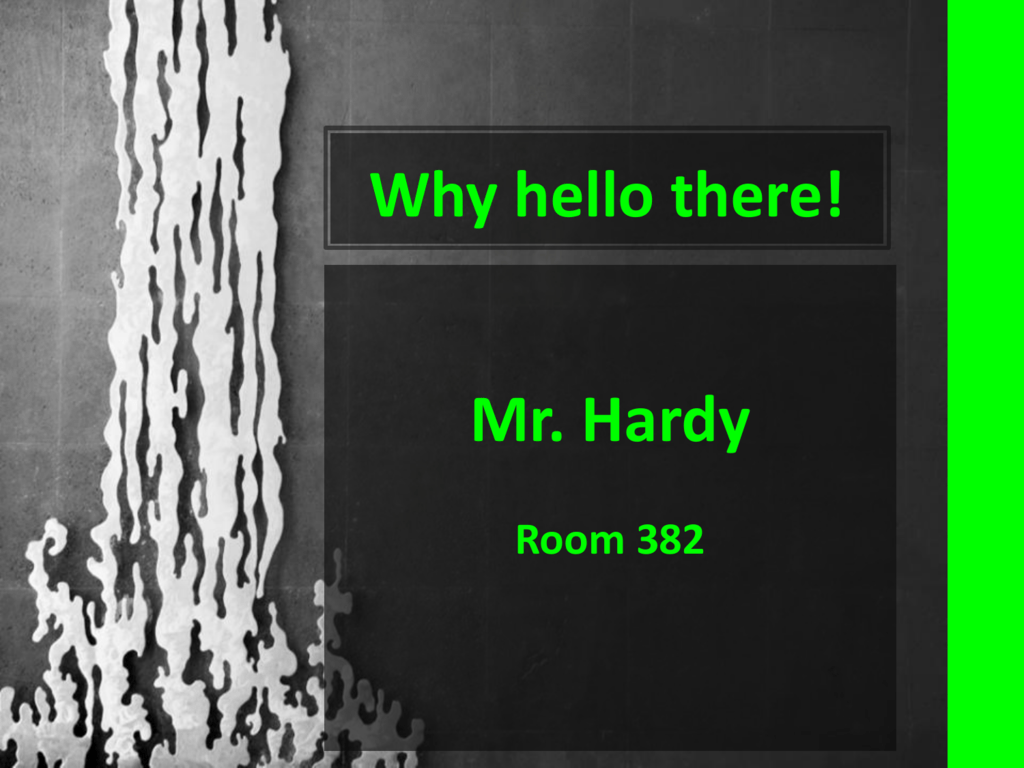 Why hello there!
Mr. Hardy
Room 382
Advanced Placement Physics 1
(Formerly known as AP Physics B)
WHY TAKE THIS CLASS?






Class is challenging
College Experience in High School
Looks great on college applications
$100 if you pass with a 3 or higher
Pass the test and get A's for all 4 quarters.
So long as you do ALL homework, you can
correct your exams for a C.
Sizzle and Slice Lab
Fire and Knives. Does it get any more exciting?!
Make calculations to determine how far the washers
will travel. Calculate correctly and you'll be advanced
by hitting the bull's eye!
AP Physics Redesign
We only cover half the material we covered
last year.
"AP Physics 1 and 2 exams are expected to be
much more manageable than AP Physics B"
- AP Board
ONE SHOT DEAL
The target is placed on the floor. You are given a ball
and a ramp, and must calculate how far the ball will
travel. To be advanced you must hit the bull's eye.
Things to consider..
 Not an intro math class.
 Suggested Math Class completed: Core 3
 Homework: 2-3 hours per week.
 What will you do when it gets difficult?
 Quitting is not the answer.
AP Physics 1 Scoring
3 and above is
passing.
Pass = A's for
all quarters.
1
10 - 20%
2
21 - 33%
3
34 - 52%
4
53 - 64%
5
65 - 100%
THANK YOU!
Thank you for taking the time to further
research this class.
If you have any questions, please let me
know.
Be sure to fill out the application and turn it
into Mr. Hardy in Rm. 382 as soon as you
can.
A list of accepted students will be posted
soon!
BROWNIE POINTS
To see who visited this site,
please place a star in the
upper left hand corner of
the front page of your
application.
SHHHHHHHHH! This is our little secret.