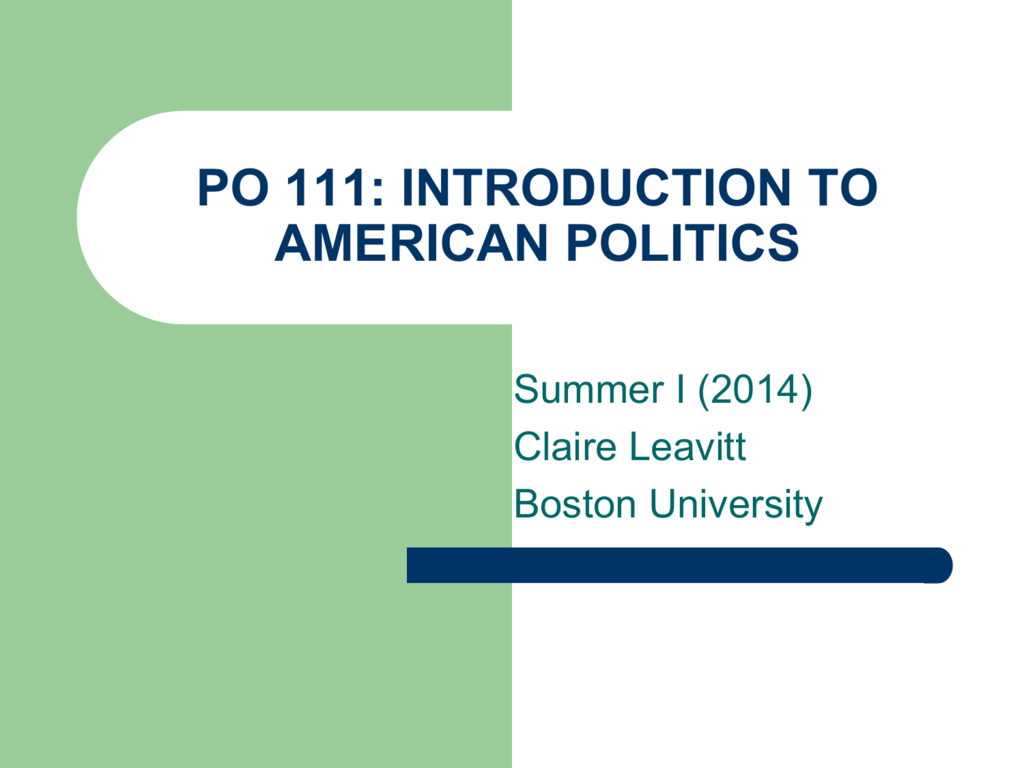 PO 111: INTRODUCTION TO
AMERICAN POLITICS
Summer I (2014)
Claire Leavitt
Boston University
TABLE OF CONTENTS
• Development of the Media: 19th Century
– What did a "free press" mean?
– Pluralism and partisanship in American newspapers
• Development of the Media: 20th Century
– Newspapers  Radio  TV  Internet
– The FCC and regulation of communications
• The Modern Media
– Effects of media choice and diversity
– Priming and framing
– Problems with media tactics/culture (Patterson
and Crouse)
THE MEDIA: 19th CENTURY
• History of the media is a history of rapid
adaptation to change
• Pamphlets most influential medium during
colonial era (Common Sense)
• Rise of newspapers heralded with
Federalist Papers
• Early mediums helped democratize
politics, making politics accessible to the
masses
THE EARLY PARTISAN PRESS
• Free Press: Freedom from government
censorship, not from government
influence
• Early newspapers were unapologetically
partisan; relied on their party's staying
in power for profits/livelihoods
• Journalists were political figures and
often party hacks
THE MOVE TOWARD AN
INDEPENDENT PRESS
• Newspapers distanced themselves from
political parties for economic reasons
– Expanded readerships
– Increased profits
– Increased stability
• Advanced technology allowed
newspapers to flourish without political
support
• Media competition increased
MEDIA EXCEPTIONALISM
• Why was the American media able to
resist government censorship?
(Tocqueville)
– Americans took a free press for granted
(thanks to First Amendment protection)
– Moves toward independence initiated by
newspapers themselves
– Media driven by market forces
– US media was pluralistic (and thus stable)
RAPID CHANGES IN THE MEDIA
• The era of newspapers gave way to the
dominance of radio
• Radio competition induced Congress to
start regulating the media
– Creation of the FCC in 1933
• TV supplanted radio as dominant news
source
– Power of the "big three" networks
– FCC's "equal time" doctrine
THE INTERNET AGE
• The Internet has further democratized
news
• Media choice has proliferated
• More choice in media = less informed
populace overall
• Media presents more diverse ideological
views than alternative sources of political
information (i.e., neighbors, community
members)
THE POWER OF THE MODERN
MEDIA
• Media cannot change audience's minds
directly, but can shape their opinions
indirectly
– Priming: How important is a certain issue?
– Framing: How should we think about a
certain issue?
• Political campaigns can also prime
voters and frame issues to shape
opinions
PATTERSON'S CASE
• Primary-election reforms decreased
the power of political parties
• No institution available to play the role
the parties used to play (choosing
nominees)
• The media steps in as the only source
that helps people make sense of
various candidates
PATTERSON'S CASE
• Media incentives ≠ voter incentives
• Voters care about solving problems;
media cares about increasing its
audience
– Sensationalism
– Focus on "gaffes"
– Focus on horse-race quality of political
campaigns
MEDIA CYNICISM
• What did Watergate do?
– Demonstrated the importance of an
independent media that would check
government excess
– Made media suspicion of political figures
the norm
• Is media cynicism a good or bad thing
for democracy?
DISCUSSION QUESTIONS
• What is the modern news media's
biggest problem?
– Is it too hard on politicians?
– Is it too easy on politicians?
– Does it focus on the wrong things?
• What has to change?